Summary:
A few snow showers on Wednesday, then dry Thursday and Friday. A significant storm will bring snow Saturday night through Sunday with 10+ inches for many mountains over 9,000 feet. Snow showers could continue through Monday in northern Colorado. Sunday should be a legititate powder day, and this might be true of Monday morning as well.
Details:
An inch or two of snow fell on Tuesday night across central and northern Colorado as a moisture-starved storm moved across the Rockies. Another batch of energy will cross Colorado during the day on Wednesday and this will create additional snow showers with perhaps another inch or two of accumulation at higher elevations.
Then the storm will move away from Colorado Wednesday night, and Thursday and Friday will be dry.
The significant storm for this upcoming weekend is on track, and the models are finally becoming a bit more consistent in their forecasts.
Saturday will likely be a windy day with a few snow showers and low accumulations, though the San Juans might see a few inches by dark.
The brunt of the storm will hit Colorado on Saturday night and Sunday. My initial thought about snow accumulations on Saturday night is that the heaviest snow, 5-8 inches, will fall from Aspen and south to the San Juans, and 3-5 inches will accumulate from I-70 and north. Then on Sunday, the reverse will happen with the northern mountains seeing more snow (6+ inches?) while the central and southern mountains see less, perhaps 2-4 inches.
Even though the accumulation forecast isn't dialed in just yet, I'm rather confident that Sunday will be a powder day, with snow falling down to 8,000 feet, and the best accumulations above 10,000 feet.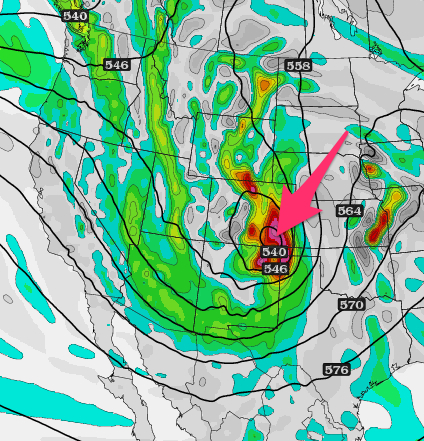 Saturday night's storm will be a powerful one as it strengthens in southeastern Colorado. Source: Twisterdata.com
On the backside of the storm, snow showers will likely continue Sunday night through Monday, so there might be back-to-back powder days at Loveland and Abasin since they'll be open daily next week. There's even a chance that snowflakes continue to fall on Monday and Monday night along the divide, with soft snow at these two mountains on Tuesday morning as well.
To sum up, Sunday should be a powder day at most mountains, with additional powder available at Loveland and Abasin on Monday.
Long Range:
Our weekend storm will move east verrrry sloowwwwwly next week, so snow showers and clouds might hang around the divide through the middle of the week. Warmer and drier weather should eventually return from the middle of next week through the first few days of May.
JOEL GRATZ
-----
I wrote two articles you might enjoy:
Where will the snow fall next season: http://opsw.co/RuMpRL
Two pieces of gear that changed my skiing: http://opsw.co/1lfY8fz