Summary:
Today will be the last day of showers from this week's slow-moving storm. Friday and Saturday will be generally dry, then a cold front will create a brief time of showers and storms on Sunday afternoon for I-70 and north. Next Monday through Friday will be dry and warmer, then rain showers should return starting on Saturday 9/6.
Details:
This week's storm is moving slower than most cyclists in Colorado! Since Monday it has averaged 10-15mph as it slowly pushes east, and this is why we've seen clouds, cool temperatures, and numerous rain and snow showers lasting for the past three days.
As of Thursday morning, the storm is centered over the Colorado / Wyoming / Nebraska border and will give us another 12-18 hours of showers and storms. The blue and grey colors show moisture, while the black and tan colors to our west show drier air. The drier air will take over the skies of Colorado on Friday.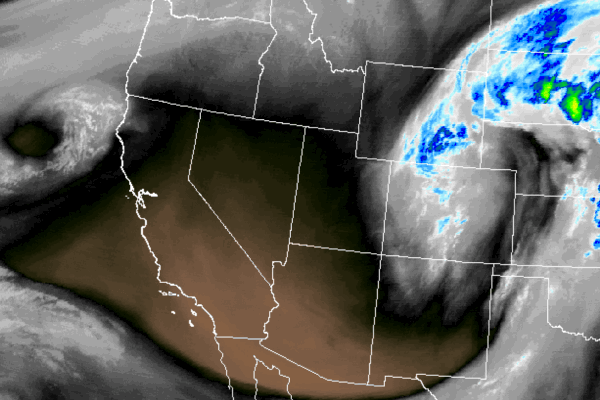 Water vapor satellite image on Thursday morning showing moist air continuing to swirl into Colorado. Source: Weathertap.com
On Thursday, look for midday and afternoon rain showers (with snow accumulating above 13,000ft).
Then on Friday, skies will clear and the day will be much sunnier and drier, with just a low chance of a few weak, late afternoon showers.
Saturday should be dry for all of the state, then a storm to our north will make Sunday breezy with the likelihood of a brief but intense line of showers and storms hitting on Sunday afternoon for the areas along and north of I-70. Keep this in mind if you're hiking or playing outside on Sunday afternoon in northern Colorado.
After the Sunday afternoon storms roll out, next Monday through Friday looks dry and sunny, pretty typical of early September. Temperatures will start the week just below or around normal, then will go above normal on Wednesday, Thursday, and Friday, especially east of the mountains where readings could be in the upper 80s by late in the week.
The next time of interesting weather in Colorado will start on Saturday 9/6 as a surge of moisture from the south moves into the state. We'll likely see rain showers during that weekend (September 6-7), possibly extending into Monday the 8th as well.
Looking back over August, most of the western mountains recorded above average precipitation, with only eastern Colorado and New Mexico coming in at or below average. Unfortunately, this moisture didn't help the long-term drought in California, but it was nice to see their mountains get at least some rain!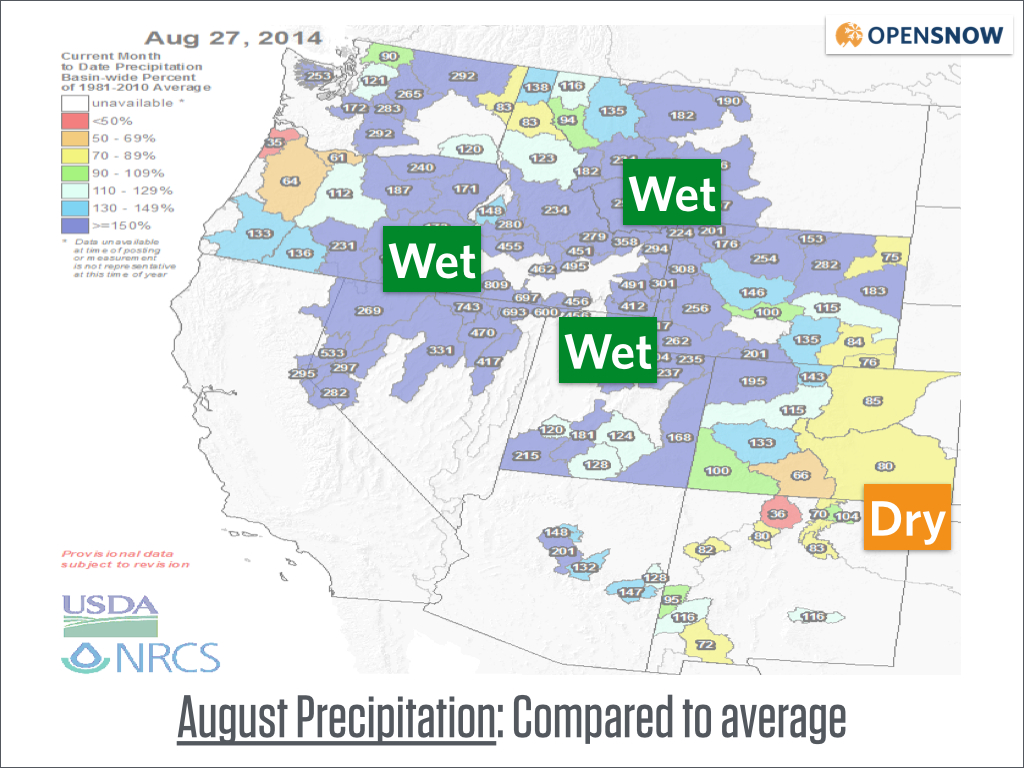 August precipitation compared to average. Source: USDA
JOEL GRATZ