Summary:
Dry Tuesday and Wednesday, a few showers Thursday, more showers Friday/Saturday/Sunday, and then the wettest day will likely be Monday 9/8.
Details:
There are no clouds this Tuesday morning from California all the way through Colorado.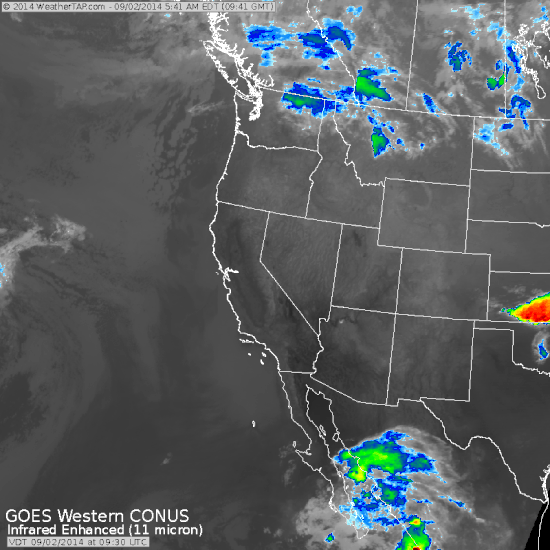 Infrared satellite image on Tuesday morning showing no clouds across the southwest US. Source: Weathertap.com
The cloudless skies are a good indication that the models are right-on in forecasting very little moisture over our state on Tuesday and Wednesday. Since there will be little moisture, there will be only a few afternoon clouds over the peaks and no rain, with the only exception being a brief shower possible over the northeast San Juans on Tuesday.
On Thursday, moisture will return from the southwest and there will be a few showers, mostly over the southwestern part of the state, and these showers should be pretty light.
The moisture will increase further on Friday, Saturday, and Sunday, so expect more typical Colorado summer days with a dry and sunny start followed by midday and afternoon showers. The best chance of showers will be over southwestern Colorado.
Monday will likely be the wettest day of the next week as our moisture will peak and this will also coincide with a wave of energy moving across Colorado from the northwest. Monday won't be a washout, but it's probably the day that most areas have the best chance to see wetting rains.
Then in the wake of the Monday "storm", the middle of next week should dry out with a much lower chance of showers and more typical weather for September: Dry and sunny skies with few clouds.
JOEL GRATZ