Summary:
San Juans see snow Friday night and Saturday
Most areas will see steadiest snow late Sunday night through Monday
Total accumulations will be 2-4" for most, 6-10" San Juans & western slope
Details:
Friday will be another warm and dry day for Colorado. Look for a few high clouds throughout the day.
Our next storm will make landfall in California on Friday night, and then will split into multiple pieces as it moves east toward Colorado. Splitting storms usually mean a slower system, more snow for southern Colorado due to winds from the south, and a tough forecast as multiple weak pieces of energy affect Colorado rather than one main push of energy.
Putting this together into what you can expect for the weekend...
Saturday will be a partly sunny day for most mountains with a few inches of snow above 10,000ft for the San Juans. There could be a few showers late in the day for other locations. Saturday night will be similar with mostly dry conditions for most mountains.
Sunday will be an in between day as the storm moves closer, we see some cooler air and some weak storm energy, but not much precipitation yet. Look for afternoon and evening scattered showers, still with a snow level around 10,000ft.
Sunday night through Monday evening will be the time when most of the snow falls. It looks like the San Juans will get the most snow as they are favored with winds from the southwest. Also, a band of snow will set up over the western slope which should provide 6+ inches to areas like the Flattops and Grand Mesa.
On Monday during the day, this band will push east across the rest of Colorado, and this is probably when most of the snow falls (2-4 inches, or so). Folks east of the divide and north of Colorado Springs could also see snow on Monday with snow levels dipping down to potentially 5,000ft, which would means flakes would be seen in the cities like Boulder, Denver, etc. This eastern snow could also be good for Eldora and the surrounding foothills.
Here's the snow forecast map from Saturday through Monday. With splitting storms there can be somewhat large changes to the forecast all the way through the storm, but I think this map does a pretty good job showing the most likely locations for heavier snow.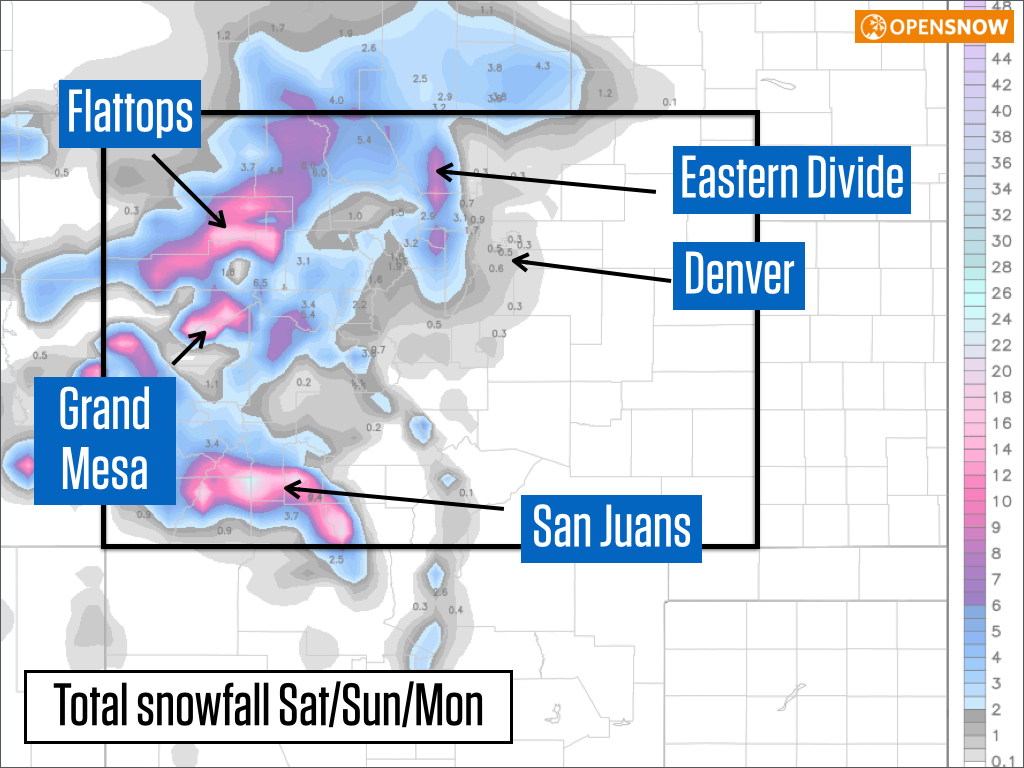 Tuesday will be chilly but should turn into a sunny day, then next Wednesday through Friday will be dry, sunny, and warmer. There could be a storm or two sometime between Saturday Nov 8th and Wednesday Nov 12th but that's about all I can say as there is no consistency in the models at this point.
JOEL GRATZ
Event Announcements:
My friend Joel Bettner climbed and skied Denali (a 20,322ft mountain in Alaska) this past summer. He'll be talking about the experience at REI Boulder next Wednesday 11/5. The event is free. Here's a highlight film he made about the experience.

CAIC's Benefit Bash (party!) is next Saturday, 11/8, in Breckenridge. Tickets are $40, are good for beer, food, a raffle, and entertainment, and the money supports CAIC. More info here.