Summary:
Light snow this morning, then the heavy snow on Wednesday night will miss most ski areas and fall south of I-70 and on the east side of the divide. Thursday and Friday will be dry, then rain and snow showers will cover Colorado Friday night through Sunday night with the heaviest precipitation falling on Saturday afternoon with a few inches of snow over 10,000 feet. Monday and Tuesday will be dry, then a powerful storm will bring wind, cooler air, and some snow from next Tuesday afternoon through Thursday.
Details:
Today's storm is coming in two parts.
The first part moved through between 3-7am on Wednesday morning with a few inches along and north of I-70 (1-2 inches accumulated after the 5am reports).
We'll see a break today, then the next piece of the storm will move through central and southern Colorado Wednesday evening. You can see the second piece of the storm as the blue/green colors zooming over northern Nevada and Utah on the satellite image below.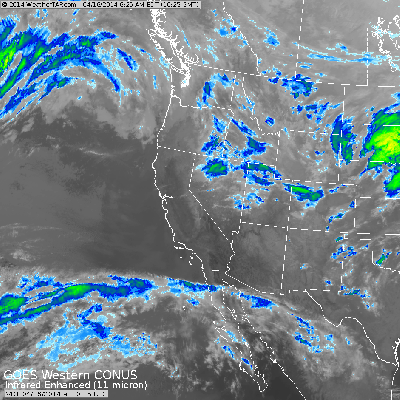 Wednesday morning's infrared satellite image. Source: Weathertap.com
Wednesday night's energy will focus most of it's moisture and lift east of the divide and south of I-70, so the most snow will fall in the eastern foothills of the Sangre de Cristos, the Wet Mountains, and near Pikes Peak. The foothills north of this area (up to I-70 and north) could see more clouds and a few flakes tonight, but snowfall shouldn't be significant.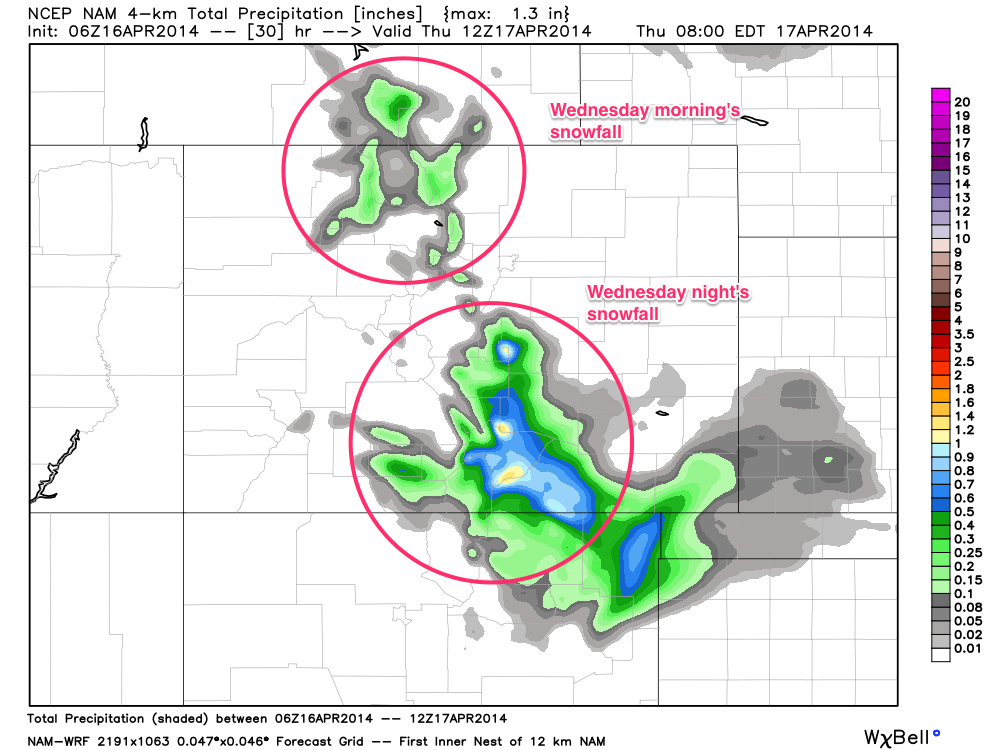 Precipitation forecast from the high resolution NAM model for Wednesday and Wednesday night. To estimate snowfall, multiply by about 10-12. Source: Weatherbell.com
Thursday and Friday will be dry, then a weak and warm storm with a lot of moisture will move into Colorado from the southwest on Friday night and will stick around through Sunday night. During this time, snow levels will be high, around 10,000 feet, and precipitation will fall in bursts rather than continuously. The first burst might move through Friday night, a second one will likely develop with afternoon heating on Saturday afternoon, and a weaker burst of snow/rain might bring additional showers on Sunday. If I had to pick a weekend day with better weather, it would likely be Sunday as the afternoon showers shouldn't be as heavy as they will be on Saturday.
Long Range:
The dominant storm system next week will roll through on Wednesday into Thursday. Ahead of the storm, Monday will be dry and Tuesday will be very windy with dust likely blowing in from the southwest. A cold front will move through on Wednesday-ish, which will drop temperatures and likely bring some snow to the mountains.
JOEL GRATZ
-----
CAIC is in fundraising mode right now to prepare for next season. Here are two ways to support them:
1) Vail Resorts will match up to $20,000 of your donations. More info & a link to donate: http://opsw.co/1t9S6CC
2) If you're in the Vail area, head to E-Town on Thursday night (4/17) for a fundraiser. More info here: http://opsw.co/Qd5nLL