This is a little early considering I have not published my winter season outlook yet, but here we have a chance to generate some good flakes in the mountains. The storm is important since it may have confirm a few things that I've noticed with the pattern, but more importantly it is a test for the computer models. There has been intermittent data from the satellite feed, so there has been missing information for the computer models to generate their forecasts. Longer range outlooks suffer the most, but get refined within a 48-60 hour window. That is where we are.
The Canadian and GFS Models both agree now that an upper level piece of energy will dive farther south than originally anticipated. This will result in colder air, but also a push of the entire system farther south as it develops off of the Carolina coast. That will take the storm farther east as well as it develops with the back edge of the heaviest precipitation closer to the coast. This keeps the cities in an ambiguous zone, but snow should fall in the western mountains. The focus on Maryland to West Virginia... and even North Carolina. Southern PA and the Poconos will miss out as the next surge will be northeastern New England.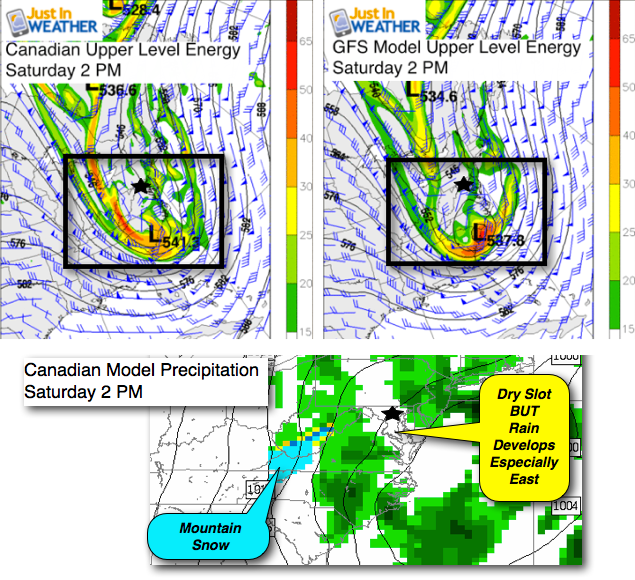 The Canadian Model is my usually my choice with the best handle of cold air patterns. Plus I think it is on par with the famed European Model that many other hard core meteorologists tout, but I would rather stick with this. Here you can see the output between Saturday and Sunday. I've adjusted for elevation and local biases to up Wisp to 1"+. While Snowshoe is in the 3"-6" range, the resort is also at 4848' and enhances almost everything on the way in. Sometimes I swear you an sneeze and it will produce 1"-3" of snow. This weekend, I would lean on the up side of things... so the summit could be in that 6"+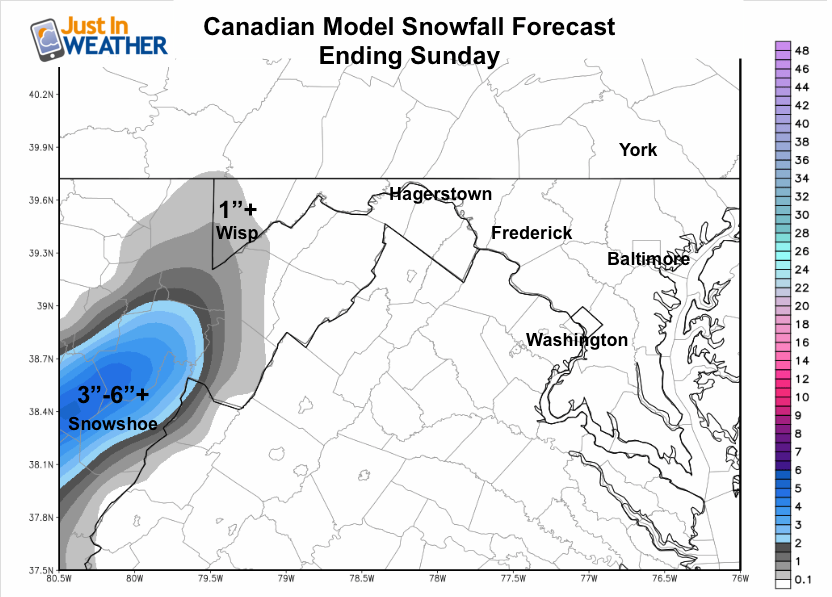 Good times! My winter outlook will be on the way shortly and the signals point to a good year.