Summary:
Showers are moving through northern Colorado on this Sunday morning, but activity should wind down late this afternoon. Then Monday, Tuesday, and Wednesday will be dry with a few showers returning on Thursday and more numerous showers on Friday and Saturday.
Details:
A few showers moved through central and northern Colorado on Saturday, though it was far from a washout.
Today, Sunday, is the last day of good moisture streaming into the state from the west. As the jet stream moves overhead this morning, showers are covering the mountains from about Aspen north to I-70 north to Wyoming. Temperatures are generally too warm for snow, but further north at Grand Targhee, Wyoming that's not the case.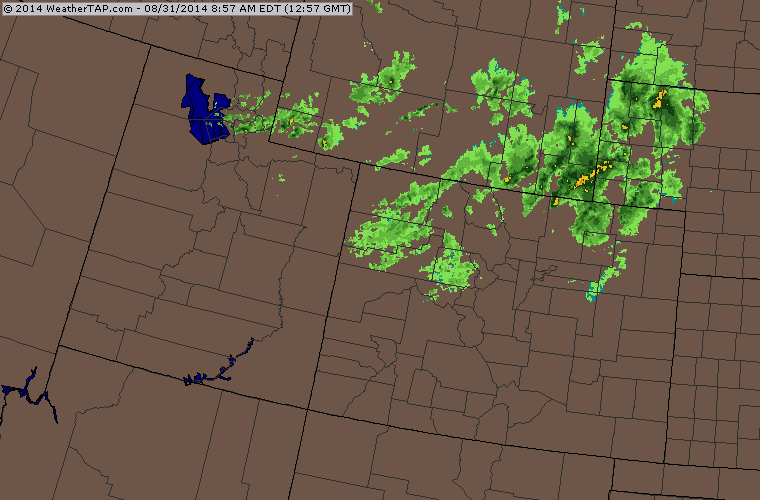 Sunday morning radar image showing showers over northern Colorado. Source: Weathertap.com
By Sunday afternoon, many of the rain showers over northern Colorado will dissipate. This is opposite of what usually happens in the summer, when the morning is dry and the afternoon and rainy. That occurs when the showers are fueled by the sun heating the ground. In contrast, today's rain showers are fueled by the jet stream moving over the state at 30,000ft, and the jet stream's energy acts independently of the daily rise and fall of the sun.
Then on Monday most of the state will be dry and sunny to close out the three-day weekend, though if you're along and north of I-70 and near the continental divide, don't be surprised to see a shower during the late morning or midday hours as one last wave of energy moves through the area. Most of the moisture will be gone though, so there won't be much fuel to support the formation of these showers.
Tuesday and Wednesday will be completely dry over the state, so get out and enjoy!
On Thursday, a push of moisture from the south will head into Colorado. This moisture will come from a tropical system near Mexico, so there will be plenty of fuel to get the showers going. Thursday will only offer a few showers, while Friday and Saturday could be much wetter.
The long-range outlooks points toward drier weather on Sunday 9/7 and Monday 9/8, then another storm will move toward Colorado from the northwest during the middle of the second week of September.
Have a great Labor Day holiday! My next post will be on Tuesday...
JOEL GRATZ