Summary:
Sunday looks like a powder day for most mountains, and Monday morning might be fantastic as well at Abasin and Loveland. Cool temperatures and light snow should persist through much of next week.
Details:
Thursday and Friday will be sunny and dry. Enjoy the calm and warmth before the weekend storm!
Saturday will be a transition day as our storm will be approaching but it won't be here quite yet. During the afternoon and evening, the mountains north of the San Juans might see an inch or two in random showers, while the San Juans could see a few inches by early evening.
On Saturday night the brunt of the storm will move through Colorado with cooler temperatures and winds switching from southwest to west and northwest. Most mountains will see about 6 inches on Saturday night into Sunday morning, with a few inches more than that in the southern half of the state (roughly from Aspen to the south) and a few inches less than that north of Aspen.
On Sunday, the heaviest snow will fall from Aspen north to I-70 where there could be 5-8+ inches while 2-4 inches falls in the southern half of the state. Sunday looks like a legitimate powder day for most areas as there will be fresh snow and cool temperatures. The latest models show colder air than previous models, and if this forecast verifies, we could see temperatures around 20 degrees at 10,000ft, which would mean this powder day will ski more like mid winter than late April.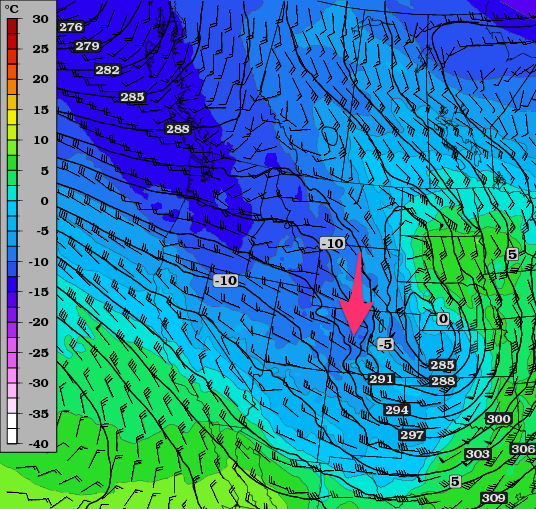 Temperature forecast for 10,000ft by the American NAM model for Sunday afternoon. Temperatures will be cold enough for snow to accumulate down to 7,000ft, or perhaps even lower. Source: Twisterdata.com
Snow showers will continue on Sunday night, so Abasin and Loveland should offer another great powder day on Monday morning.
Long Range:
The west-to-east flow of weather across the US will be blocked by a large high pressure system over the Atlantic Ocean. This means that our weekend storm won't be able to move east and will instead hang out over the midwest and Mississippi Valley for most of next week. As the storm hangs out, waves of energy will rotate around the storm and brush Colorado from time-to-time. It is impossible to forecast the details of these waves, but it looks likely that cool air will stay over Colorado for most of next week and the mountains will see times of snow with additional accumulations. Welcome to spring in the Rockies:-)
I'm heading to Texas for one week starting this weekend to do some hiking and then try out kitesurfing at South Padre Island (I'm a skier, not a boarder, so this is going to be interesting...). I'll do my best to update the Colorado Daily Snow from the road, but will have limited internet access on Saturday, Sunday, and Monday, so please be patient with me as the updates might be posted at random times. That said, don't worry about any future updates and just go skiing on Sunday and again on Monday morning and enjoy some of the final powder turns of the season!
JOEL GRATZ
-----
I wrote two articles you might enjoy:
Where will the snow fall next season: http://opsw.co/RuMpRL
Two pieces of gear that changed my skiing: http://opsw.co/1lfY8fz