Summary
Many areas of eastern Colorado recorded 1-2 inches of rain over the last 24 hours, and another 1-2 inches could fall on Wednesday before the storm moves away in the evening (this is well above average for July).
Details
The rain started on Tuesday afternoon and covered the state somewhat randomly, but by Tuesday night the atmosphere seemed to play along with the forecasts and produce a steady rain over and east of the foothills between I-70 and Wyoming.
Total accumulations from Tuesday and Tuesday night exceeded 6 inches in a few spots that saw heavy downpours on Tuesday afternoon, while the average was about 1-2 inches. This amount of rain isn't generally enough to cause widespread flooding, but it is very beneficial and should put us above average for the month.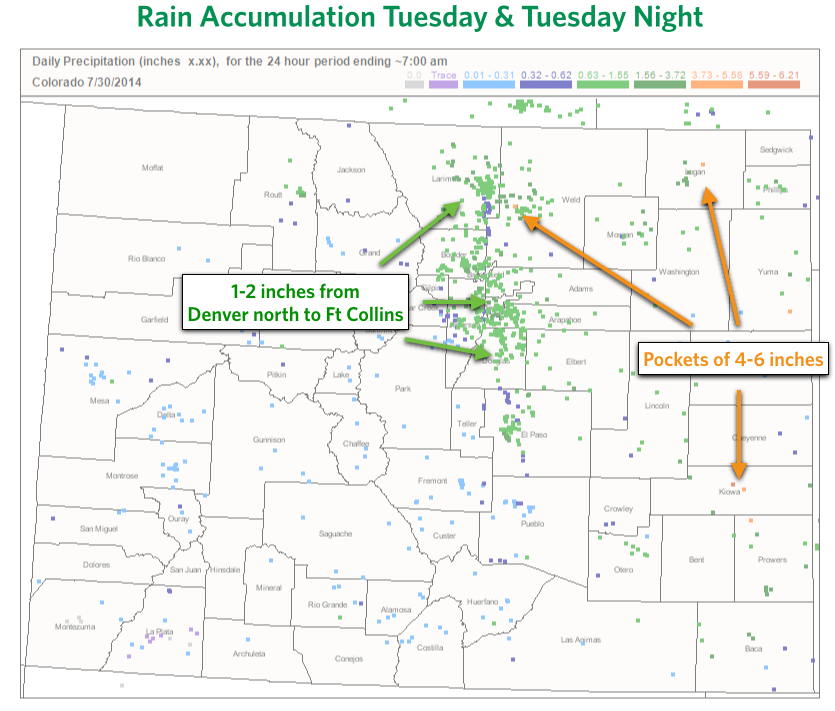 The rain is continuing to fall now on Wednesday midday, and it should continue through the afternoon for northeastern Colorado. The mountains west of the divide are mostly dry right now, but some showers should pop up during the day.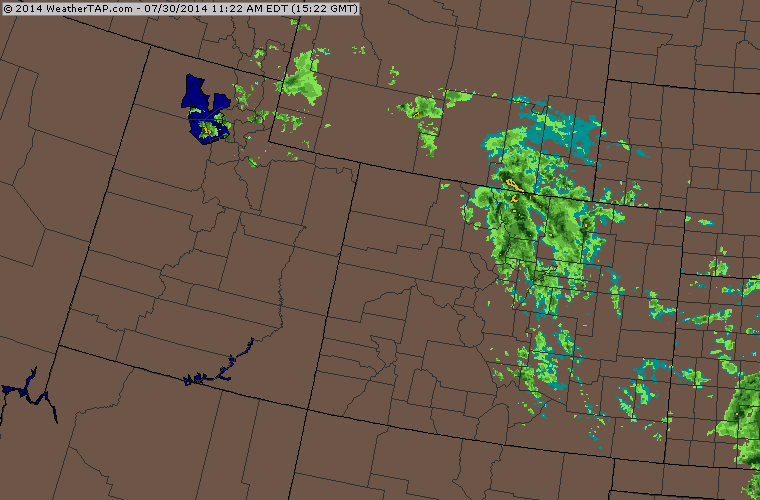 The coldest temperature I can find during this storm is 36 degrees at 12,500ft on Berthoud Pass. It's possible that some peaks over 13,000ft might be coated in snow, and we'll have to wait until the clouds clear late Wednesday night or Thursday morning before confirming this. The best chance to see snow is along and north of I-70 from Berthoud Pass north to the Indian Peaks and Rocky Mountain National Park.
Another note about the cold. Right now (11am Wednesday) the temperature at Denver International Airport is 60F. The coldest high temperature for this date is 64 set in 2009, so we might break it if the rain and clouds are able to stick around all day and limit additional heating.
A few people wrote to me yesterday asking if the cool / wet pattern we're seeing right now will stick around for the fall and into the winter. The long-term climate models do show this. Don't get excited just yet and think that our winter will offer above-average snow, though it does seem like winter might get off to an early start. I'll post more about the winter outlook by late August and will continue to post on a daily basis if and when there is interesting weather in Colorado (like right now:-).
Thanks for reading during the summer!
JOEL GRATZ