Summary:
Another round of afternoon rain and snow showers on Sunday, then Monday will be dry. Look for strong winds Tuesday afternoon, then a few inches of snow Tuesday night and Wednesday. Thursday and Friday should be dry, then we might see an extended period of cooler weather and snow from Saturday through Sunday and Monday. Sunday the 27th through Tuesday morning the 29th might actually be powder days at Abasin and Loveland ... stay tuned.
Details:
Yesterday was dry through early afternoon, then the storms popped up between about 2pm and 8pm with rain and snow showers over many mountain areas. Accumulations were light for most locations with just an inch or two falling over 10,000 feet. The exception was in Summit County where a strong cell brought a quick 4-6 inches of snow to Keystone, Breckenridge, Abasin, and Loveland between about 6-8pm, mainly above 10,500 feet.
Today, Sunday, will be similar to Saturday but with fewer showers. The first half of the day will be dry and partly to mostly sunny, then clouds and showers will develop by the afternoon. Most models are showing that the heaviest showers will wait to fall until after 6pm, but the models do not handle convection very well (pop-up storms due to afternoon heating), so I don't have a lot of confidence in that timing...the showers could pop up earlier than 6pm. Like Saturday, the highest elevations might see a few inches from the heaviest showers.
Then Monday and Tuesday will be dry, with winds increasing on Tuesday afternoon. These winds will likely bring dust from the southwest on Tuesday afternoon and evening.
A cold front will move across Colorado on Tuesday night, and this should trigger a few showers Tuesday night through Wednesday, with 1-3 or 2-4 inches of snow across the northern 2/3rds of Colorado by midday Wednesday. Temperatures will be cooler than this weekend, so the snow level should drop to about 8,000 feet.
Then Thursday and Friday will be dry.
Long Range:
Next weekend looks very interesting. Most models are showing a single storm or multiple waves of energy hitting Colorado between Saturday the 26th and Monday the 28th. This storm (or series of storms) will bring in colder air, and we have a legitimate shot of late April powder days on Sunday, Monday, and perhaps Tuesday morning.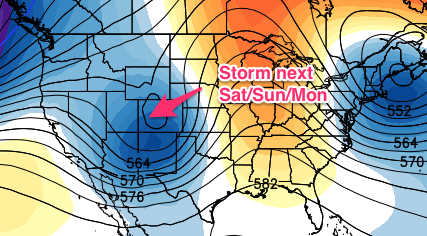 Long-range forecast from the American GFS model for next Sunday, showing that a storm is likely over Colorado. Source: Weatherbell.com
With temperatures well below freezing and multiple days of snow, I like our chances of a powder day in about a week. I believe that the only resorts open next Monday and Tuesday will be Abasin and Loveland, which would work out just fine as their higher elevation is what we need for good late-season powder. One of my best powder days last year was on May 1st at Loveland ... these late-season dumps can be fantastic!
JOEL GRATZ
-----
I wrote two articles you might find interesting:
Where will the snow fall next season: http://opsw.co/RuMpRL
Two pieces of gear that changed my skiing: http://opsw.co/1lfY8fz