Summary:
Snow starts just before or around sunrise Tuesday morning. About 4-6 inches for many areas, steadier in the morning, then showery in the afternoon. Tuesday might be the best powder day out of the next 7-10 days. Two weak systems will clip Colorado on Saturday and next Tuesday. Cooler and stormier weather is possible late next week or early next weekend (19-22nd).
Details:
Warm and breezy on Monday with increasing clouds in the afternoon.
Our next storm is already producing snow across states west and north of Colorado, and this action will hit Colorado on Tuesday.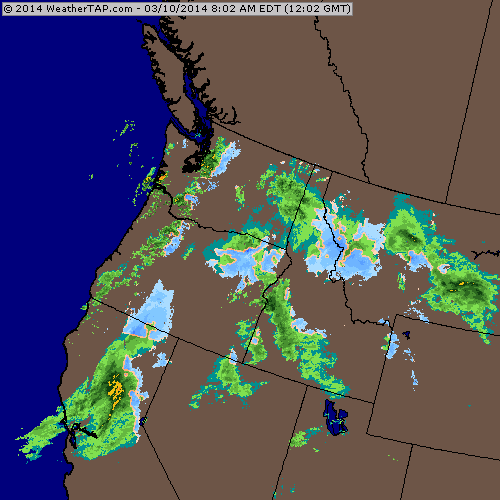 Monday morning radar image showing lots of moisture across the western US. Source: Weathertap.com
Snow will start between about 2am and 6am on Tuesday morning, first across the north and then spreading south. Because of this timing, you might wake up and see no snow on the 5am snow reports. Then expect a few hours of steadier snow in the morning, turning more showery during the midday and afternoon hours.
This storm is very similar to last Friday's storm, which over delivered for many mountains. Like that storm, this storm is coming from the northwest, and will cut-off and redevelop over Colorado. Differences exist too, as this storm will be colder than the last, but it will also have a bit less moisture. So, can this storm over deliver like last Friday's storm did? Sure. But with less moisture and little agreement between the models about the details of the upcoming storm, I'd say 4-6 inches is a responsible forecast and we can hope for more if things come together perfectly. Most snow will end by Tuesday evening, and if enough falls after lifts close on Tuesday, Wednesday morning could offer soft leftovers, though I do think Tuesday will be the better day.
My current snow forecast for each mountain: http://opsw.co/CO1-5
Wednesday, Thursday, and Friday will be dry, except for the San Juans where a few snow showers might pop up on Thursday and Friday. The storm from Tuesday will cut off and hang out over the four corners later this week, and this is what will likely bring the showers to the San Juans.
Long Range:
Here's the weather pattern for the next 7-10 days:
Our Tuesday storm cuts off from the main flow of weather and hangs out over the four corners. Then two storms will clip Colorado on Saturday and next Tuesday, with Saturday's storm (3/15) being the strongest of the two. Then we might see a stronger and colder storm later next week or early next weekend (3/19-22).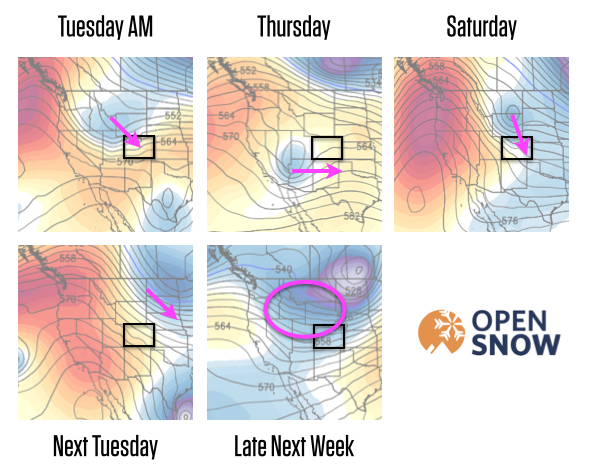 Long-range forecast from the American GFS model. Source: Weatherbell.com
I can't complain that much about the long-range forecast as there is a chance for snow every few days. However, now that the sun angle is higher and the days are warmer, we'll generally next 10+ inches in one day, or back-to-back days of snow to soften things up and make for deep powder. Otherwise, embrace the sun and enjoy spring skiing on a good base!
JOEL GRATZ
> Checkout Liftopia for Discount Lift Tickets