Summary:
There will be two moderate storms with warm temperatures between now and the end of the weekend. The first will move through on Wednesday and Wednesday night with 2-4 inches (a bit more east of the divide) and another will bring a few inches on Saturday and Saturday night (another few inches). Sunday should be drier with just a few remaining showers.
Details:
Yesterday morning was a like a mid-winter powder day with cold temperatures and soft snow. Unfortunately, I think that might be the last cold powder day of the season. We will see additional snow of the next week or two, but the next few storms won't bring temperatures as cold as we saw yesterday.
Today, Tuesday, will be dry with increasing clouds and gusty winds this evening.
On Tuesday night, the first part of the next storm will cross the northern half of Colorado and a few inches of snow will likely fall by morning.
For Wednesday, this first part of the storm will cross the central mountains in the morning, then we might see a break in the snow and the clouds around midday. From Wednesday afternoon through Wednesday evening, a second part of the storm will move across central and southern Colorado with another few inches of accumulation, and perhps 4-6 inches for the areas east of the divide south of I-70. North of I-70, it's a tough call as the front range and nearby foothills might see a few inches, but I don't know if the heaviest precipitation will make it that far north.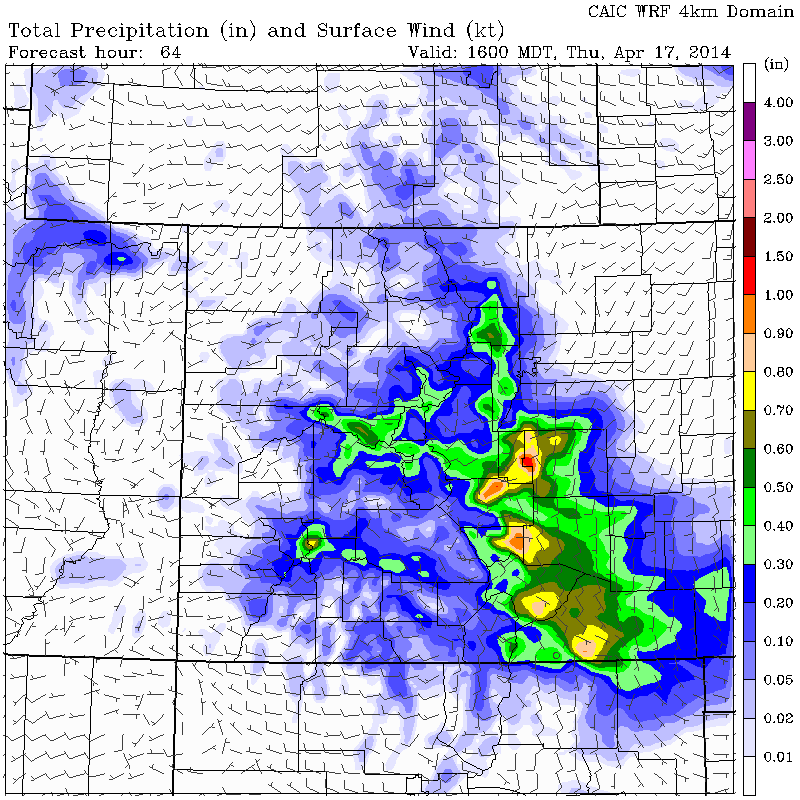 Precipitation forecast from Wednesday morning through Thursday morning. Multiply by about 12 to estimate snowfall. Source: CAIC
By Thursday, the atmosphere will dry out and we'll see plenty of sun through Friday. There might be some powder to enjoy on Thursday morning, but right now I'm not expecting a significant powder day. Maybe the most fun will be a few inches of fresh snow over a groomer?
On Saturday, a storm will push into Colorado from the southwest. This storm will bring lots of moisture, weak energy, and warm temperatures. This means we'll see many showers on Saturday afternoon through Saturday night, and elevations over 10,000 feet should see a few inches of snow (maybe up to 6?). Lower elevations will likely see ra-n on Saturday and Saturday night (I can't say that word:-). Sunday could offer a few fresh turns in the morning, but the main story will be a return to drier weather with a low chance for a few afternoon showers.
Long Range:
The next chance for a storm will be during the middle or end of next week, around April 23-25th.
JOEL GRATZ