Summary:
Chilly air will hit Colorado on Saturday evening with possible light snow accumulations above 12,000-13,000ft for the mountains along and north of I-70. Another cold storm is likely on Tuesday evening and Wednesday with more flakes for the highest peaks.
Details:
During the summer, many computer models have predicted a cool and moist autumn season for Colorado. If the next two storms are any indication, these models may be exactly right.
On Saturday morning, the first storm will be over Idaho and will move quickly toward the east. The air will be cold enough for Montana and Wyoming to see a bit of high-elevation snow, and Colorado might also see flakes.
Forecast temperatures at 18,000ft on Saturday morning. Source: Twisterdata.com
As the cool air approaches, a line of showers will form and should push across Colorado on Saturday evening. The southern part of this line will likely dissipate as it moves over the San Juans since it will lack energy and moisture. However, the line should hold together over central and northern Colorado, especially along and north of I-70. Expect gusty winds on Saturday afternoon, culminating with showers between about 6pm-10pm on Saturday night. Temperatures could be cool enough for flakes of snow above 13,000ft, perhaps even down to 12,000ft if the showers are heavy enough and drag cold air down to the ground.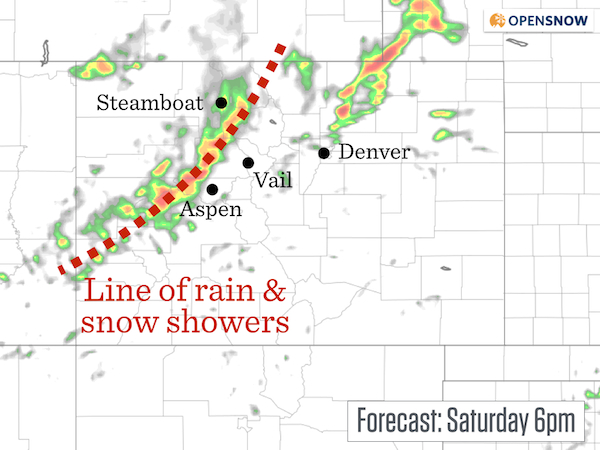 Forecast radar from the high resolution NAM model for Saturday night at 6pm. The heaviest showers will fall over northern Colorado. Source: Weatherbell.com
The coolest temperatures will occur after the showers, so we won't see a lot of snow on the highest peaks. By Sunday morning, temperatures should hover around freezing at 12,000ft.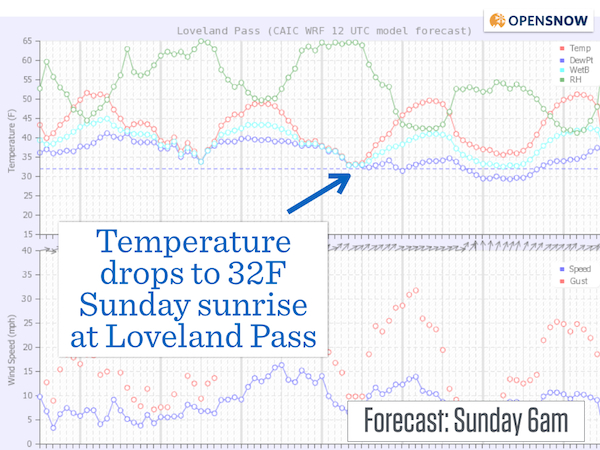 Forecast temperatures will likely hit the freezing make at 12,000ft on Sunday morning. Source: CAIC
Sunday should be a calmer day, as should Monday.
Then another cool storm will head toward Colorado on Tuesday with the likelihood of more high-elevation snow falling on Tuesday night into Wednesday. Woohoo!
We've had very few wildfires this summer in Colorado, thanks to the cool temperatures and consistent rain. However, wildfire season extends into the fall when conditions dry out and the winds increase. Hopefully the seasonal computer forecast models will be correct and fall will be wet and cool, negating the autumn fire season and starting the winter off with a bang.
Have a great weekend and enjoy the push of cool air on Saturday night! I'll be back next week with more regular updates ... it's that time of year!
JOEL GRATZ