Summary:
For the mountains, dry and sunny Thursday, Friday, and Saturday. For the foothills and plains east of the mountains, much colder air will move in Thursday night so expect snow (light accumulations) and below freezing temperatures for the foothills with near freezing temperatures for the plains. Bring in sensitive plants!
Details:
It'll be a tale of two halves on Thursday and Friday as the mountains west of the divide will see sunny and gorgeous weather while the foothills and plains east of the divide will see very cold air, clouds, and likely some snow.
The cold air and snow is being reported in eastern Wyoming as of Thursday morning, and this will move south into Colorado by Thursday late afternoon and evening.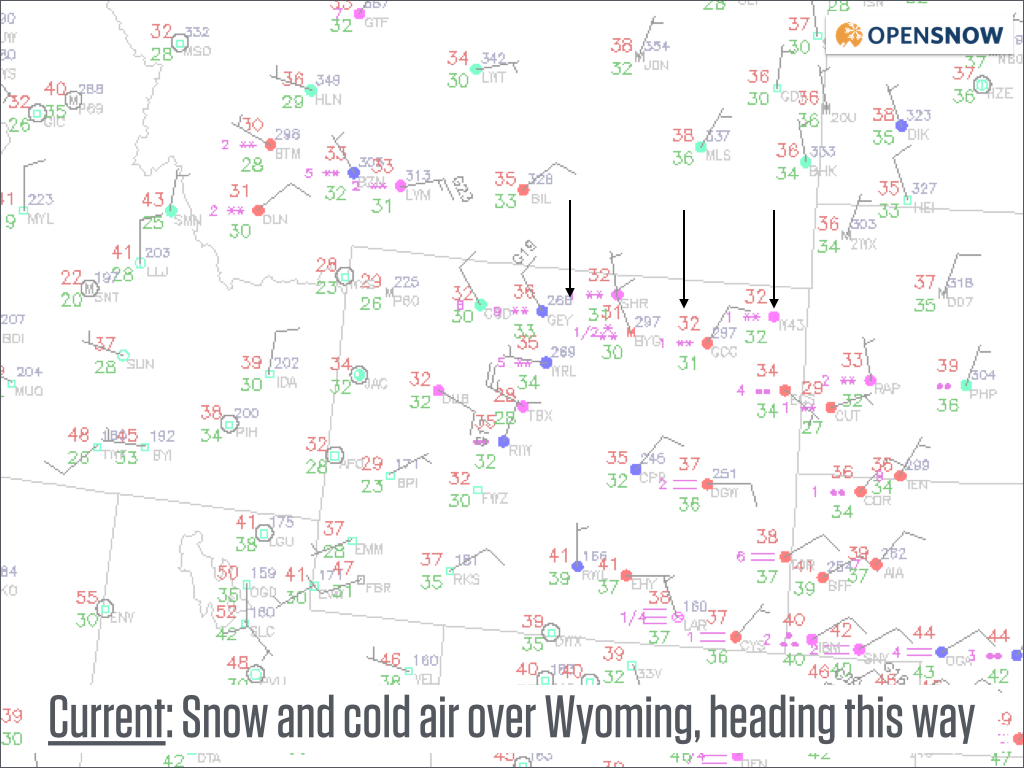 Current weather conditions as of 8am Thursday morning. Red numbers show the temperature while asterisks show snowfall. The map is centered on Wyoming with Colorado at the bottom-right of the image. Source: NCAR/NOAA
Right now as of Thursday morning, clouds are already covering parts of Colorado east of the mountains and north of Denver, and this will likely hang on throughout the day.
By Thursday late afternoon, the cold front will blast south along the front range, hitting Ft. Collins, Denver, and then pushing through Colorado Springs and the southeastern plains by evening. As the front moves through, look for gusty winds from the northeast, a few rain showers, and potentially a few thunderstorms east and south of Colorado Springs.
By the time the sun goes down around 715pm, temperatures will likely be cool enough for snow in the foothills north of Denver and above about 7,000ft. Elsewhere, there could be a few rain showers as temperatures continue to cool through the evening.
By about midnight Thursday night, temperatures should be cool enough over most of Colorado, including the lower plains, to support snow falling from the sky. The best chance for snow will last until about 4am and then most precipitation should end.
Any accumulations should be pretty light (dusting), with two exceptions. First, the foothills and palmer divide above about 6,000ft have the best chance of being cold enough to support accumulating snow. Second, there could be a few bands of heavier snow that stretch from west-to-east across the foothills out to the plains, generally north of Denver. Any locations under these bands could see a quick inch or two of accumulating snow.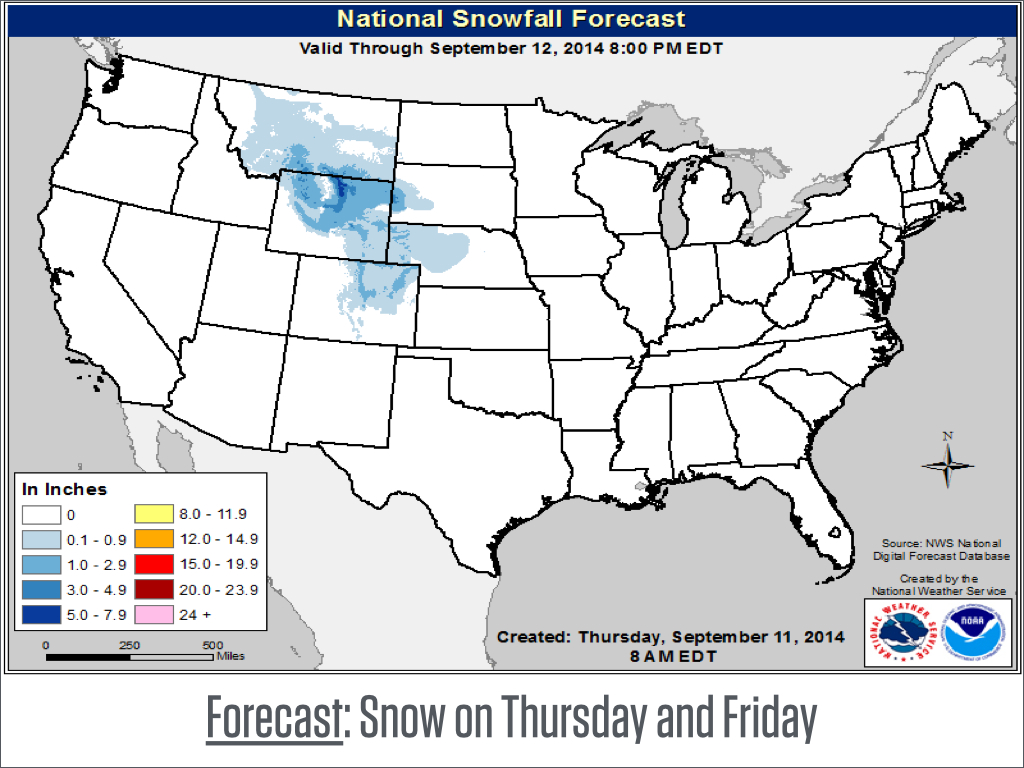 Snow forecast for Thursday and Friday shows light accumulations in eastern Wyoming and Colorado. Source: NWS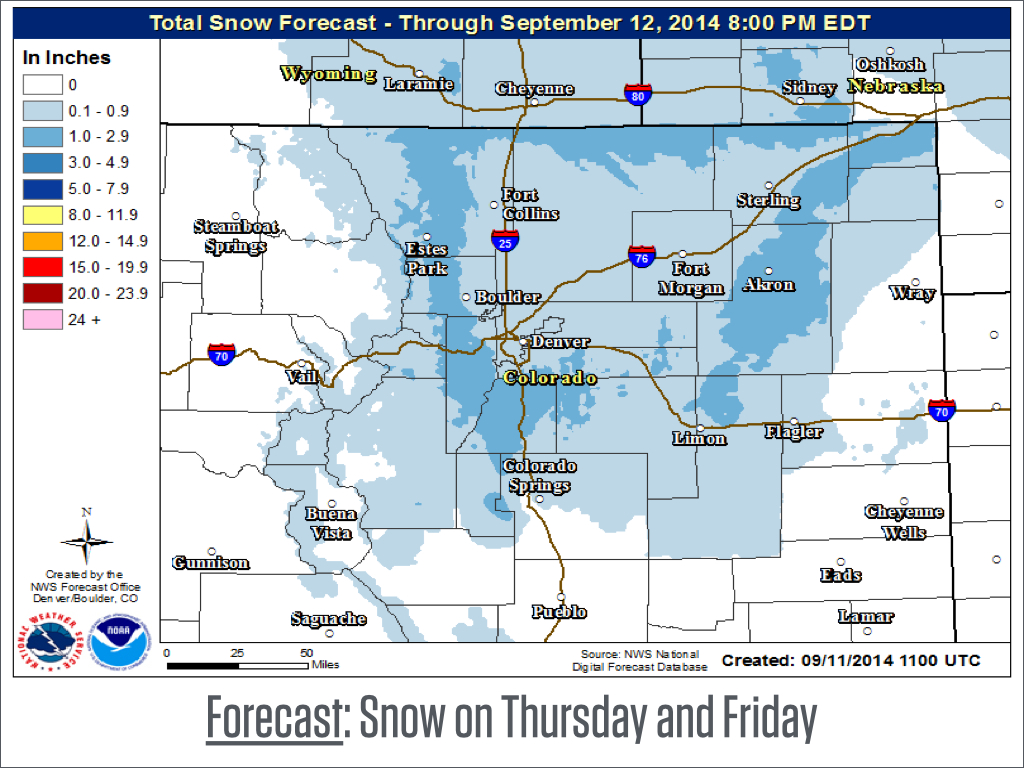 Zoom of the same snow forecast above. Source: NWS
On Friday, the mountains will wake up chilly but under sunny skies while areas east of the mountains will see chilly temperatures and low clouds for at least Friday morning, perhaps lasting through most of the afternoon.
On Saturday, the entire state should be sunny and dry, so enjoy!
For Sunday through next week, most days should be partly to mostly sunny with just a low chance of a quick afternoon shower over the mountains. On Friday there could be a few more showers and another batch of cool air for areas east of the mountains, but that's a long way off and very uncertain.
I hope you're loving the approaching cold front and the chance to see flakes on Thursday night, and are then looking forward to a glorious weekend!
JOEL GRATZ