Summary:
Dry on Wednesday and Thursday, then 3-6 or 4-8 inches for many mountains from early Friday morning through Friday evening. Friday will be a powdery day. Snow showers and clouds might hang on for Saturday morning, then Saturday, Sunday, and Monday will be dry and sunny. The next storm will bring snow on Tuesday and Wednesday, March 11-12.
Details:
Last night's storm behaved rather well with 2-4 inches falling for most areas.
The winners were Telluride and Silverton with 7 inches. More storm energy, called vorticity, went over this area, which likely helped to increase totals. Also, Eldora recorded 10 inches as the front range upslope hit them hard. The European model was right to forecast 0.5 inches of liquid for Eldora, but I was surprised to see that equate to 10 inches of snow, which is a 20:1 snow ratio despite the relatively warm temperatures.
Today and Thursday will be sunny and dry.
The next storm will begin during the early morning on Friday (between about 3am and 5am?) and should bring a solid 3-6 inches for most mountains by midday, with perhaps 8+ inches for areas along and east of the divide as the wind goes more northerly or north-northeasterly. The models are still not in complete agreement with the path of this storm, and the path will dictate the wind direction, which will dictate where the deeper snow accumulations will drop. Hopefully I'll have more confidence in the forecast by midday Thursday. Here is my current estimate for the snow at each mountain: http://opsw.co/CO1-5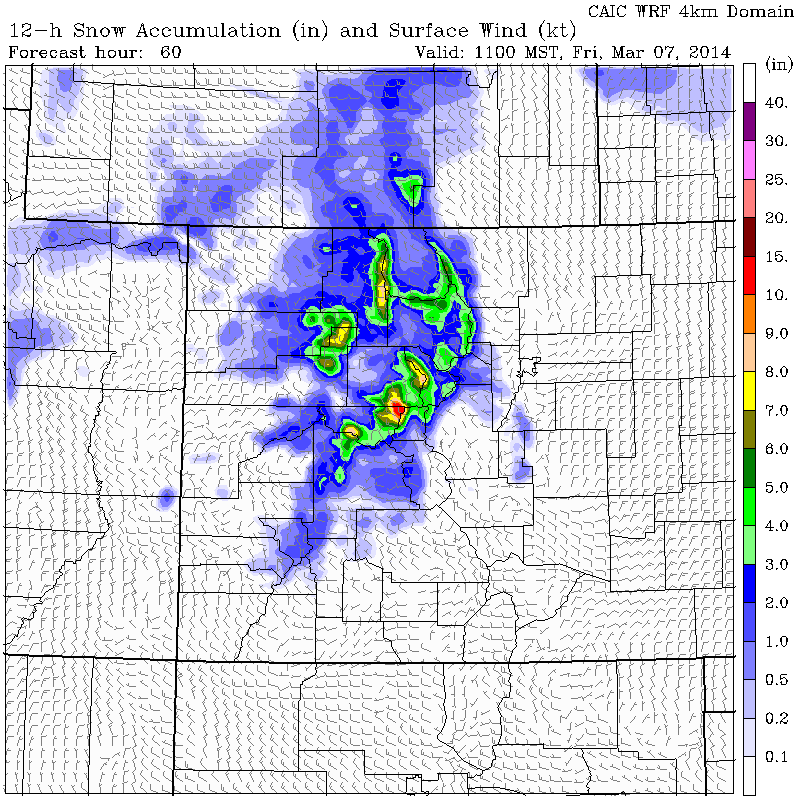 Snow forecast for Friday from the high resolution NAM model. Source: CAIC
Snow showers may continue through Friday night into Saturday morning so there could be a bit more fluff for Saturday morning in areas favored by N and NNE winds (along and east of the divide, perhaps Monarch, maybe Telluride and Silverton).
The rest of Saturday, Sunday, and Monday will be dry.
Then the next storm should bring snow to most areas, favoring the northern half of the state, on Tuesday through Wednesday, March 11-12. Again, this looks like a 3-6 inch type of event.
Long Range:
Most of the models show drier weather from the middle of next week through next weekend, with a return to snowier weather during the week of March 17-21. The exception is the often more accurate European model which doesn't show as much dry weather late next week and weekend. In any case, it is likely that we'll get a little bit of everything over the next two weeks, with a few storms and a few days of warm, spring-like temperatures.
JOEL GRATZ
> Checkout Liftopia for Discount Lift Tickets
-----
The Friends of CAIC have launched a $150,000 fundraising campaign in an effort to expand avalanche forecasting and education throughout the State of Colorado. Help them reach their goal while winning great prizes! http://www.crowdrise.com/stayinformedstayalive