Summary
Warmer temperatures and a slushier snowpack finally show their faces the end of this weekend as above freezing temperatures finally find their way to the Upper Midwest.
Details
Not much to write about for the weekend with the exception of a few lingering snow and sleet shower tonight across Northern Wisconsin and the UP of Michigan.
This cold front will give way to slightly cooler temperatures over clear skies tomorrow, before the warm up truly begins on Sunday.
Come Sunday, most of the area will see temperatures above the freezing mark, with areas in Southern Minnesota and Central Wisconsin touching the 40s. These temperatures will be even slightly higher on Monday ahead of another storm system forecasted to brush through the area on Tuesday night and Wednesday.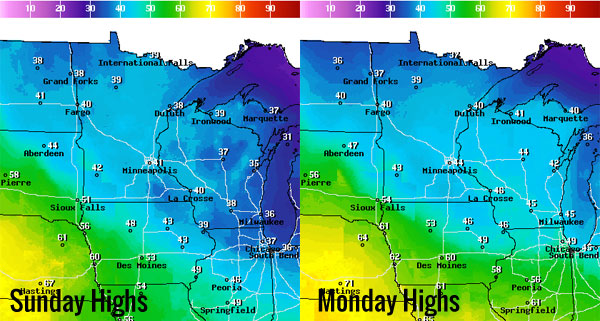 Forecasted high temperatures for Sunday and Monday. Credit: NOAA
Regardless, there looks to be plenty of sun and very little snow in the forecast for at least the next 7 days.
Enjoy the warmer weekend!
Cheers,
Andrew