Summary:
Thursday and Friday will be dry and sunny
A few showers on Saturday with heavier snow possible in the San Juans
Snow showers will be heaviest Sunday afternoon through midday Monday
Average accumulations Sunday > Monday about 2-4", some areas 6"+
Details:
Yesterday there was some snippiness in the comments (go figure;-) about this October being the warmest/driest October that people can remember. I really hate when we talk about the weather in terms of "what we can remember" because our memories about the weather are usually not that accurate.
So I did some quick searching through SNOTEL data, which is available on a free-to-use site with an easy-to-use-interface, and looked at data for Copper Mountain for the month of October over the last 30 years. I chose Copper Mountain because it has a SNOTEL station at mid mountain and also because it's somewhat centrally located among the larger resorts of central and northern Colorado, though of course we could look at data from any of the other ~70 SNOTEL sites around the state and my guess is that the data will tell a similar story.
The first graph below shows the snow water equivalent (amount of liquid if you melted the snow) as of October 28. Right now the value is 0 because even though we've had snow this month, the warmer temperatures have melted this snow. Looking back over the last 36 years to 1978, about 14 other years had 0 snow on the ground as of 10/28, just like this year. Some of these zero snow years might just be missing data, but even assuming that 10 years didn't have snow, that's about 25-30% of the seasons over the past 36 years that had no snow on the ground, just like right now. So yes, having zero snow is not average and only occurs about a quarter of the time, but it's also not unprecedented.
The lower graph shows average temperatures during October since 1985. There is not much of a temperature trend over the past 29 years, and this year does appear to be the second warmest October only behind October 2004.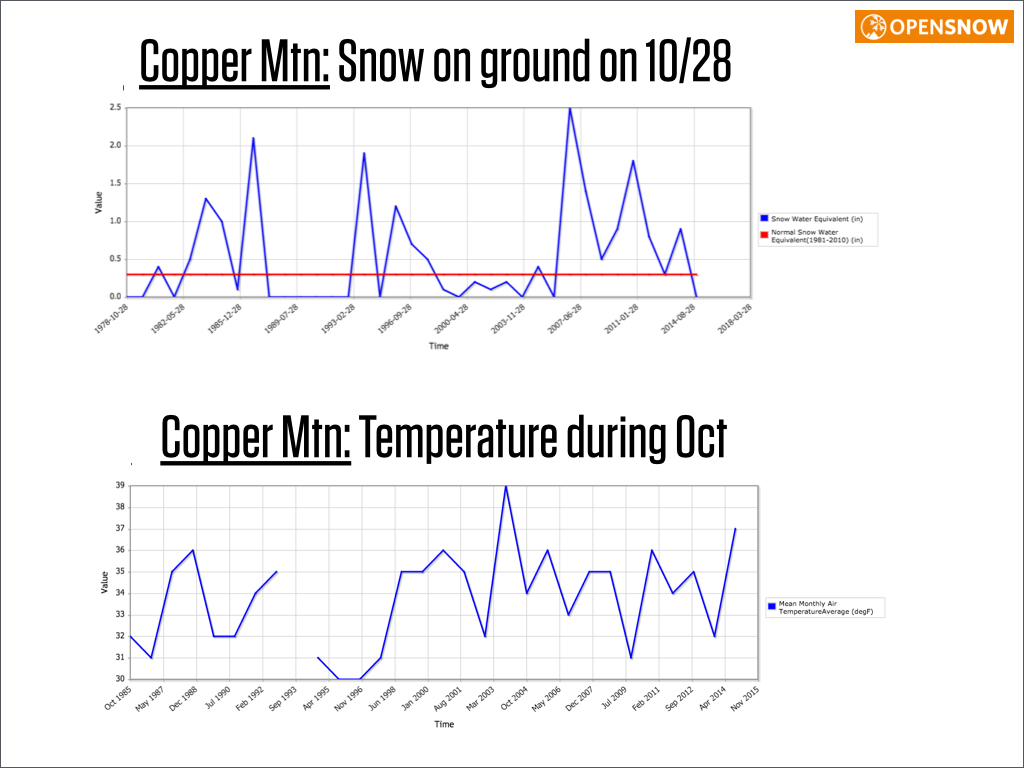 Hopefully this data is helpful and allows us to have a discussion based on facts rather than imprecise memories of recent weather.
Ok, on to the weather...
Thursday and Friday will be dry, sunny, and warm. Enjoy!
Our weekend storm will push some moisture into Colorado on Saturday, targeting the San Juans will rain and snow showers during the day and Saturday evening. The snow level will likely be above 10,000-11,000ft, so look for a few inches of snow above this elevation.
The brunt of the storm will move through our state from Sunday afternoon through Monday afternoon. As I mentioned yesterday, this storm will be splitting with some energy going north and some going south. This isn't great news, but based on the model trends over the last 24 hours, I still think we'll sneak out decent accumulations of 2-4 inches in general with the San Juans and central mountains between Crested Butte and Aspen likely receiving upwards of 6 inches.
Temperatures will cool on Sunday night through Monday with the snow level pushing down to 7,000ft or perhaps a bit lower. This also means that snowmaking operations should be in full swing on Monday and likely continue into Tuesday.
The middle and end of next week goes back to dry weather with average to above-average temperatures. Our next storm might then arrive sometime around November 10th plus or minus a few days, but this is based on weak model trends and not a clear signal of a storm.
JOEL GRATZ
Event Announcements:
My friend Joel Bettner climbed and skied Denali (a 20,322ft mountain in Alaska) this past summer. He'll be talking about the experience at REI Boulder next Wednesday 11/5. The event is free. Here's a highlight film he made about the experience.


CAIC's Benefit Bash (party!) is next Saturday, 11/8, in Breckenridge. Tickets are $40, are good for beer, food, a raffle, and entertainment, and the money supports CAIC. More info here.