Summary:
Saturday will be a great day - enjoy! Sunday and Monday will be cloudier with showers, then just a few leftover showers on Tuesday, then dry weather Wednesday, Thursday, and Friday. We'll likely see a cooler storm sometime late next weekend or Monday the 29th.
Details:
Friday was mostly sunny with a few afternoon clouds and showers over northern Colorado.
Saturday will be similar, except the better chance of afternoon clouds and showers will be along and south of I-70.
The big change comes on Saturday night into Sunday when clouds cover much of the state, and then rain showers could fall any time on Sunday through Monday. There will likely be two times of heavier showers, perhaps Sunday morning/midday and again late Sunday night through Monday morning.
Then showers will stick around Colorado on Tuesday in northwest flow, and if this were winter, the mountains along and north of I-70 would have great powder on Monday afternoon and Tuesday morning. Ah, we can dream...
Next Wednesday, Thursday, and Friday will be dry, and likely Saturday as well. Then a cool storm could affect Colorado sometime around Sunday the 28th or Monday the 29th. There is NO model agreement on the timing or strength of this storm, and even the usually accurate European model is flip-flopping with each new model run.
I'm trying to see the forest through the trees when looking at the various models, and this points me to thinking that we'll see a slower-moving system that will be cut-off from the main west-to-east flow of weather. These cut-off storms usually move more slowly than the models anticipate and are very tough to forecast, so aside from getting excited for the likelihood of high-elevation snow before the month is out, I can't give any more details.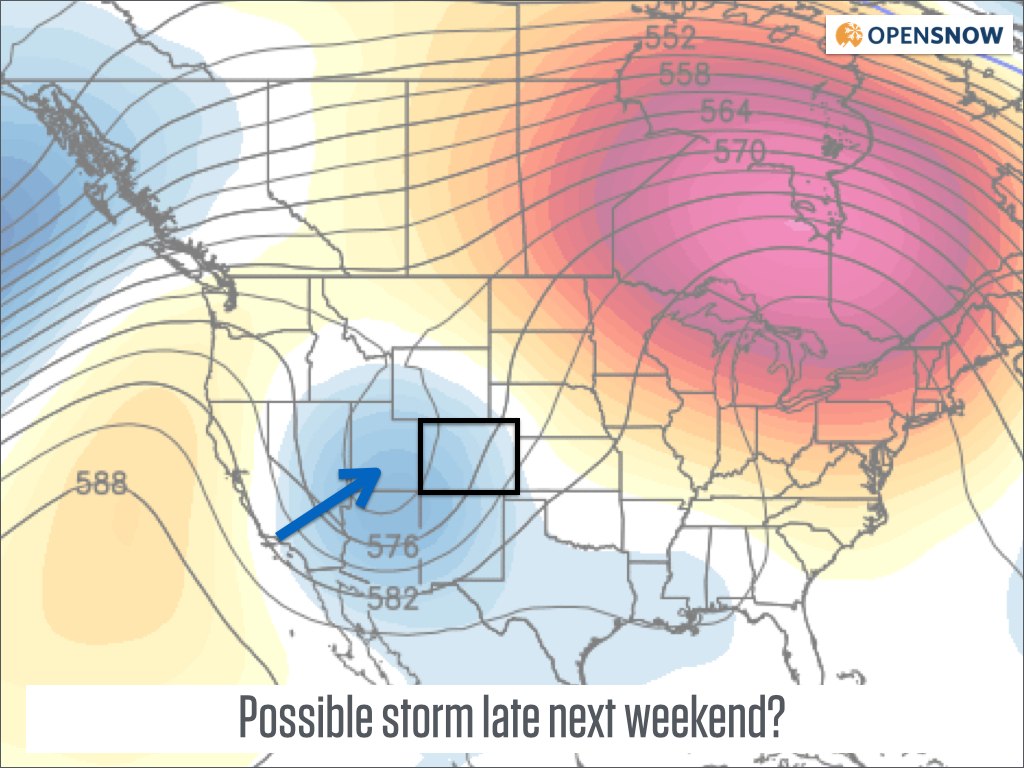 The American GFS model's forecast for the storm late next weekend around the 28th. Source: Weatherbell.com
Have a great Saturday enjoying the outdoors and hopefully looking at some leaves!
JOEL GRATZ