Summary:
Friday and Saturday will be much drier than the past few days, but there will still be a few afternoon storms each day over the mountains from Aspen north to Wyoming. On Sunday, look for a line of showers and storms to hit the mountains along and north of I-70 between mid morning and mid afternoon (it might be cool enough for flakes to fall instead of rain drops near Steamboat and Rocky Mountain National Park). Monday will still offer a chance of an afternoon storm in northern Colorado, but otherwise the rest of the state will be dry Monday, Tuesday, and Wednesday. The next moisture surge will bring a few showers on Thursday, then more numerous showers on Friday 9/5 through Sunday 9/7.
Details:
The storm that brought us clouds and rain during the week is finally east of us and has pulled much of the moisture away from Colorado. However, clouds are still hanging around the high peaks this morning, including at Longs Peak where a bit of snow is still showing from yesterday's midday showers.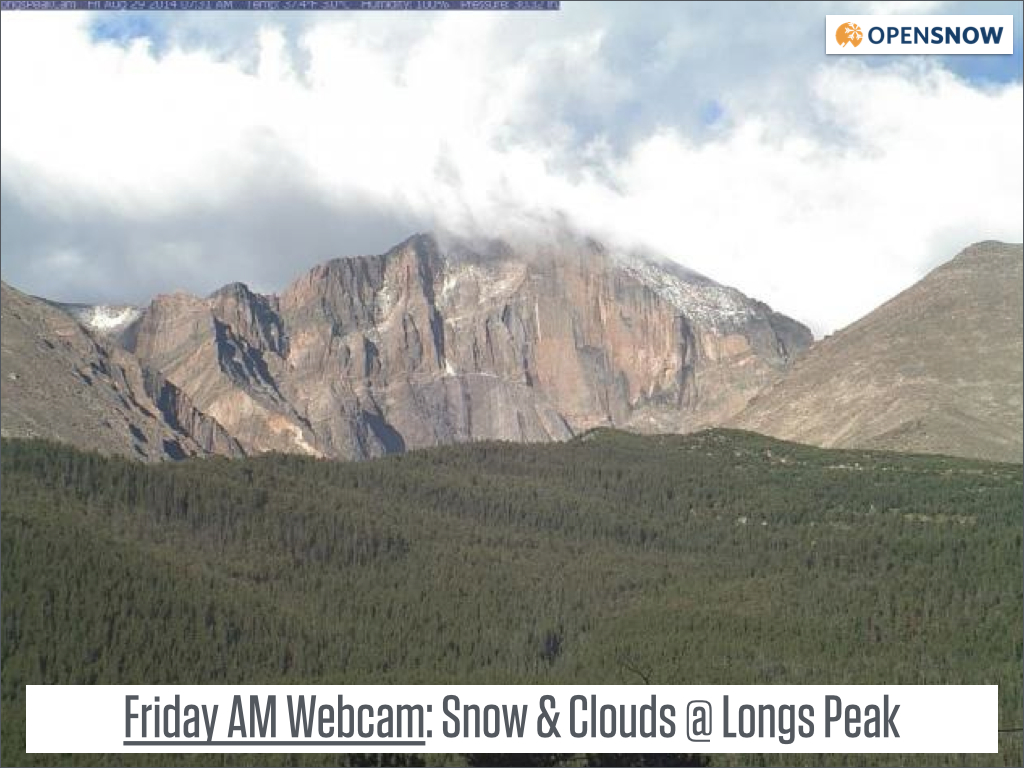 Look ... snow! Source: NPS Webcam
Even though there is far less moisture over Colorado today than during the last few days, we still have enough to trigger a few afternoon showers and storms across the northern half of Colorado on Friday and Saturday. If you're heading out for a hike, don't change your plans due to this forecast as there won't be many storms, but do pay attention and descend from higher, exposed terrain if you see one of these storms popping up to your west or northwest.
The next interesting weather feature will be a cold front and line of storms that will hit Colorado on Sunday. Most models are consistently showing that the precipitation will stay north of Aspen, and mostly north of I-70. I can't pin down the timing of the storms, but it looks like between late morning and mid afternoon on Sunday. Temperatures will be cool enough for snow flakes to fall above about 11,000ft as the storms roll through, so bring the right gear if you're backpacking in the northern mountains on Sunday, and don't be surprised to see precipitation early on Sunday, much earlier than a with more typical mid-afternoon showers and storms.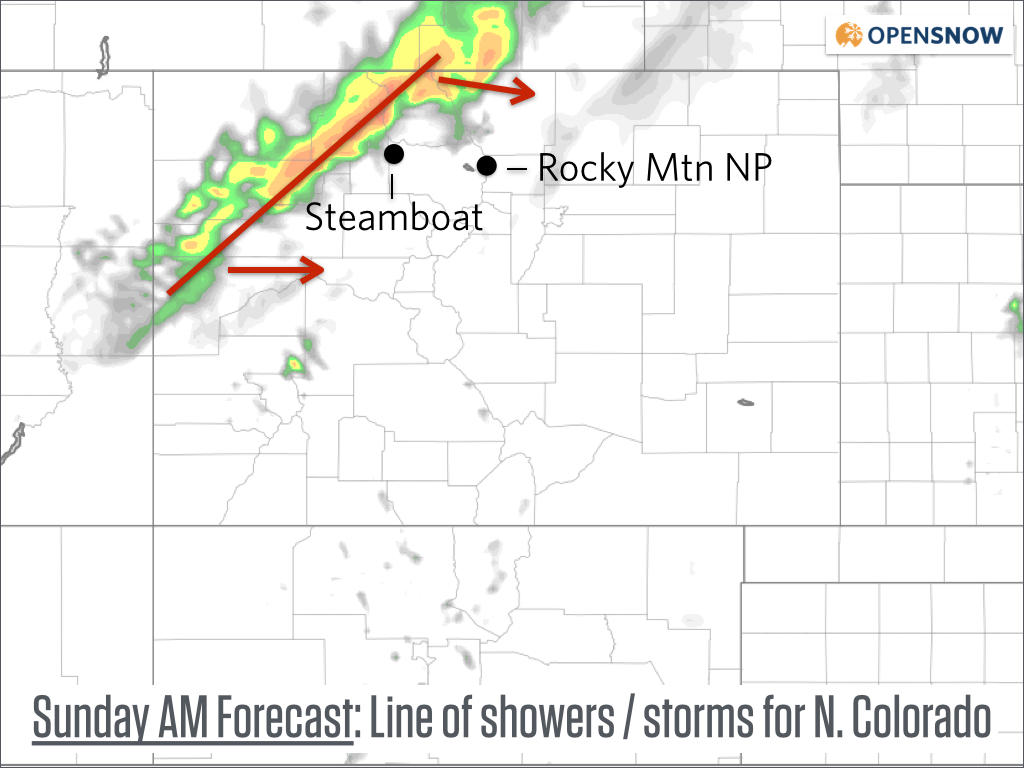 Forecast radar on Sunday mid-morning from the high resolution 4km NAM model. Source: Weatherbell.com
By Sunday night, all of Colorado will be dry. Then there will be dry weather on Monday, Tuesday, and Wednesday with no risk of afternoon storms, with the exception of a few weak showers over northern Colorado on Monday. Get out and enjoy, especially during the holiday on Monday for southern and central Colorado.
Later next week, starting around Thursday-ish, moisture will return to Colorado from a tropical system over Mexico. We'll see a few showers on Thursday, more showers Friday, and likely a lot of showers next Saturday 9/5 and Sunday 9/6. That's fine by me as I'll never be sad about precipitation falling in our arid state.
Have a fantastic holiday weekend! I'll have spotty internet through Monday, so will try to post but can't guarantee it.
JOEL GRATZ