Summary:
Thursday through Saturday will be warm and sunny. Our next storm should bring snow to the mountains on Sunday afternoon through Monday afternoon with about 3-6 inches for the northern half of the state.
Details:
The snow that fell on Tuesday night (2-4 inches for central and northern mountains) mostly melted on Wednesday except for higher elevation and northern aspects. I'm not sure the snow will last, though, as Thursday, Friday, and Saturday will be sunny with temperatures at 11,000ft into the upper 40s during the day and barely dropping to freezing at night.
The next storm for Sunday and Monday should bring some snow and cooler air to the mountains.. Right now it looks like 3-6 inches is a good bet near and north of Aspen up to I-70 and Steamboat, with snow starting on Sunday afternoon / evening and snow showers continuing through Monday.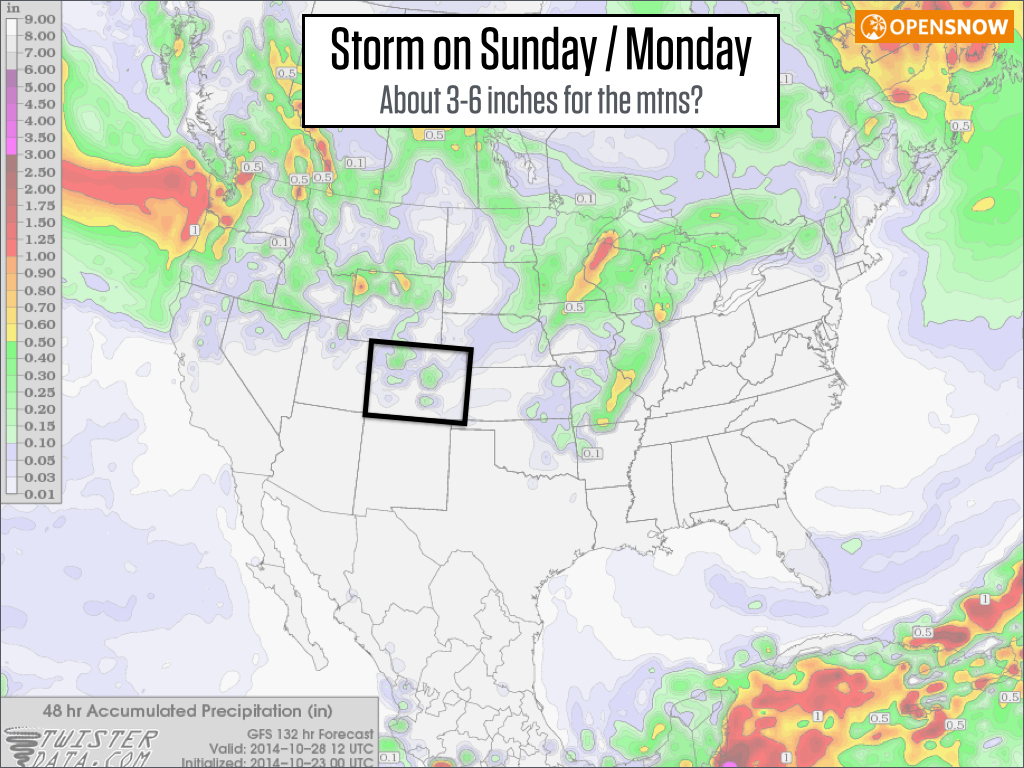 Temperatures will cool quite a bit with snow levels starting around 11,000ft at the beginning of the storm on Sunday, but dropping to 8,000ft or below by Monday. The best news is that the drop in temperatures should help snowmaking folks turn the guns on for most of Monday and continuing into Tuesday. And even though temperatures will warm a bit later next week, the snowmakers should be able to blow snow at night.
Beyond late next week (the end of October), I'm not sure how early November will play out. Many of the models indicate a stormy area over the western US, but it's too soon to know if this will affect Colorado or will stay further west along the coast.
JOEL GRATZ