Summary:
Dry Friday, then numerous showers on Saturday with fewer on Sunday. These showers will generally be snow above 10,000ft and rain below 10,000ft (snow could fall at lower elevations in the heavier showers). Monday will be dry, Tuesday will be dry, warm, and windy, then Wednesday will cool off with a few inches of snow likely. The end of next week should return to dry and warm weather.
Details:
Today, Friday, will be dry with increasing clouds as moisture builds ahead of our next storm.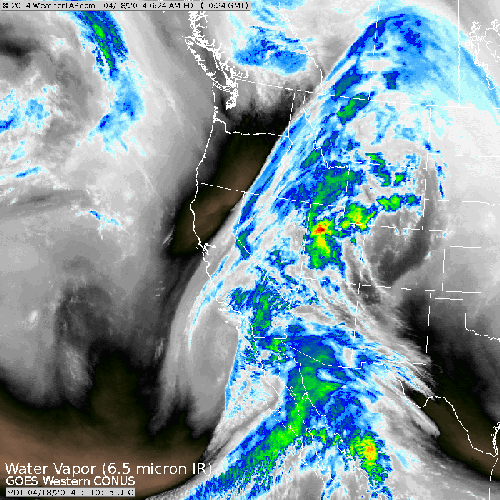 The gray, blue, and green colors show moisture moving into Colorado from the southwest. The center of our next storm is currently swirling off the coast of southern California, and it will move across Colorado during Saturday and Saturday evening. Source: WeatherTap.com
Showers will start in the San Juans on Friday night, then move across all of Colorado on Saturday. This storm will not produce continuous precipitation, but rather convective showers, more like typical summer precipitation. The mountains will have a better chance of seeing precipitation compared to the valleys, and this precipitation will fall as snow above 10,000 feet with rain drops more likely below this level (heavier bursts of precipitation will drive the snow level down to 9,500ft or even 9,000ft).
The showers will let up Saturday night, but then reform on Sunday afternoon. Overall for the weekend, Sunday will be the nicer day with fewer showers compared to Saturday.
Most of the moisture will leave Colorado on Sunday night, so Monday should be dry and sunny. Tuesday will stay dry and warm up with very strong winds from the southwest developing by the afternoon. These winds could unfortunately blow in dust from Utah, Arizona, and New Mexico.
Long Range:
A cold front will move through next Wednesday the 23rd and this will cool our temperatures but won't bring us much precipitation with perhaps just a few inches of snow for the mountains. After that, the next chance for precipitation could arrive the following weekend, April 26-27.
JOEL GRATZ
-----
I wrote two articles for yesterday's final email newsletter of the year:
Where will the snow fall next season: http://opsw.co/RuMpRL
Two pieces of gear that changed my skiing: http://opsw.co/1lfY8fz