Summary:
Mostly cloudy with snow showers continuing on Tuesday for the northern half of Colorado. A stronger storm will drop 3-6 inches of snow across northern and central Colorado on Wednesday afternoon, then Thursday through early next week will be dry.
Details:
Monday was a great day across Colorado with moderate to heavy precipitation falling during the afternoon and evening. Most mountains above 10,000 feet saw accumulating snow, with totals around 3-6 inches above about 11,000ft. During the heavier showers, the snow level dropped to around 8,000ft in spots, like near Wolf Creek Pass. This temporary drop in the snow level can happen as heavy precipitation pulls down down colder air from higher up in the atmosphere.
Below is a picture of Wolf Creek Pass during the heaviest snow on Monday afternoon. A reader commented that the pass received about 8 inches of snow. Nearby SNOTEL sites showed about 0.6 inches of snow water equivalent, so 6-8 inches seems legitimate.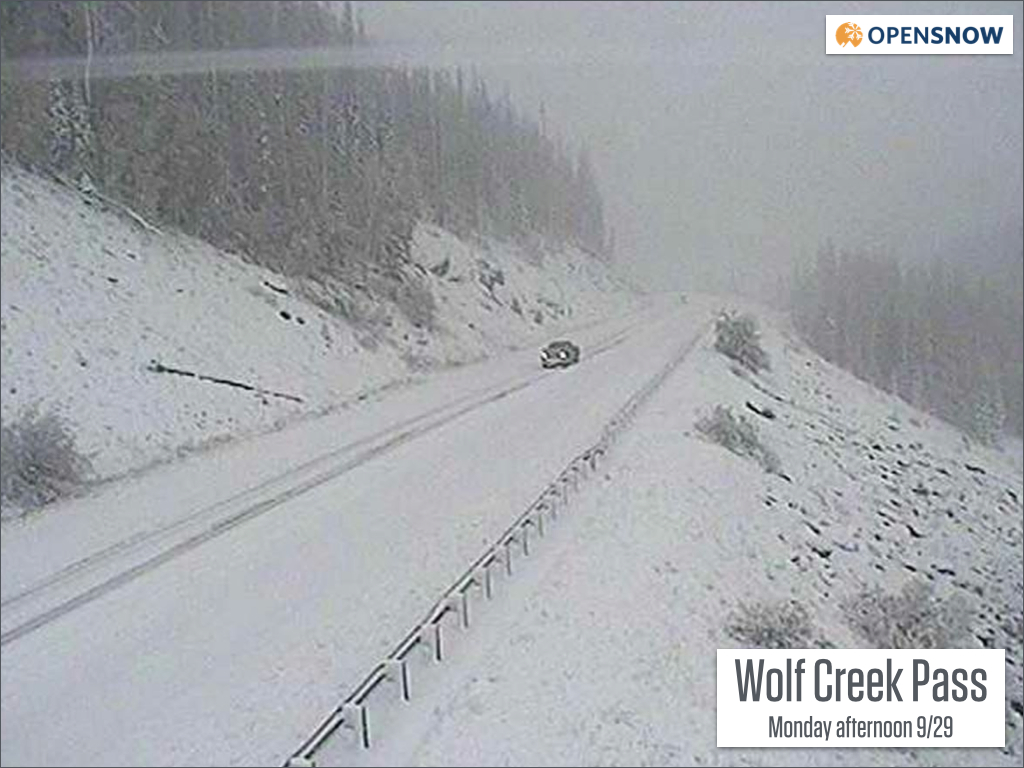 Look at that snow on Wolf Creek Pass. Has me dreaming of winter powder! Source: OpenSnow.com via CDOT
The storm that brought the snow (and heavy rain and hail east of the mountains) is now in the upper midwest, but fear not because more action is in store for the next two days.
On Tuesday look for a mostly cloud day from Aspen north to I-70 and Steamboat with another wave of precipitation moving through during the late afternoon and evening. The mountains above 10,000 could see another few inches of snow from any heavier showers that move overhead. Areas south of Aspen will see a mix of sun and clouds.
On Wednesday a more potent storm will push through during the midday and afternoon hours. Most mountains from Aspen north to Wyoming will see about 3-6 inches of snow, with perhaps a bit more for some lucky areas. If we can keep snow showers around during Wednesday night after the sun goes down, flakes might fall down to 8,000ft or so. This storm will mostly target the northern 2/3rds of Colorado, so the San Juans will see some snow but not as much as areas further north.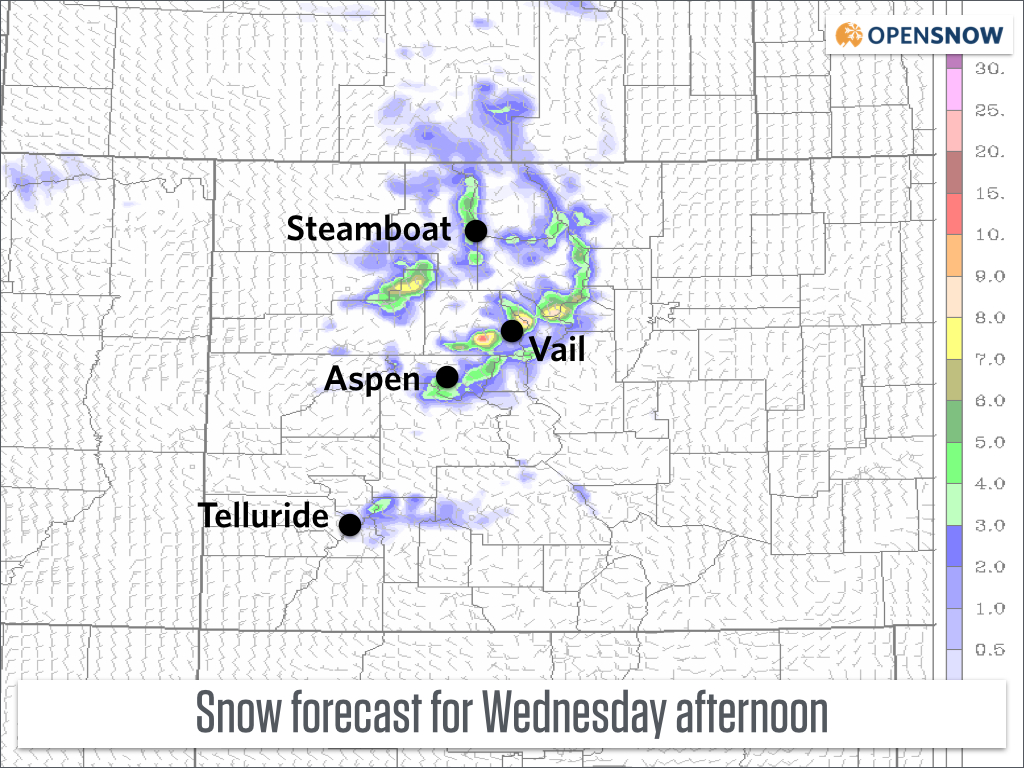 Snow forecast for Wednesday afternoon and evening. Don't look too closely at the bullseye of colors and focus instead on the general amounts showing 3-6 inches for most areas. Source: CAIC
Thursday will start off chilly with lingering morning clouds across northern Colorado, then the sun will shine brilliantly through the rest of the day.
Friday, Saturday, Sunday, Monday, and Tuesday all look sunny and dry with warming temperatures. Some snow may stay on the peaks, but the rest of the snow will melt through the end of the week and weekend. Get out and enjoy the late autumn beauty!
I don't see a strong signal about when the next storm will move in, though the models are hinting at some cooler weather with a chance of precipitation sometime around the 10th-15th of October.
JOEL GRATZ