Home

»

The Colorado Daily Snow
The Colorado Daily Snow
Get This In Your Inbox Every Day!
Never miss a beat! Receive The Colorado Daily Snow via email the moment it's written. Start your FREE OpenSnow Super Pro trial today!
Pikes Peak at 14,110ft this morning, August 8th: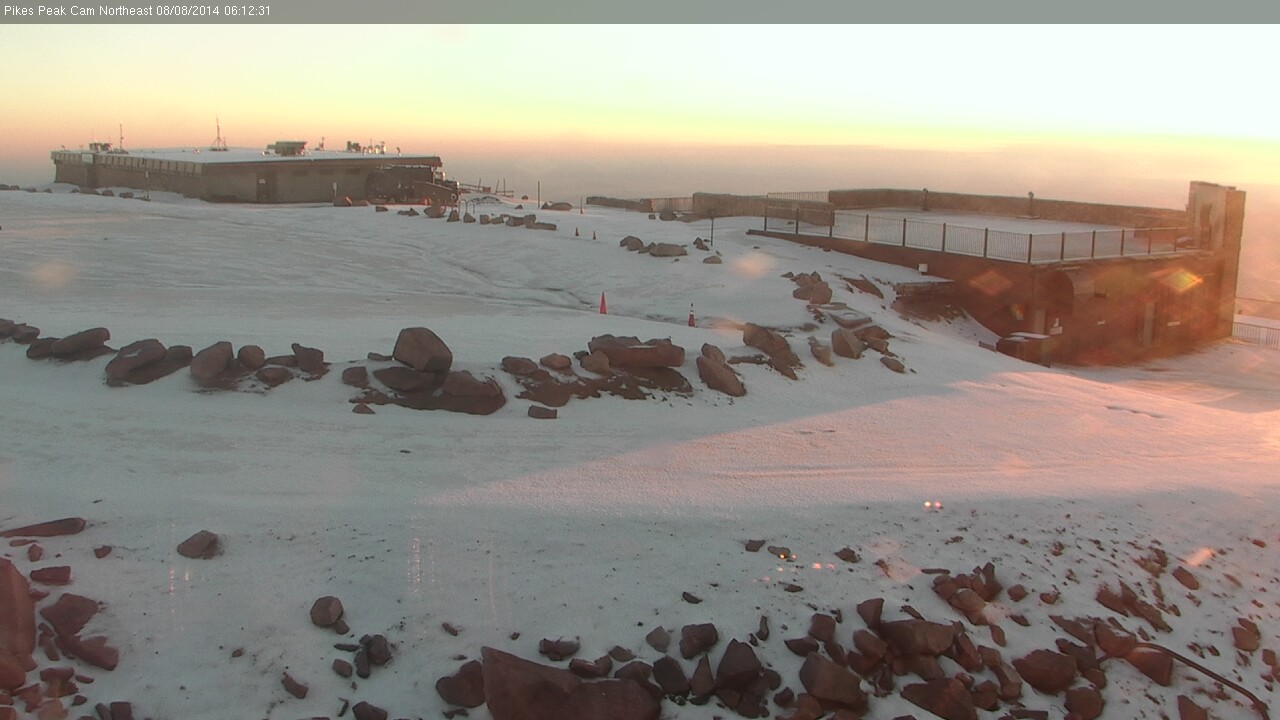 Nice to see snow once again:-)
Have a great weekend!
JOEL GRATZ
Summary
We've seen average to above average precipitation across most of Colorado during the month of July, including the heavy rain on the front range during the last week. This weekend should be drier, except for southern Colorado where afternoon showers will persist. Next week, temperatures will continue to be average or below average.
Details
Earlier this week I talked about the potential for heavy rain east of the divide and north of I-70. The forecast generally panned out, with 2-3 inches of rain falling for many locations, and up to 4-6 inches in a few towns that saw heavy showers on Tuesday afternoon. The radar estimated rainfall shows the area of heaviest precipitation.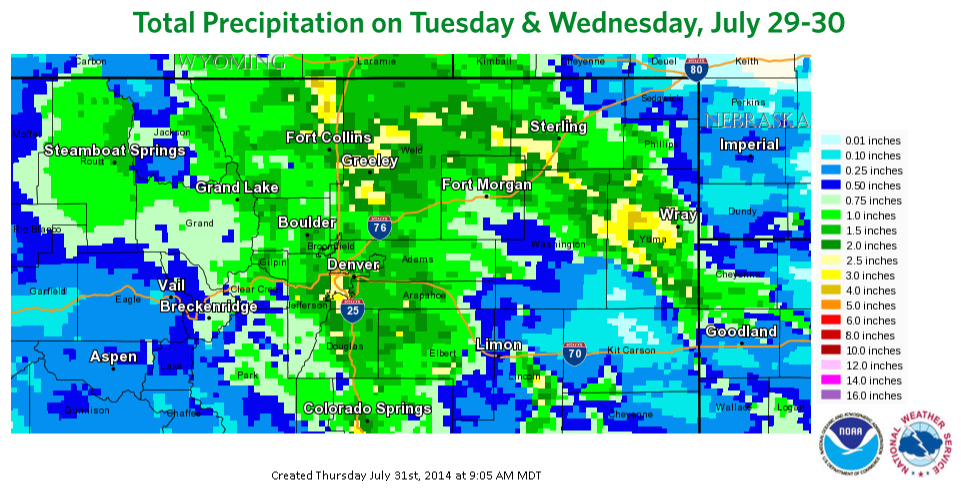 This most recent precipitation helped to ensure that totals for July were above average for most of Colorado, including the mountains. It was great to see the monsoon-induced rainfall during July, because many areas were drier than average during the month of June.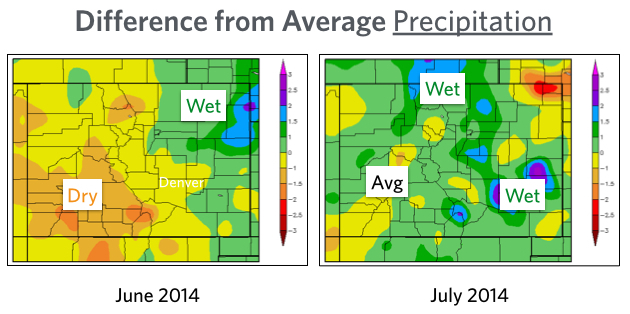 Looking at temperatures over the last two months, there is nothing remarkable to report. Though after the past two very warm summers I suppose what's remarkable about this summer is that it has been close to average. The mountains recorded hotter-than-average readings during parts of July, but overall the state has been right around normal.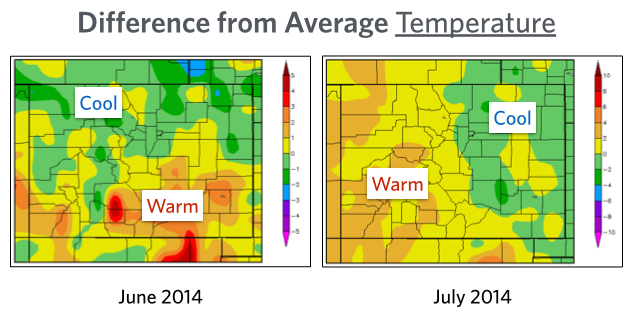 To the forecast...
The next few days look great! Most areas will see minimal rainfall this weekend (except for the San Juans), so enjoy your time playing outside! As for temperatures, they should stay around average or cooler than average through the first week of August.
JOEL GRATZ
Summary
Many areas of eastern Colorado recorded 1-2 inches of rain over the last 24 hours, and another 1-2 inches could fall on Wednesday before the storm moves away in the evening (this is well above average for July).
Details
The rain started on Tuesday afternoon and covered the state somewhat randomly, but by Tuesday night the atmosphere seemed to play along with the forecasts and produce a steady rain over and east of the foothills between I-70 and Wyoming.
Total accumulations from Tuesday and Tuesday night exceeded 6 inches in a few spots that saw heavy downpours on Tuesday afternoon, while the average was about 1-2 inches. This amount of rain isn't generally enough to cause widespread flooding, but it is very beneficial and should put us above average for the month.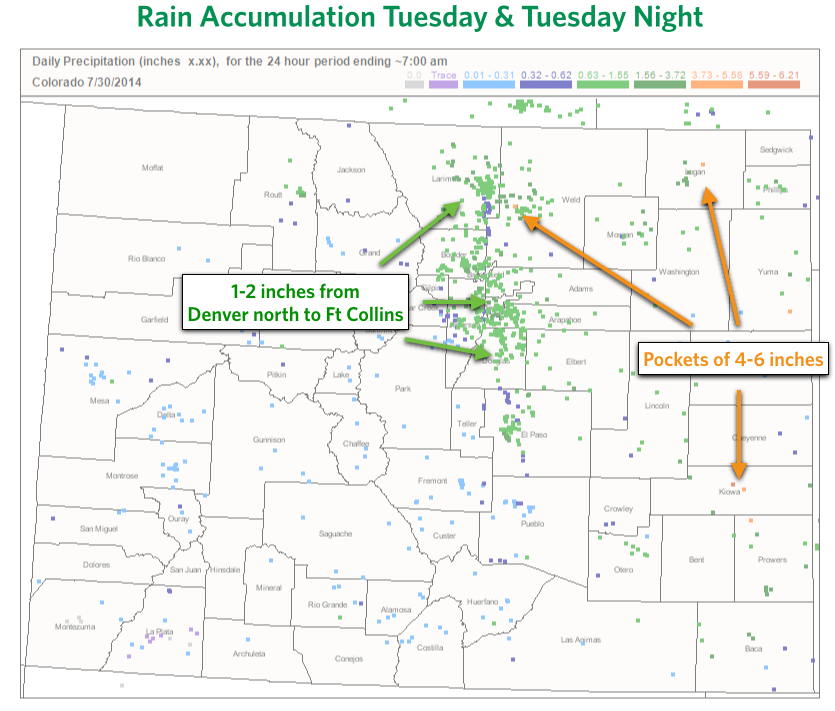 The rain is continuing to fall now on Wednesday midday, and it should continue through the afternoon for northeastern Colorado. The mountains west of the divide are mostly dry right now, but some showers should pop up during the day.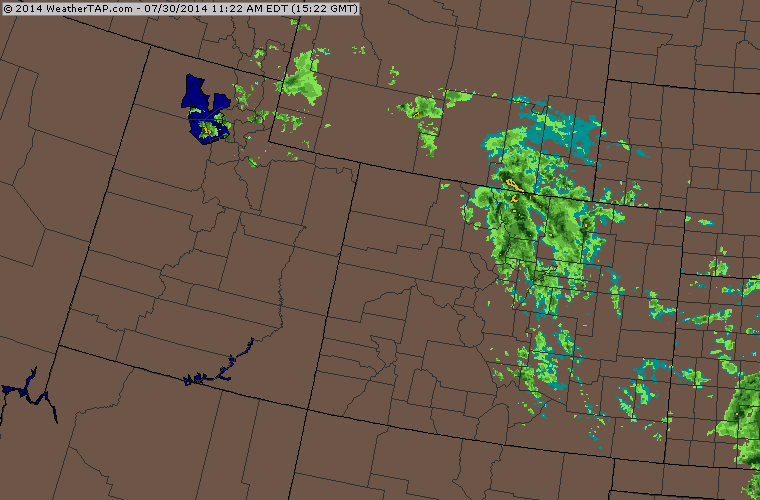 The coldest temperature I can find during this storm is 36 degrees at 12,500ft on Berthoud Pass. It's possible that some peaks over 13,000ft might be coated in snow, and we'll have to wait until the clouds clear late Wednesday night or Thursday morning before confirming this. The best chance to see snow is along and north of I-70 from Berthoud Pass north to the Indian Peaks and Rocky Mountain National Park.
Another note about the cold. Right now (11am Wednesday) the temperature at Denver International Airport is 60F. The coldest high temperature for this date is 64 set in 2009, so we might break it if the rain and clouds are able to stick around all day and limit additional heating.
A few people wrote to me yesterday asking if the cool / wet pattern we're seeing right now will stick around for the fall and into the winter. The long-term climate models do show this. Don't get excited just yet and think that our winter will offer above-average snow, though it does seem like winter might get off to an early start. I'll post more about the winter outlook by late August and will continue to post on a daily basis if and when there is interesting weather in Colorado (like right now:-).
Thanks for reading during the summer!
JOEL GRATZ
Summary
Heavy rain will likely fall from Tuesday evening through Wednesday from Denver north to Wyoming and there is a high chance of flooding. Other areas of Colorado will see healthy rain but lower chances of flooding. Below-average temperatures will stay with us through early August.
Details
Colorado has experienced a rather typical summer so far with about average precipitation and average temperatures. Of course some areas have been hotter / cooler / wetter / drier than others, but overall it's been a normal summer.
One part of a normal summer is an increase in moisture during July due to a change in wind patterns that pushes this moisture from the south into our state. This is called the "Monsoon".
We've seen a few good pushes of moisture and rainfall over the past weeks, but we're about to get the strongest push yet. When this next wave of moisture moves into northeast Colorado Tuesday and Wednesday, it will coincide with an area of energy that will help to lift the air, and lots of rain will likely result.
First, here's the moisture pushing into Colorado from the south.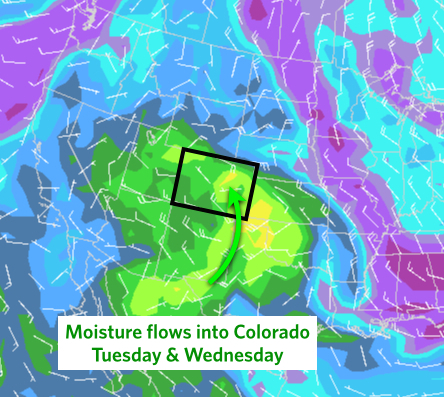 Next, add an area of energy that will spin its wave over Colorado and help to lift the moist air and convert it to rain. You can see the area of spin on Tuesday morning centered over central Utah, moving toward the northeast.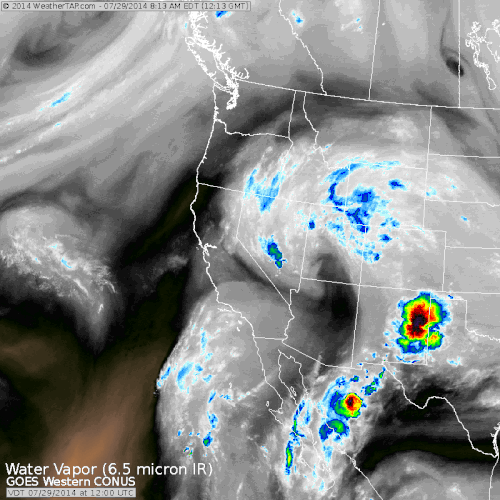 The result will be rain steady rain mainy areas of the state, with the potential for flooding rains over northeast Colorado, north of I-70 and along and east of the highest mountains of the divide.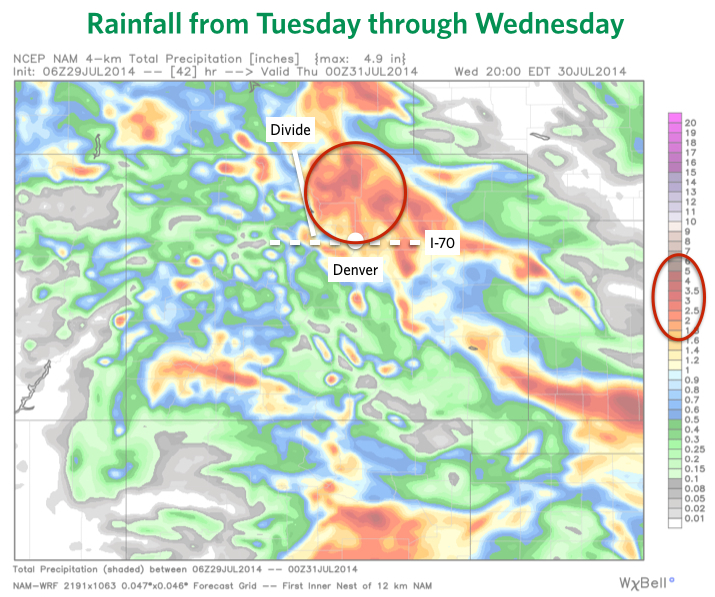 Yes, this is is the same location that the flooding occured during September 2013. The models are forecasting 2-5 inches of rain for this area during the next 36 hours. The average amount of rainfall during July for northeast Colorado is about 2 inches, so we might get 100%, 200%, or even 300% of our monthly rainfull in just a day and a half. This is why we have concerns about flooding.
Looking ahead to early August, a cool northwest flow will keep temperatures at or below average for most of Colorado during the next 10 days. If this were winter, there would be multiple powder days over the coming week. But the best I can say about this pattern during the summer is that we won't see swealtering temperatures anytime soon and there will be chances of rain most days. Fantastico!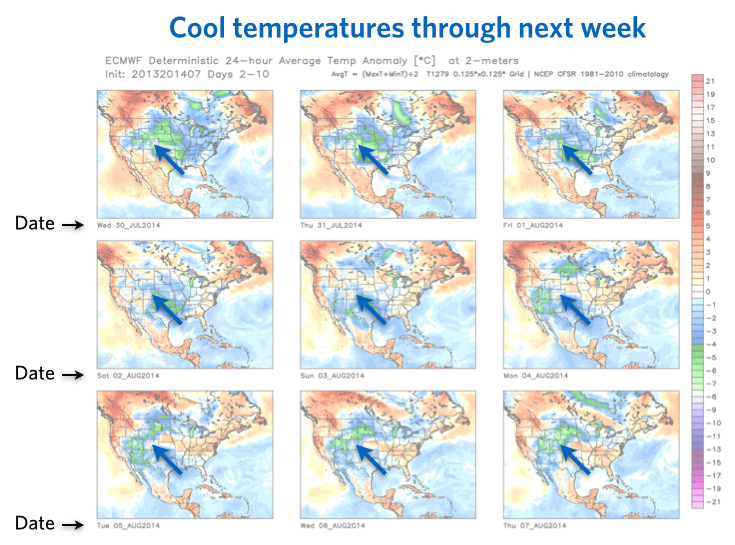 I'll keep an eye on the flooding potential Tuesday night through Wednesday for northeastern Colorado and update as necessary. I don't want to see flooding, but I do like to see moisture in Colorado, so this might just be a case of too much of a good thing.
JOEL GRATZ
Summary
Showers on Monday, Tuesday, and Wednesday.
Dry on Thursday.
Another round of showers on Friday and Saturday.
Dry next Sunday the 29th.
Details
Subtle changes in the atmosphere can make for big changes in the weather that you see.
Late last week, my forecast for this week was for dry weather west of the divide with showers along and east of the divide. While this is still generally true, the subtle change in the atmosphere was to push more moisture into the mountains west of the divide. This is translating into some rain and lighting for the mountains west of the divide. Bad for my earlier forecast, but good for the moisture.
Here's the precipitation forecast through Wednesday, showing the heaviest rain east of the divide. Look for hail, gusty winds, and a quick tornado along and east of I-25 on Monday and Tuesday afternoon.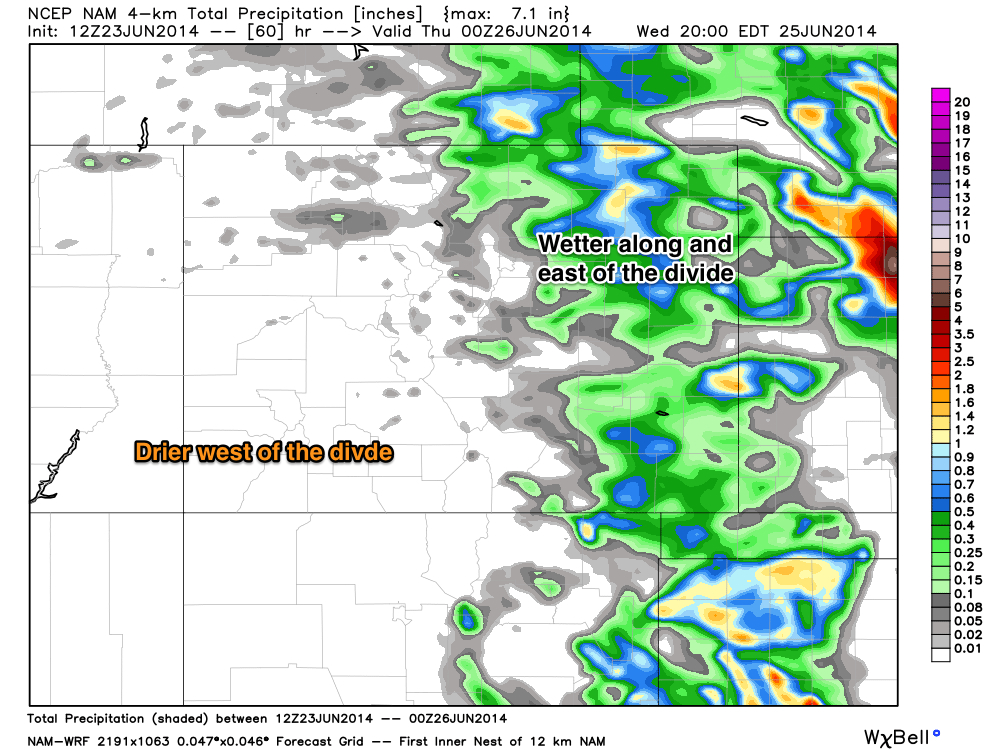 JOEL GRATZ
The Colorado Daily Snow serves
Arapahoe Basin
,
Aspen Highlands
,
Aspen Mountain
,
Beaver Creek
,
Berthoud Pass
,
Breckenridge
,
Buttermilk
,
Cameron Pass
,
Copper Mountain
,
Crested Butte
,
Eldora
,
Irwin
,
Keystone
,
Loveland Ski Area
,
Monarch
,
Powderhorn
,
Purgatory at Durango Mountain Resort
,
Rocky Mountain National Park
,
Silverton
,
Ski Cooper
,
Ski Granby Ranch
,
Snowmass
,
Steamboat
,
Sunlight
,
Telluride
,
Vail
,
Winter Park
, and
Wolf Creek
.