Summary:
Thursday will be mostly dry, a few more showers on Friday (but not many), then Saturday will be mostly dry and the much nicer day of the weekend. Sunday through Tuesday will be showery for most of the state, then one or two colder systems could affect Colorado sometime between Friday the 26th and Tuesday the 30th.
Details:
On Wednesday there were a few showers over the mountains, but most of these were "dry" with the rain evaporating before it hit the ground. With a little more moisture over the southern mountains, more of the showers produced brief bursts of rain.
Thursday will be similar to Wednesday with most areas seeing a dry and very warm day and a few showers over the mountains, mostly over the San Juans.
Friday is now looking like a pretty nice day. Earlier in the week, Friday looked like a wet day with lots of moisture moving into Colorado from the remnants of Hurricane Odile. However, most of Odile's moisture is going to stay south of us over New Mexico, so Friday's forecast is now similar to Thursday with afternoon clouds and showers over the mountains, but really nothing of significance.
If you're looking to get outside and play this weekend, choose Saturday. I can't rule out a shower over the mountains, especially along the eastern continental divide, but for the most part it'll be a nice day in the mountains where the Aspens are beginning to turn their beautiful fall yellow. The exception to the clear weather will be in the eastern foothills and front range which could see low clouds for much of the day with an upslope wind from the east.
The turning point in our weather will start on Sunday when moisture from a storm over California works into Colorado. This storm is cut off from the main west-to-east flow of weather, so it will move very slowly and will bring showers to Colorado from Sunday midday or afternoon all the way through Tuesday evening or even into Wednesday morning/midday.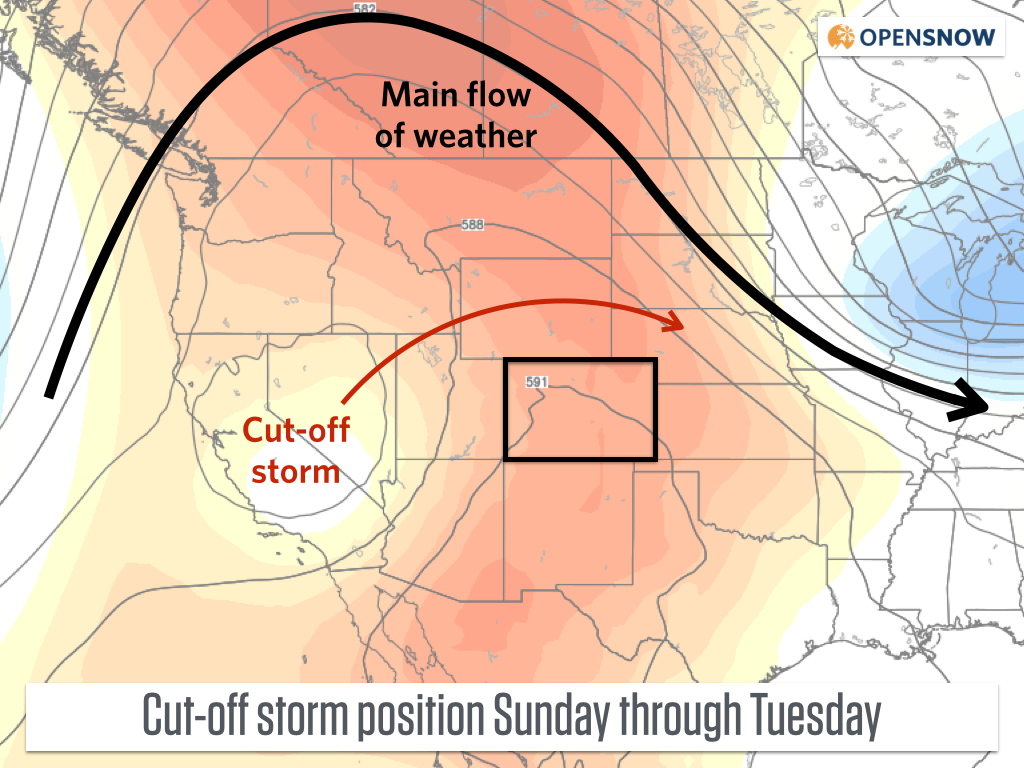 Forecast for the slow moving cut-off storm later this weekend and into early next week. Source: Weatherbell.com
Next Wednesday and Thursday look like nice days next week, and then...something "interesting" will happen:-)
Between Friday, September 26th and Tuesday, September 30th, one or two colder storms should move across the the western US and Canada. The details of these storms are 100% unknown and the models are unbelievably waffley (is that a word?). We might see nothing more than cooler air for northern Colorado and some wind, while snow falls in Wyoming and Montana. Or we might see one or two strong cold fronts move across the mountains with snow falling down to 10,000ft (mid-mountain-ish) or lower. At this point, nobody knows what will happen, but it's nice to see some action on the long-range forecast. Stay tuned...plenty of time to figure out the forecast to see if we can get some widespread snow to fall on the mountains while the calendar still reads September.
JOEL GRATZ