Summary
Heavy rain will likely fall from Tuesday evening through Wednesday from Denver north to Wyoming and there is a high chance of flooding. Other areas of Colorado will see healthy rain but lower chances of flooding. Below-average temperatures will stay with us through early August.
Details
Colorado has experienced a rather typical summer so far with about average precipitation and average temperatures. Of course some areas have been hotter / cooler / wetter / drier than others, but overall it's been a normal summer.
One part of a normal summer is an increase in moisture during July due to a change in wind patterns that pushes this moisture from the south into our state. This is called the "Monsoon".
We've seen a few good pushes of moisture and rainfall over the past weeks, but we're about to get the strongest push yet. When this next wave of moisture moves into northeast Colorado Tuesday and Wednesday, it will coincide with an area of energy that will help to lift the air, and lots of rain will likely result.
First, here's the moisture pushing into Colorado from the south.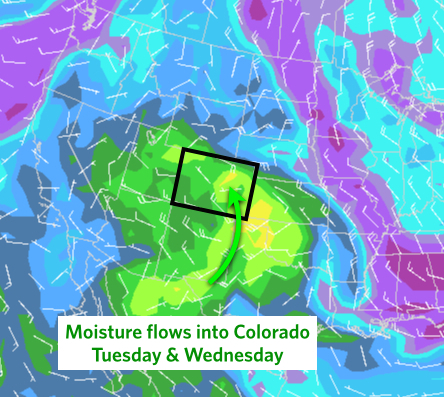 Next, add an area of energy that will spin its wave over Colorado and help to lift the moist air and convert it to rain. You can see the area of spin on Tuesday morning centered over central Utah, moving toward the northeast.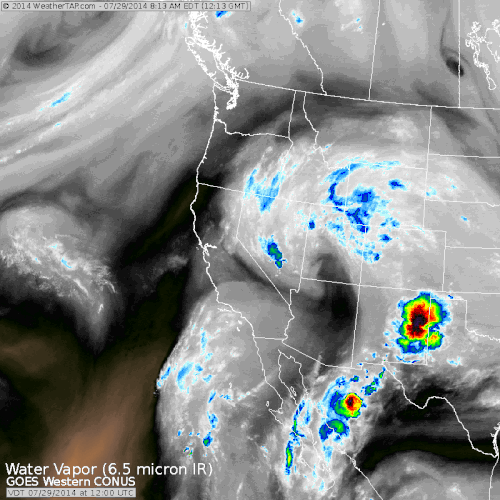 The result will be rain steady rain mainy areas of the state, with the potential for flooding rains over northeast Colorado, north of I-70 and along and east of the highest mountains of the divide.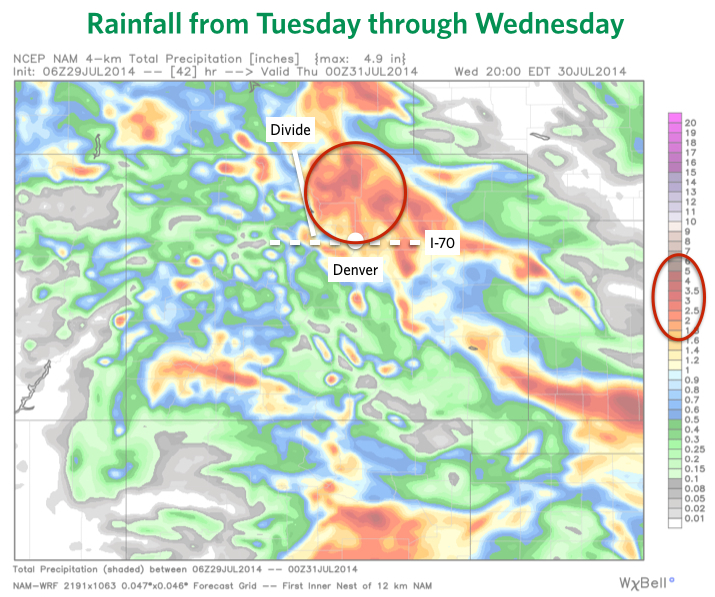 Yes, this is is the same location that the flooding occured during September 2013. The models are forecasting 2-5 inches of rain for this area during the next 36 hours. The average amount of rainfall during July for northeast Colorado is about 2 inches, so we might get 100%, 200%, or even 300% of our monthly rainfull in just a day and a half. This is why we have concerns about flooding.
Looking ahead to early August, a cool northwest flow will keep temperatures at or below average for most of Colorado during the next 10 days. If this were winter, there would be multiple powder days over the coming week. But the best I can say about this pattern during the summer is that we won't see swealtering temperatures anytime soon and there will be chances of rain most days. Fantastico!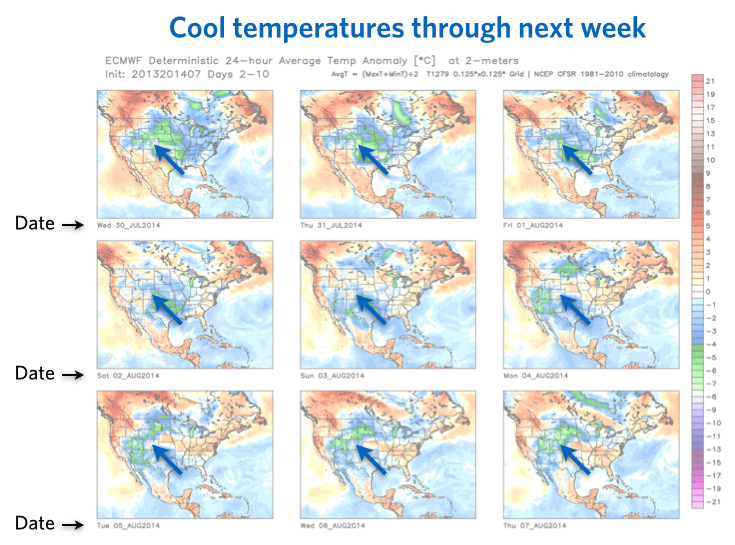 I'll keep an eye on the flooding potential Tuesday night through Wednesday for northeastern Colorado and update as necessary. I don't want to see flooding, but I do like to see moisture in Colorado, so this might just be a case of too much of a good thing.
JOEL GRATZ