Summary:
Tuesday afternoon through Thursday morning will be cool and cloudy, with lots of rain showers over most mountains. Snow should accumulate on the higher peaks above 13,000ft, especially Wednesday afternoon through Thursday morning. The skies will clear by Friday afternoon, and Saturday and Sunday should be dry and sunny. The next storm will bring wind and rain showers to areas along and north of I-70 on Monday September 1st.
Details:
It's a cloudy start to Tuesday for most of Colorado as the cut-off storm I talked about yesterday is getting closer and closer.
While a few rain showers are already falling this morning, the showers will become far more numerous on Tuesday afternoon, Tuesday night, and last through Wednesday morning. These showers are brought to you by the approaching storm from the west combined with moisture streaming into Colorado from the Pacific Ocean to the southwest.
Below is an animated gif (everyone's doing it!) showing the short-term, high resolution HRRR model's forecast radar from Tuesday 7am through Tuesday 9pm. You can see how the showers are forecast to "explode" late in the day and overnight.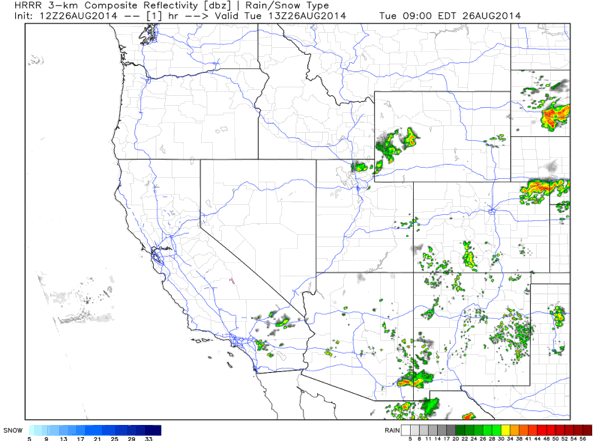 High Resolution Rapid Refresh (HRRR) model forecast of how the radar will look on Tuesday afternoon. Source: Weatherbell.com
Temperatures are cool for this time of year, and this means that snow will once again accumulate on peaks over 13,000ft (this also happened a few days ago on Saturday). I don't expect deep accumulations, but some of the heavier showers might put down a few inches, perhaps up to 6 inches if we're lucky. While the NWS forecast map below only goes through Wednesday evening, I think we'll see the chance for snow continue through Thursday morning along the higher peaks of the continental divide along and north of I-70.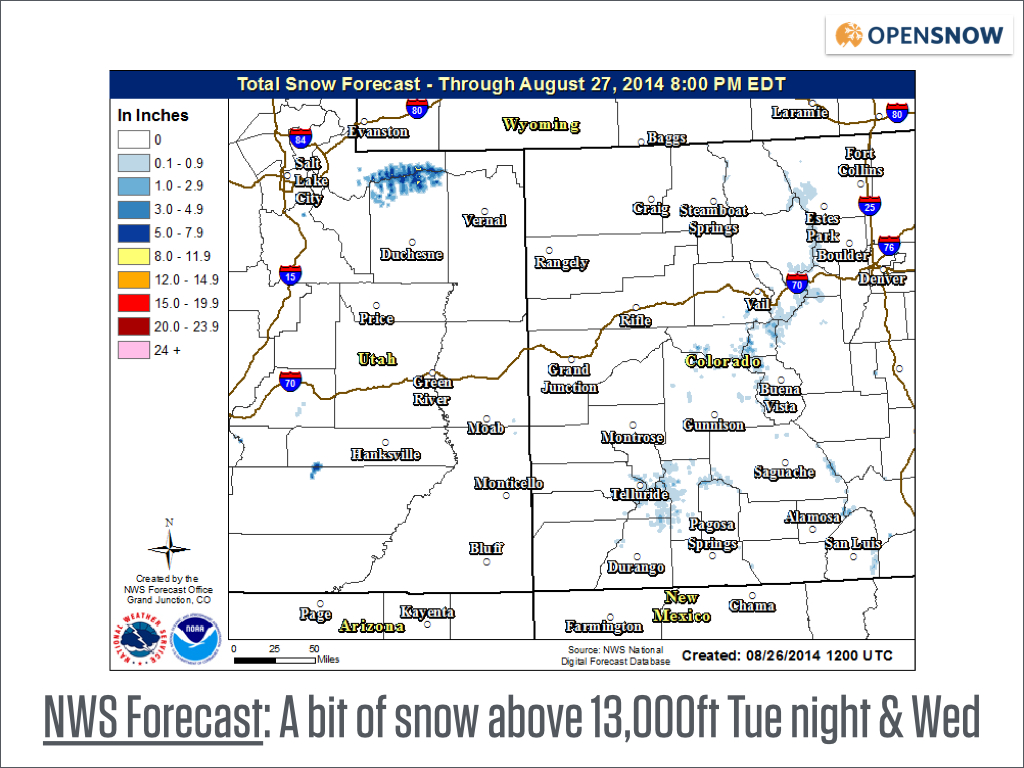 Snow is in the forecast for mountains over 13,000ft. Source: NWS
We'll continue to see a few showers and clouds around on Thursday and Thursday night, then Friday should be a nicer day though I can't rule out a shower or two as the slow-moving storm will hang around eastern Colorado.
Saturday and Sunday should be great days to enjoy the outdoors for the long weekend, then a storm to our north with clip northern Colorado sometime between Sunday night and Monday night. Expect gusty winds and afternoon showers.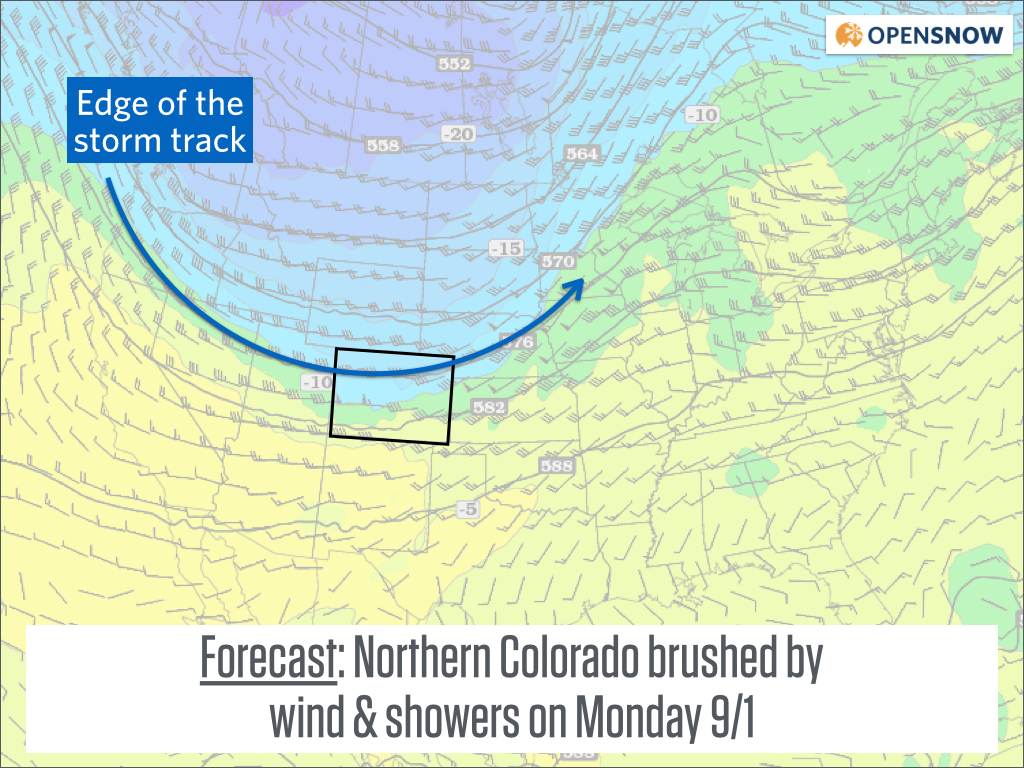 Gettin' clipped on Labor Day. Temperatures in Celsius at 18,000ft. Source: Twisterdata.com
The first full week of September looks like we'll see average to below average temperatures ... perfect for getting in the mood for ski season!
JOEL GRATZ