Summary:
For the mountains, Friday will be dry and sunny. For the foothills and plains east of the mountains, low clouds with drizzle and flurries will cover the area in the morning then the sun will return by late in the day. Saturday through next Thursday will be generally dry and sunny with a weak shower possible each day over the mountains. Then there is a high chance for rain showers next Friday the 19th.
Details:
Yup, it snowed in the eastern Colorado foothills and plains last night! The highest accumulations I could find were about 1/2 to 1 inch, mostly around 8,000-9,000 feet from I-70 north to the Wyoming border, and it did snow in the foothills south of I-70 as well. On the plains, temperatures hovered around 32-35F with just a few flakes mixed in (like this morning here in Boulder), while areas above 6,000ft dropped below freezing as the base of Eldora around 9,000ft reported a temperature in the low 20s.
In contrast, the mountains west of the divide are sunny and dry this morning with low clouds and fog lingering along and just west of the divide in places like Summit County.
Here's how this contrast looks via webcam: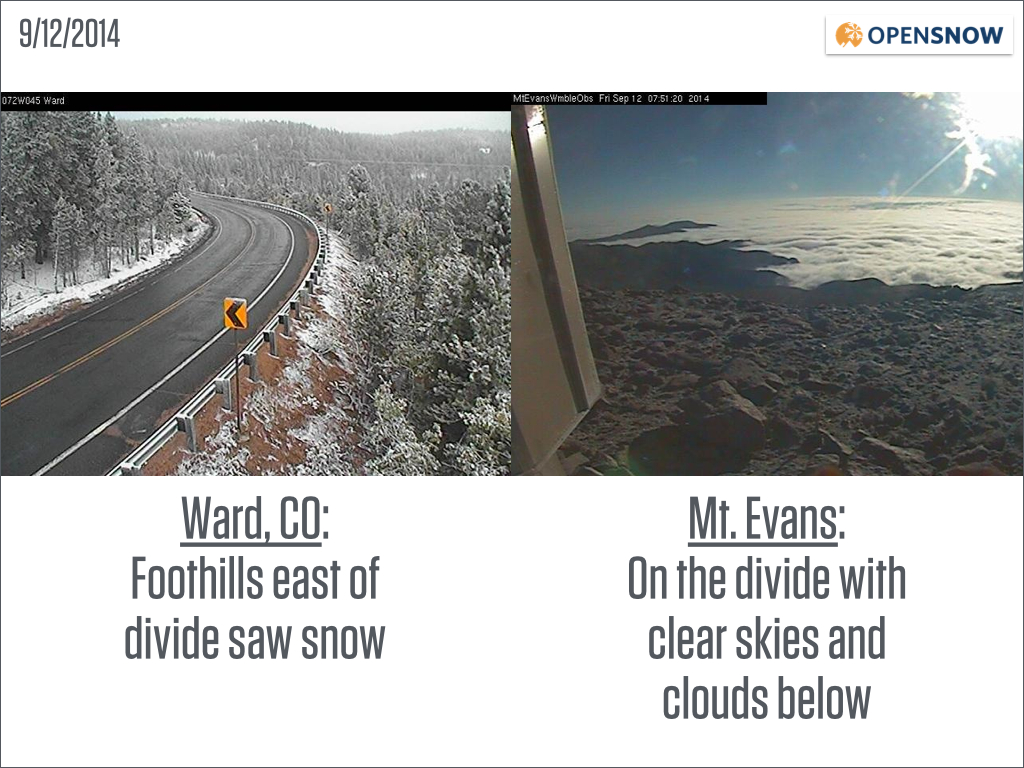 Webcam images as of 8am on Friday 9/12/2014. Ward is about 15 miles west of Boulder at 9,000ft and Mt Evans is about 30 miles west of Denver at 14,000ft. The Mt Evans webcam is looking east toward Denver. Source: CDOT & Mt Evans Observatory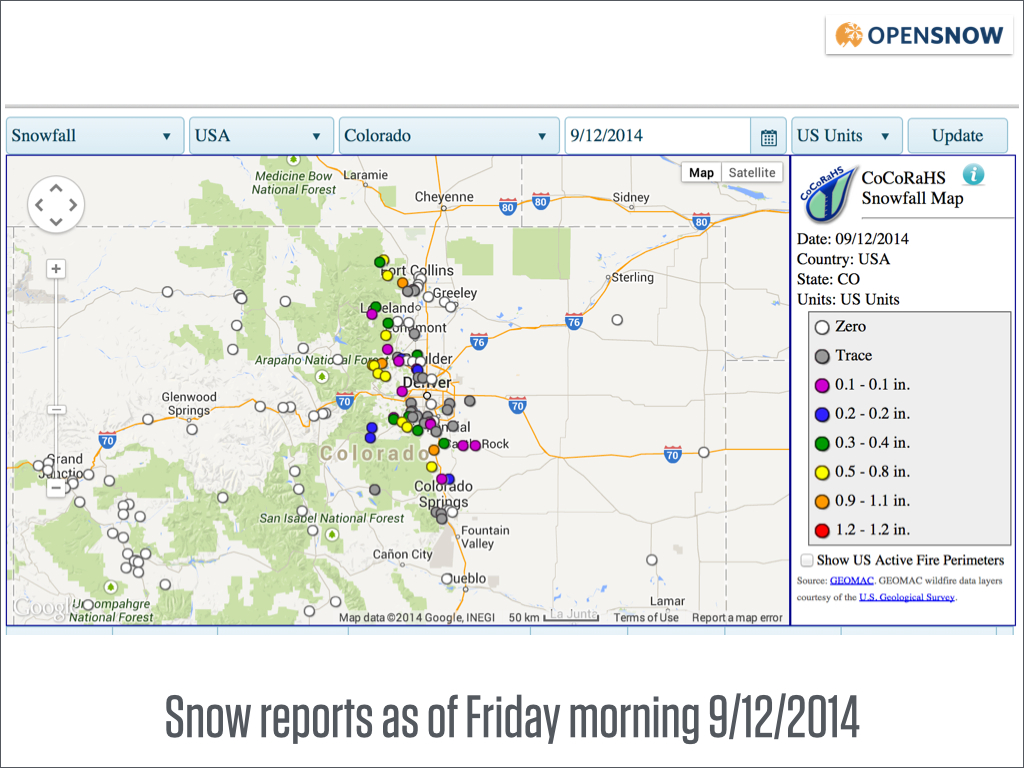 Most locations that reported measurable snow were above 6,000ft in elevation, in the eastern foothills and also on the higher terrain south of Denver and north of Colorado Springs. Source: CoCoRahs
Unfortunately, the weather action that we have today will be about it for the coming week as we transition to a relaxed atmosphere associated with an area of high pressure that will form over the southwest US.
For the rest of Friday, clouds will slowly (slowly!) erode over the eastern foothills and plains, but temperatures will remain cool, in the 40s and 50s. The mountains will be glorious with sunny skies.
On Saturday, the entire state will be dry and sunny.
For Sunday through Thursday, most areas will be dry and sunny all day, with just a few weak showers popping up over the mountains each afternoon. Also, there could be low clouds east of the mountains on Monday morning associated with a weak cold front. Other than that, the weather will be mundane.
The next stronger weather system should move across Colorado on Friday the 19th with a better chance for rain showers for most areas of the mountains and plains. Then after that, next weekend (20-21st) looks pretty good with dry weather.
Just imagine if this cycle were to continue into the winter ... storm/powder days on Friday, forcing you to take a 3-day weekend for multiple weeks in a row. I can think of worse things:-)
JOEL GRATZ