Summary:
Snow falls today, Sunday, and most mountains will see 6-10 inches with 12+ inches east of the divide (see details below). A few inches of snow will fall after lifts close on Sunday, so check to see if your mountain is open on Monday morning because first tracks should be soft and fun. Another storm will bring snow on Wednesday into Thursday with perhaps 3-6 inches for most mountains and 5-8 inches along and east of the divide. Then Friday through the weekend should be dry with just a few showers around. Another storm is possible around Wednesday April 23rd (ish).
Details:
One band of showers moved through before dawn on Sunday morning and this dropped 1-3 inches across northern Colorado.
Now, as of 7am Sunday morning, snow is filling in east of the divide, while mountains west of the divide need to be patient as snow will not become heavy until later this morning. On the radar image below, you can see the precipitation developing east of the divide. Also, there is a strong band of snow oriented from north-to-south that is over the Utah/Colorado border and moving east. This will hit the mountains west of the divide later this morning and snow will continue after this band moves through.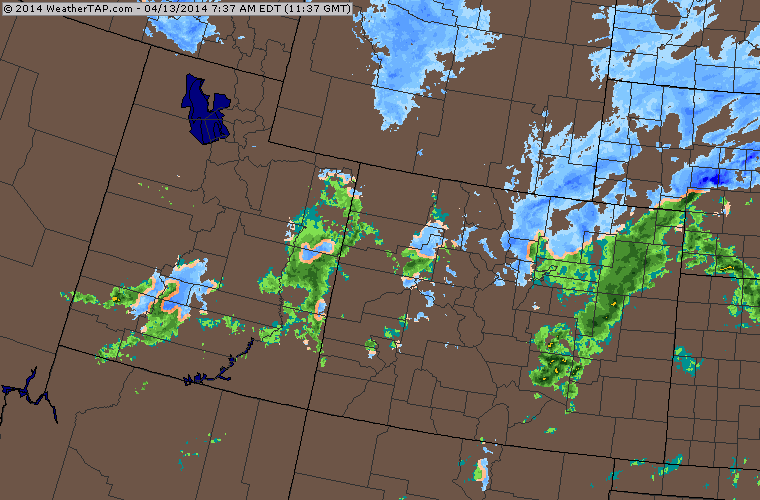 Radar over Colorado and Utah as of 7am Sunday morning. Eastern Colorado is already seeing rain and snow while western Colorado will see snow intensify later this morning as the band over the UT/CO border pushes east. Source: Weathertap.com
My forecast for each mountain is here http://opsw.co/CO1-5, and it generally shows 6-10 inches west of the divide, about 10 inches along the divide, and 12+ inches in the foothills east of the divide. The plains around Denver should see 3-6 inches with higher mountains against the foothills and on the Palmer Divide between Denver and Colorado Springs, and lower accumulations further east.
You'll likely find the best powder during the last few hours of the day on Sunday, and on first run Monday morning as a few inches of snow will fall after the lifts close on Sunday through about midnight Sunday night. A few ski areas are closing today (Aspen Highlands, Eldora, etc), so double check that lifts will be turning before you head up on Monday morning:-) And if you do head out Monday morning, dress warm as temperatures will be cold at dawn (5-15 degrees) but will then warm up through the day into the 20s.
Like Monday, Tuesday will be dry, then another storm will move through on Wednesday into Thursday morning. I still have little confidence in the details of the storm, but most of the northern half of Colorado could see 3-6 inches, with 5-8 inches along and east of the divide. The storm could come in stronger than this, but I want to keep expectations in check for now. Thursday morning might be another fine late-season powder day, so stay tuned for more updates.
Long Range:
Once the storms moves out on Thursday, Friday through the weekend should be dry but I can't rule out a few showers on Saturday and Sunday as a storm to our north and south might throw in enough moisture to cause some drops or flakes to fall from the sky. Then after additional dry days on Monday and Tuesday, there could be a storm around Wednesday, April 23rd.
JOEL GRATZ