Summary:
Prime time and looking fine
Heading into the second weekend of February and we could not ask for a better set up. Sure we could always try for more snow, but considering how much we have had already, plus the duration of the cold. We should be happy. Beggers can't be choosers, and often the eastern US has to pay the price for long duration cold with a building thaw.
That is not the case. Perhaps the Groundhog was right?
Details:
Weekend Systems
I don't want to add any more credibility to the bad rumor that started 10 days ago, but this was the time for a storm many of you heard about. However it is not to be as the multiple parts just won't come together. Instead one storm will pass off the Virginia Coast on Saturday. Sunday appears to show a delayed arrival of a clipper farther south. That could bring more snow into our region, and metro areas as well into Monday morning.
Here is a look at the total potential moisture from the Hi-Resolution NAM model. Translated into snow…
The good news is that being caught in between will produce an extended period of flurries and snow showers.
The weekend outlook brings 1-3 inches to the ski areas but Sunday evening, but more falling Sunday night.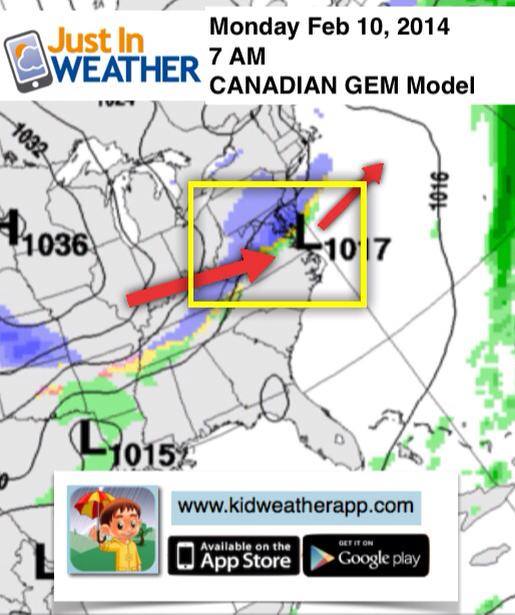 Sunday Night/Monday Morning Clipper
Long Range:
There has been an indication that a coastal storm would try to develop Wednesday night into Thursday. The benefit of the pattern collapsing on the western US and bringing needed moisture to California has thrown our outlook off. However a strong coastal storm could be in the offing. The problem is how large and far reaching the snow might be. It is too early to pin down, but optimistic that we have more in store.
Faith-in-the-Flakes*
Also keep up to date via
Facebook: Justin Berk, Meteorologist
Twitter @JustinWeather
Instagram: justinweather
Kid Weather App
If you have a kid who loves the weather, check out my Kid Weather App that I made with my oldest son. It's won a Parents Choice Award, been featured many times by iTunes, and even on Mashable's Top 10 Apps to get kids interested in science. We are available for Apple and Android devices.