Summary:
Powder Alert: 6-8 inches of snow fell on southern PA
The storm that was a headache in my home market of Baltimore, just missed the metro area, but dumped on the northern suburbs. That happens to include the local ski areas and extends up into the Poconos.
Details:
Matching the season's best snow
Liberty and Roundtop
Both of these locations posted 6 inch fresh powder reports and as you could imagine are 100% open and loving it.
Whtitetail wins:
The western of the three local mountains received 8 inches plus!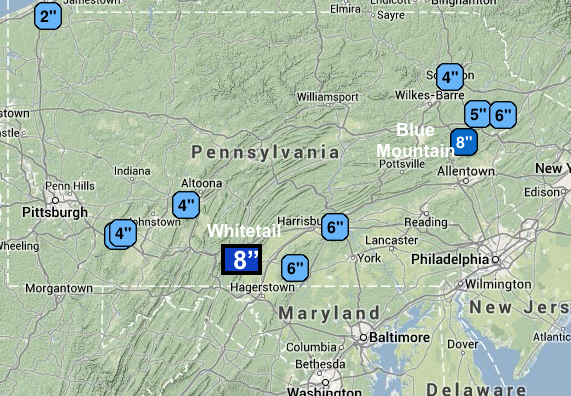 Western PA
Hidden Valley, Seven Springs, and Blue Knob all reported 4"
Poconos:
A general 4-8 inch snowfall was reported with the big winner of 8 inches went to Blue Mountain
Long Range:
There is a Winter Storm Watch for anther event Tuesday night into Wednesday. This one will drop a few inches of snow, then freezing rain on southern PA, but may linger all snow in the Poconos. That could end up being a big winner for them with the potential for another half foot.
Sunday we get set for a large Nor'Easter. This will be a challenging system with the rain snow line. There are some early speculators pushing very high totals. It is way too early to buy into that, so don't!
Ou snow model does look amped up as well. Here is a look of what you might find searching for Whitetail's forecast on our page:

As appetizing as this is, I would look beyond the icy midweek only with high hopes that the weekend brings back primo action.
Faith-in-the-Flakes*
Also keep up to date via
Facebook: Justin Berk, Meteorologist
Twitter @JustinWeather
Instagram: justinweather
Kid Weather App
If you have a kid who loves the weather, check out my Kid Weather App that I made with my oldest son. It's won a Parents Choice Award, been featured many times by iTunes, and even on Mashable's Top 10 Apps to get kids interested in science. We are available for Apple and Android devices.