Summary
Some light snow will move through tonight associated with a weak Clipper system. Lower elevations in central and northern VT and NH will see no more than a coating to an inch, while higher elevation resorts pick up another 1-3 inches. The big story though continues to be the storm coming for the middle of the week. That storm is looking even better today for interior New England with the track shifting slight north and west. Snowfall amounts will easily reach a foot at the majority of major resorts in the region, with up to about 20 inches
Details
Another weak Clipper is swinging through as I write this, bringing some light snowfall with it. Given the light intensity of the snowfall along with the relatively warm temperatures, there won't be much if any accumulation at the low elevations in central and northern NH and VT. Some resorts may see a coating to an inch if they're lucky. At higher elevations though, expect another 1-3 inches, with resorts in northern VT seeing the upper end of that range.
Now let's get to the topic everyone wants to hear about...the midweek storm. There's no doubt about it now, this storm is coming and it's going to be a good one. If anything, the models look even better today, trending the track of the storm slightly further north and west. Here's the GFS and NAM model respectively for 1 a.m. on Thursday morning: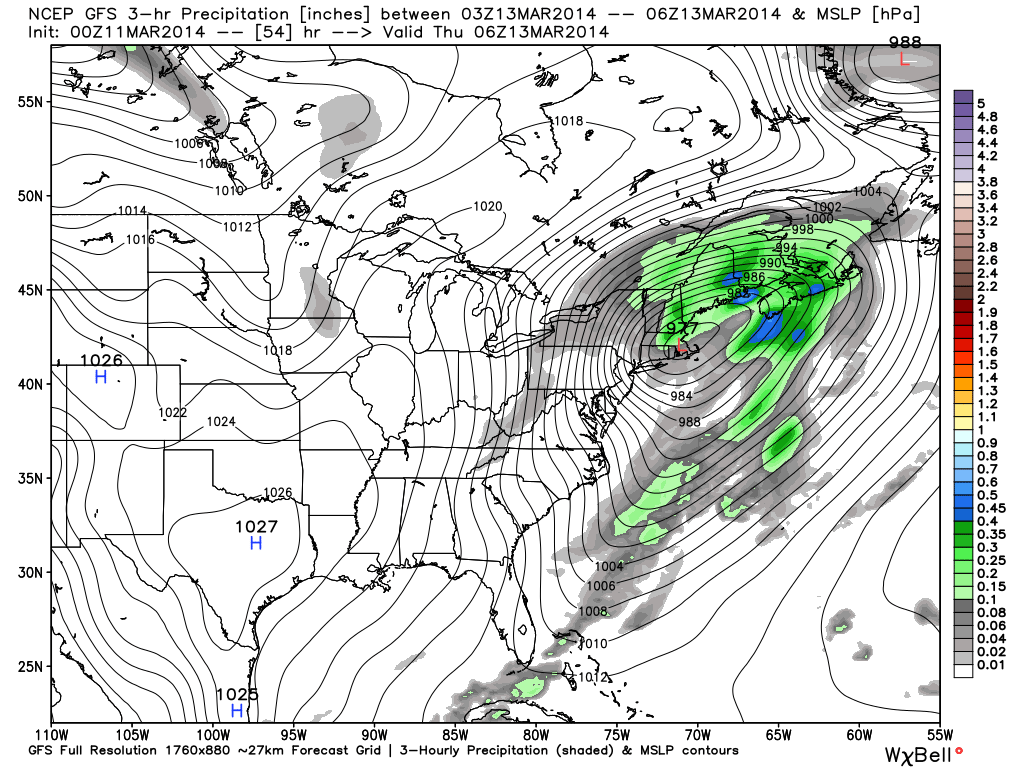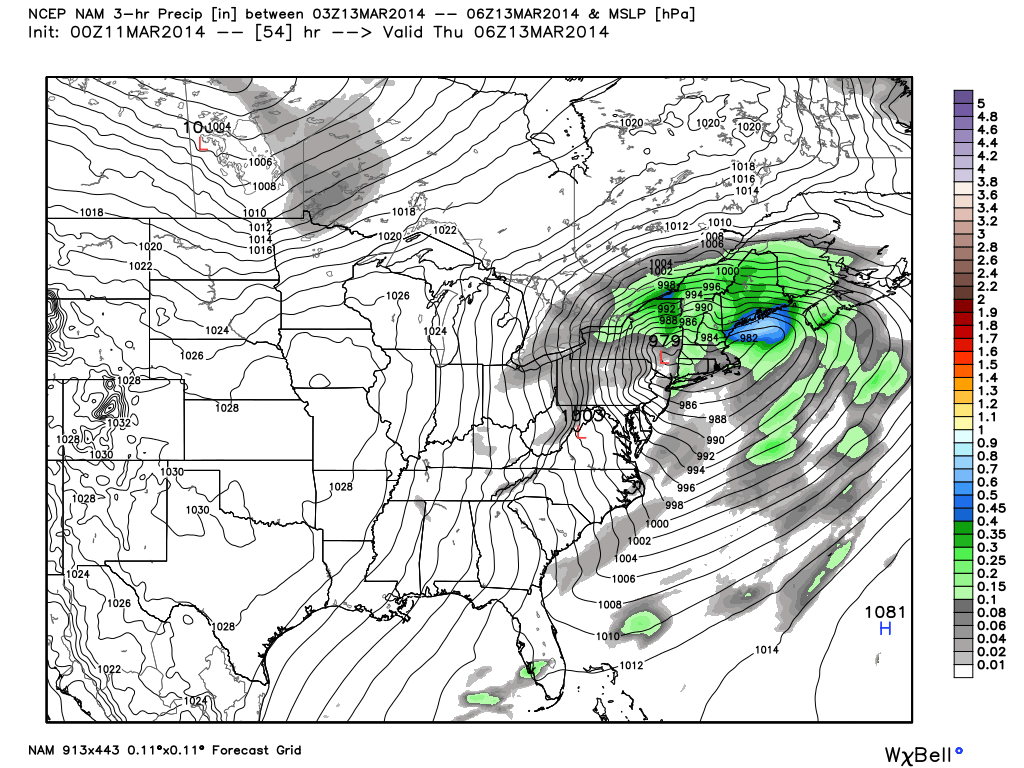 Of course, this track won't be better for everyone. A number of resorts closer to the coast that were going to see all snow will now see a mix of snow and rain, with lower snowfall totals. Thankfully though, the vast majority of major resorts in the region will see all snow and will see even higher snowfall totals than it looked like yesterday. I will say though that I'm hoping that the northward and westward trend doesn't continue much more, or else more and more resorts will be looking at a mix of rain and snow.
What about snowfall amounts? Well, here's what the GFS and NAM think will fall by the time Thursday at 1 p.m. rolls around: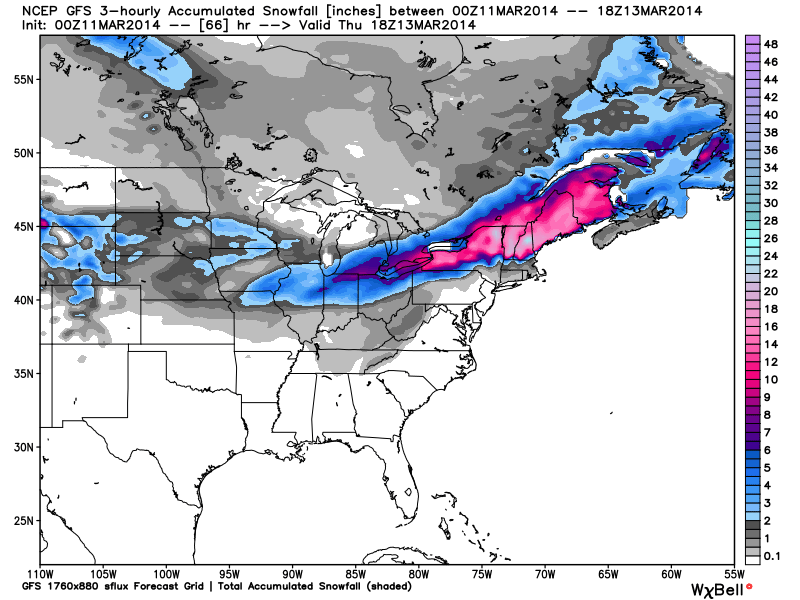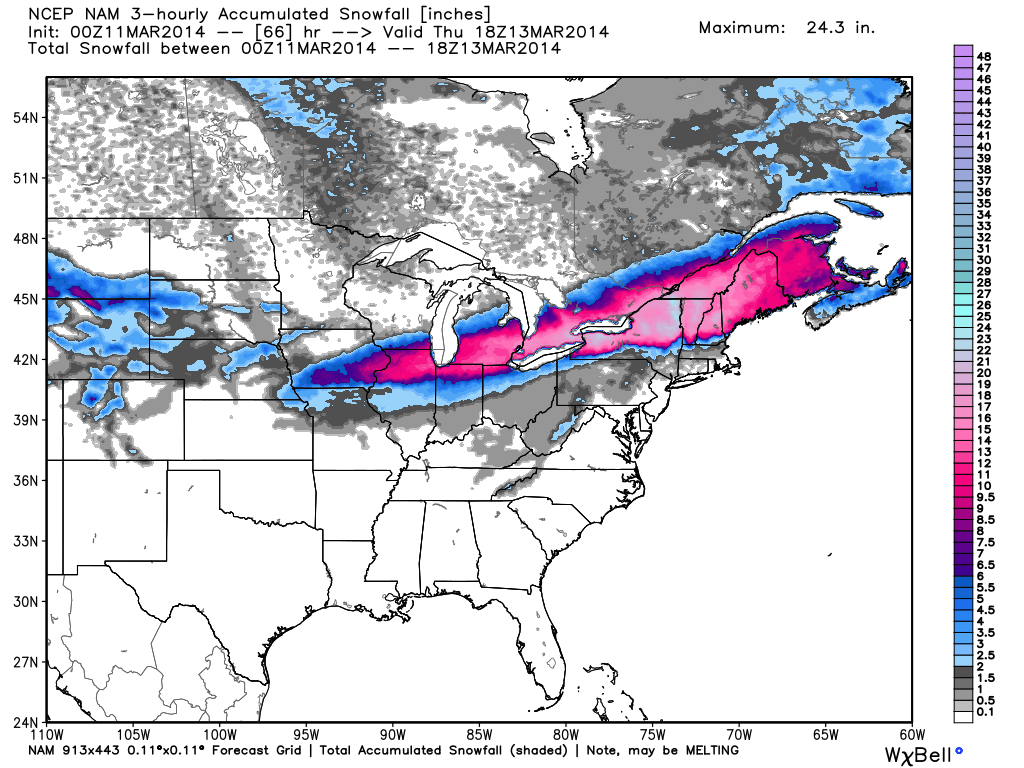 I think that the winner will be in the White Mountains or Western Maine. Central VT will be right up there too with all those regions seeing more than a foot of snow, with localized accumulations up to 20 inches. Resorts further north will see around a foot, but further south will see snowfall totals fall off quickly as rain mixes in and keeps accumulations down.
Snow will arrive Wednesday afternoon, but won't really pick up in intensity until after lifts close. The heaviest snow will fall overnight into early Thursday, so expect plenty of untracked powder when lifts open on Thursday. I don't expect snow densities to be extremely low or high for this one...just sort of "average" for New England.
Long Range
Things still look pretty quiet (and quite cold) to end the week. There also looks like there will still be another Clipper system coming in for the weeken. This system is showing some signs of becoming a more complicated system as it moves through the region, potentially interacting with a piece of energy coming from the southern branch of the jet stream. Right now, accumulations still look to be on the light side, but it will be interesting to see how this develops. Otherwise, a storm for the middle of next week is still a possiblity, although the models are going through their usual "back and forth" as they start to figure out exactly what's going to happen.