So the big news of the week is the King Fire burning its way up the West side of the Sierra crest West of Lake Tahoe. Winds out of the Southwest the past 24 hours helped to push the fire line quickly Northeast towards Hell Hole only about 10 mi. southwest of Olympic Valley. Reports are that the fire grew much more slowly today.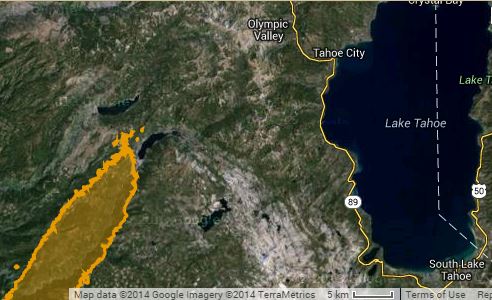 Winds tonight will switch out of the East and Northeast over the next couple of day as a front moves down to our Northeast. That may slow progression of the fire towards the Northeast and help to push it South and West towards highway 50. The winds could become gusty again.
As for any precip there is some spotty precip around this evening from the front but mostly dry for most areas. Remnant moisture from the Hurricane that came into the Southwest will work its way North over the weekend. Unfortunately most of the moisture looks like it will stay to our East over Nevada. We may get lucky and have a little moisture work its way further West than expected.
As far as a change in the weather pattern as we go into Fall we will see a trough try to dig into the Pacific NW by the middel of next week. The question is how far South will the trough and associated moisture dig? The European model has over a half inch of liquid over the Tahoe Basin the second half of next week but that is the most agressive model this evening. Either way we should see some cooler weather and chance of precip with the first precip producing front of the season pushing through. Snow levels look high but may come as low as 8000-9000 ft. bringing the first dusting to the highest peaks.
We will have to keep watching that over the next week. After that the long-range models show a ridge rebuilding along the West Coast with a return of warm and dry weather.
Stay tuned....BA