Summary:
A change in the weather Monday into Monday night. Light precip possible with snow levels dropping near 7000 ft. or slightly lower. Warmer weather the second half of the week before another system is possible next weekend.
Details:
After several days of quiet weather we will see another change tomorrow as low pressure moves in off the Pacific. Not expecting a lot of moisture from this system, just some light precip. The center of the low will be cold so we will see snow levels drop around 7000 ft. Monday evening, possibly a bit lower. That should only equate to a dusting of snow on the moutains when we wake up Tuesday morning. Here is a look at the total precip forecast from Canadian model which is one of the more aggressive runs.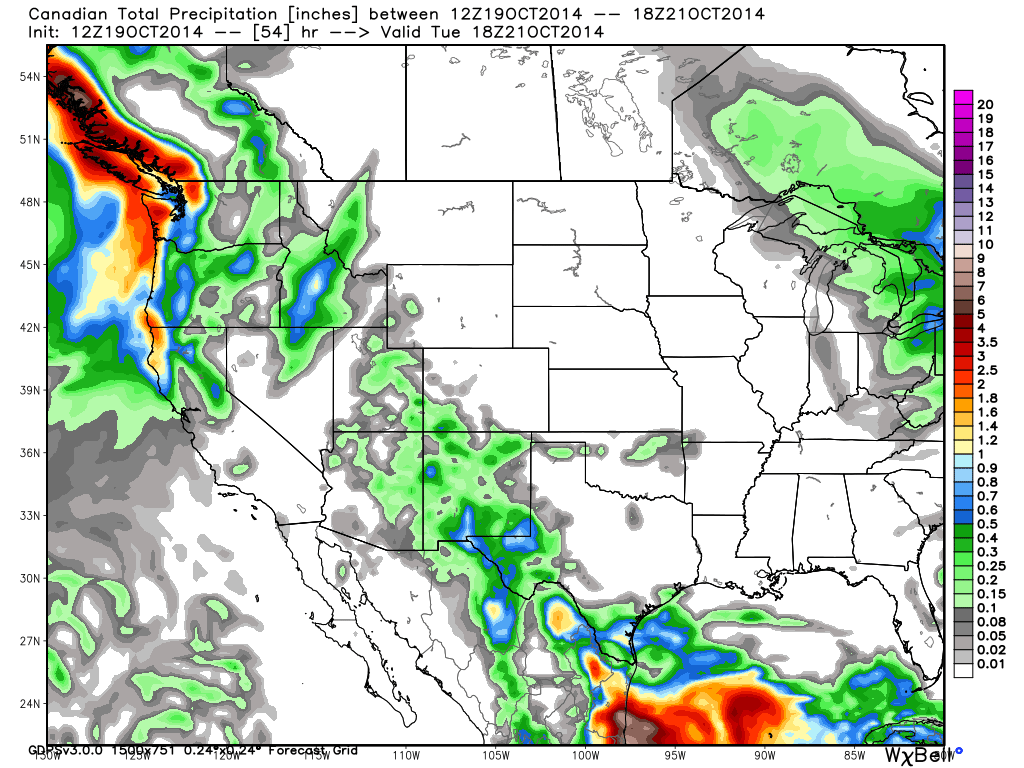 The system clears out by Tuesday but leaves behind some colder air. We will warm up the second half of the week back into the 60's at lake level.
The trend on the models the past 24 hours is for another system to dig down the West Coast next weekend. This one could bring heavier precip if it digs far enough South. All of the forecast models show a chance for precip next weekend but the Canadian is the most agressive with precip amounts right now. Snow levels could be low enoug for mountain snow with this system if it pans out.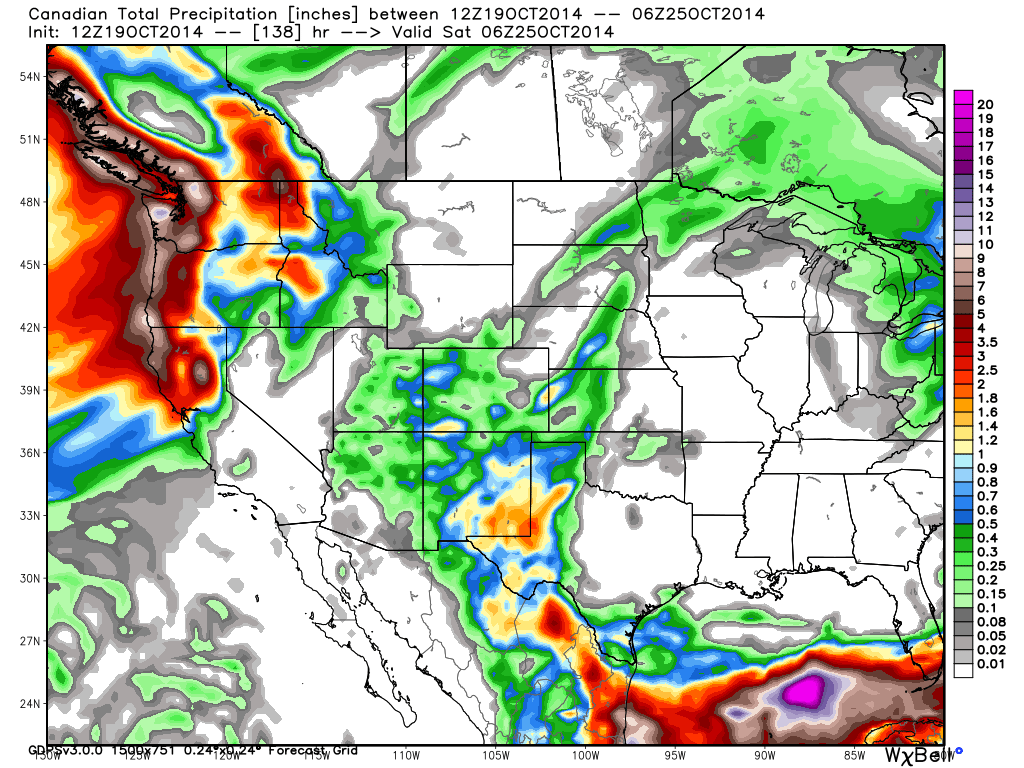 Looking at the long-range pattern there are no signs right now of a long-term ridge that would keep us dry for a prolonged period. We could see more troughs push into the West Coast going into November. The trend on the CFSv2 climate model the last few days is for a wet November.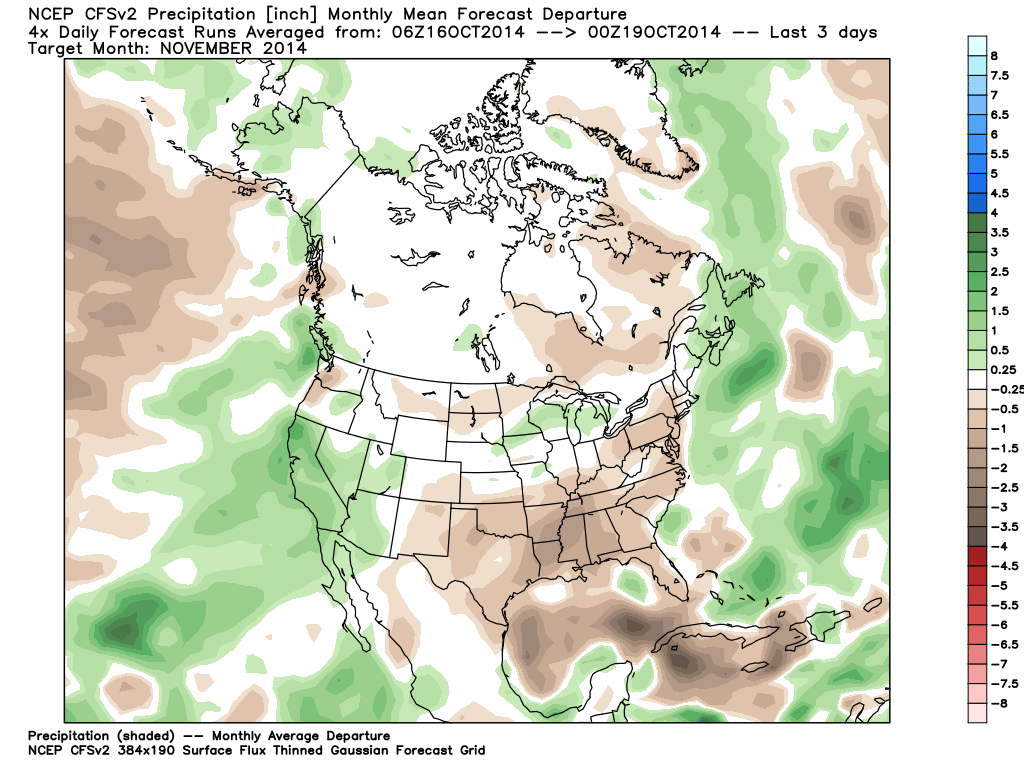 When we looked at the Winter forecast ideas last month we talked about the possibility of an early start to the storms this Fall with the weak El Nino conditions developing. The question is how with the rest of the Winter pan out? My thoughts were and continue to be that we will be right on the edge between above average precip to our South and below average to our North. The rigde is expected to sit along the West Coast of Canada down to the Pacific NW much of the Winter with the Southern jet coming underneath into Southern CA. Below is the latest Winter forecast map from accuweather that lines up with what we have been thinking.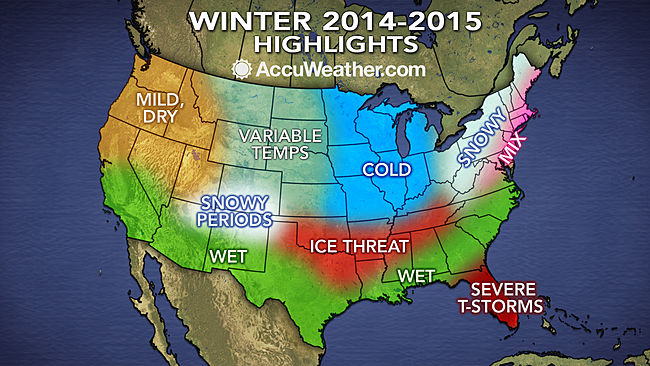 You can see why we could have a 50/50 chance of an average or below average season for precip. The second question will be snowfall vs. precip. Even with an average precip season we will need low snow levels for a good snow year. Let's hope we can get enough cold and the storm track is far enough North this Winter. We'll take the precip either way.
Stay tuned....BA