Update
The Weather:
We have a little smoke relief today. But overall normal Summer weather with sun and highs in the 80's will continue this week.
The Winter:
I have been continuing to look at the Winter ahead. It requires a lot of reading and a lot of looking back at data from the past. No one has figured out how to accurately forecast an upcoming season yet, but a lot of meteorologists try, and in doing so they come up with interesting methods. I try to read through these methods and try to apply them our weather.
In the last post I talked about the recent weak El Nino seasons and showed a Winter forecast that was using the 06/07 & 14/15 seasons as the analogs which were low snowfall years for Tahoe. I had a reader ask about the 04/05 season that had a weak El Nino but abover average snowfall. While I was researching the upcoming season this week this caught my eye from a forecaster's discussion pertaining to the 04/05 season.
"But what about the phantom nino of 2004? Well here is where hurricanes can tell you something perhaps in this current warm cycle. It was a hyper year. Was there a big drop in the SOI? NO a big rise! The fall waited till later. But now look at the SST in the JFM before...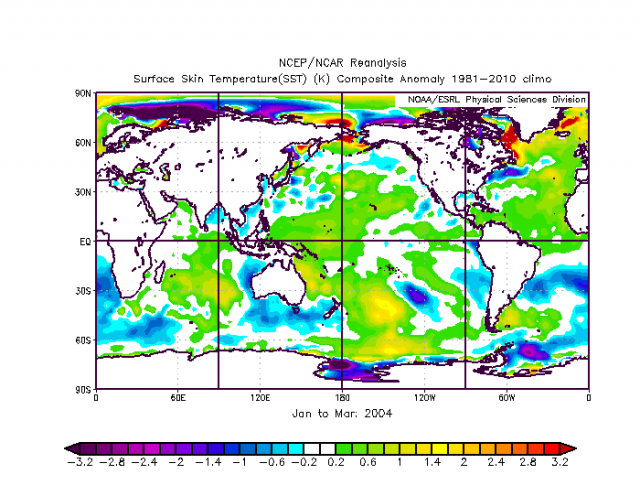 It's COLDER in the Arctic for one, There is no distinct cold pool in the central Pacific, and the Atlantic is warm in a classic big season hurricane fashion So it sticks out like a sore thumb against what has been the rule. So there is a reason for why its the exception."
This week weatherbell.com came out with a very early initial Winter forecast for snowfall which tiest to the pattern shown on the Canadian model I posted in the last post.
What is interesting thought is that the weatherbell forecast leans towards 02/03 & 09/10 as top analog years. Those were moderate El Nino years and not modoki position of the warmth, but the North Pacific was cooler than this year. There are some signs that we could possibly not have a modoki El Nino either this Winter. These analog years had closer to average snowfall amounts.
When I took all of the analog years back to 1950 that their model was using, the snowfall average for Tahoe was 93% of average, but some well above and below average snowfall seasons.
There is more to the forecast than just El Nino and it's strength. We are so far out though that so many variables can change by Winter. So we mainly just look at the Sea Surface temps now and the forecast model prediction for this Winter, and go back and look at the past. Then look at more variables and forecasts as we get closer.
The Road:
In the last post we left off in Port Kent, NY. Last Monday we woke up and hopped on the ferry across lake Champlain from NY to VT.
I love this ferry. It was built in 1930 and looked original throughout. On the other side we made the short drive to Stowe, VT.
We spent the day exploring the mountain and the town. We were able to meet up with some old friends for dinner which was nice. We got to meet the two kids they had since we last saw them.
Stowe is such a great town, it was hard to leave. But the next day we made the drive across New Hampshire and Maine out to Acadia National Park. This would be our last National Park, #13, on our Eastward journey. Jayce was excited to put his toes in the Atlantic after putting them in the Pacific a month earlier.
We spent a couple days up there exploring the park and swimming at the beach. There was a great little beach right down the street from our camping spot!
In the park the kids did some nature drawings...
and we hiked out to look at some lakes in the mountains...
The sea coast with the rocky shoreline was beautiful. We saw a few lobster boats pull up traps as we sat and looked at the view.
So of course for dinner we had to have lobster...
On Thursday we drove South to Portsmouth, NH. I have driven by before but never stopped and walked through the town. With settlement of the town in the 1600's, there is a lot of history in the town. We spent the afternoon exploring.
On Friday we embarked on our final leg of the first half of the trip towards NJ. A reader reached out to me when we were in Michigan, and invited us to come and have lunch at his 1830's farm house in Massachusetts. So we stopped for a delicious lobster roll lunch with a view of the Merrimack River. Thank you Mike!
I was so happy to stop and relax and to take a break of the trip I forgot to take pictures...
One of the goals of the road trip was to be relaxed and not pressured to be any specific place each day. But as most of you know, trips with plans can be exhausting and you get home feeling like you need a vacation from your vacation. After driving through hours of traffic down through NYC and into NJ, I was ready for our break!
We are now in NJ visiting with family until the 24th. Plenty of time for a few RV repairs. I did wear out a u-joint on the driveline, and a power surge broke the fridge. So not too much R&R with plenty of work to do to get us back on the road for our journey back West later this month.
This first month of the trip was great. 20 states and 13 National Parks. I hope you have all enjoyed following along. It was really great to meet new people all over the country. I'm also becoming an experienced RV'er, I think... Overall the family has gotten closer on the trip, although some days we are over being together 24/7. Hopefully I can get the RV back up to speed and after some R&R we can get back on the road to bring you Part 2 of the journey!
Stay tuned...BA
Did you know that you can get more from OpenSnow?
If you're looking for a way to support OpenSnow and get access to more data, consider signing up for the All-Access Pass.
10-day forecasts
Custom alerts to know about upcoming powder days
Time-lapse webcams for tracking exactly when fresh snow has fallen
Email delivery of the Tahoe Daily Snow as soon as it's published
All of this costs just $19 for one full year (365 days) and helps to support OpenSnow so that we can spend money and time to further improve our website and mobile apps.
I'd love to count you as an All-Access member!