T-minus 12 hours and counting. I'm pretty excited about this storm because it has been a long time since our last significant storm. December 26, 2012 is the last storm we had that dropped 1-2 feet on the basin. Almost a year ago! Not too many changes this morning other than to slow the storm down with an onset later this evening or even midnight for South Lake. That means don't send me emails at 8 p.m. tonight asking me why it's not snowing at your house yet, just keep staring at the spotlight it will come.
The heaviest snow is expected to fall in the early morning hours. With the slower speed of the storm we will see the snow showers last through the day on Saturday. About 1/4 of the forecasted totals below will fall during the day Saturday with the other 3/4 falling overnight.
No change in the forecast model precip output overnight. The GFS is still a quarter inch lower than all the other models, so I'm going with the majority. The NAM, European, and Canadian models have all been consistent with up to 3/4 of an inch across the Tahoe Basin and up to an inch along the crest. Throw in 20:1+ snow ratios and we should see 10-15 inches at lake level, 15-20 inches above 7000 ft, and up to 2 feet along the crest. Highest amounts on the West side of the basin.
Here is the latest Canadian forecast.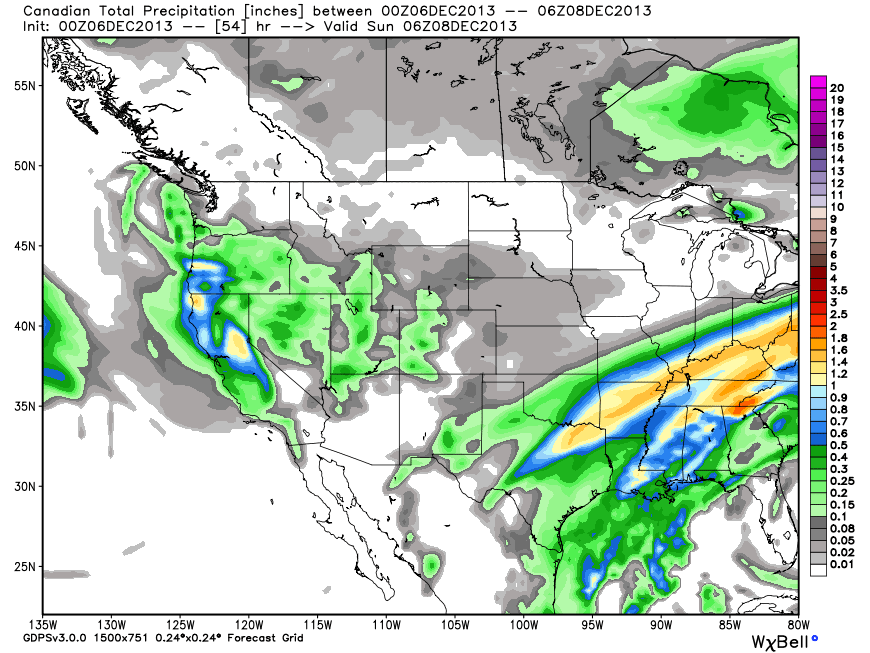 It will be tempting to go off trail tomorrow if you're skiing, but remember this is super light powder over top of bare rocks and logs. I'll be staying up at the lodge on the Summit tonight so I'll keep you updated on the Facebook page with snow totals and pics.
This storm reinforces the cold air through Monday with highs staying in the 20's. The ski resorts will most likely keep making snow around the clock over the weekend and there should be a decent amount of terrain that opens for the first week of December. The flow turns more Westerly as the ridge builds off the coast starting Tuesday so daytime temps start to warm into the 30's and 40's by midweek.
The GFS has come more in line with the Euro and Canadian models with regards to the pattern setup the end of next week. They all break down the ridge off the coast enough for a decent storm to push into CA Thursday into Friday. Some runs suggest another storm on its heels for the weekend of the 14th. They then have the ridge building back in to start the week of the 16th. So only about a 5 day break before our next chance of snow after this storm.
Stay tuned for updates. I will most likely post again this evening if there are any changes. Also, check the CA page for a one stop shop of individual resort forecasts and morning snow reports. The individual resort snowfall forecasts that have the image of the little guy instead of a computer mean that I personally forecast the snow amounts and they are not just computer model generated. BA