Summary:
Thunderstorms and rain showers possible Friday. A nice weekend and then a big change possible next week. We could see much colder air and some snow next Tuesday-Wednesday, and another system possible by the end of the week.
Details:
A front will be moving through to our North tonight into Friday morning. The precip from this front will stay to our North. A low coming into SoCal tomorrow will increase instability in the atmosphere. We may see some thunderstorms or light rain showers.
The temperatures stay in the 60's at lake level and 50's on the mountains through Monday. The sun returns for the weekend. By Sunday the ridge is way out in the Pacific around 160w. That will allow a cold low pressure and trough to dig down along the West Coast from the Gulf of Alaska.
The European and Canadian model runs are now more in line with the GFS in showing the cold front approaching Monday night into Tuesday morning. We could see a few inches of snow on the mountains with the front. Temeperatures on the mountains drop into the 30's Tuesday into Wednesday behind the cold front. The GFS was increasing precip amounts going into Wednesday by bringing the main low into Northern CA with another round of snow. It is further North this morning more in line with the other models. Either way we could see scatterend snow showers around into Wednesday.
Total snowfall amounts on the latest runs could be 3-6 inches on the mountains with slightly more along the crest. We will continue to watch the trend on snowfall amounts as we get closer. At lake level we could see some light accumulations if the snow falls at night. The snow levels will be below lake level. Here is the Canadian total precip forecast through next Wednesday which is a good representation of the average of all the models right now.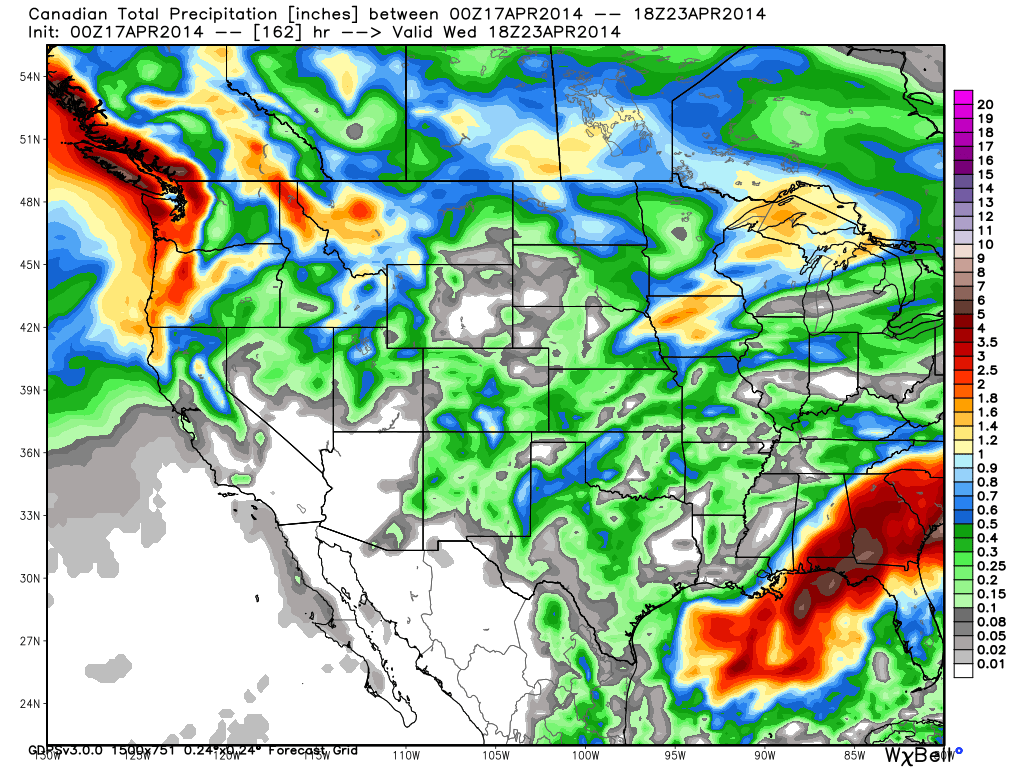 Long-Range:
The ridge looks like it will stay out near 160w through the end of next week which should keep the storm door open. Models are showing another trough digging down the West Coast towards the end of the week with snow possible into the weekend of the 25th.
Like I have been saying the past couple of weeks, we may still have another powder day or two before all the ski resorts close.
Stay tuned....BA