Avalanche Forecast
Avalanche Forecasts are for use by experienced backcountry travelers in uncontrolled sidecountry and backcountry terrain. These forecasts and conditions do not apply to open, in-bounds terrain at ski resorts, which is subject to avalanche control by local resort ski patrol.
Avalanche Rating
Considerable (3)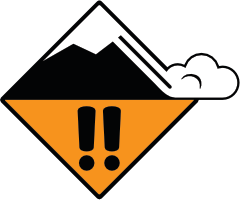 Valid Sat Dec 9 4:00pm PST
13 hours ago
Until Sun Dec 10 4:00pm PST
Storm snow remains primed to human triggers at higher elevations. Continue to be conservative
Strong winds will likely build reactive slabs around ridgelines and mid slope rollovers.
Snowpack Discussion
Strong winds will redistribute 10-30 cm of new snow into deeper deposits on north and east facing slopes, this sits over a rain crust that has been observed up to 1800-2100 m throughout this region (treeline and above). A concerning layer of surface hoar is now buried 40-70 cm deep. Many avalanches released in steep terrain and may have destroyed this layer, but it likely still lingers unaffected features.
At lower elevations wet snow has likely refrozen into a hard crust. The middle and base of the snowpack is largely weak and faceted. A hard crust may be found near the ground.
Treeline snowpack depths are variable and generally range between 60 and 100 cm. Snowpack tapers rapidly as you move lower in elevation.
Avalanche Activity
Widespread natural activity occurred during the recent storm. Remotely triggered slabs continue to be reported on the surface hoar layer, at treeline and above primarily on north and east facing slopes (however this layer may be reactive on all aspects). A size 1 remote was reported from Glacier National Park yesterday.
Human triggered avalanches are still likely at higher elevations, where slabs sit over the weak surface hoar.
Helpful Links