Avalanche Forecast
Avalanche Forecasts are for use by experienced backcountry travelers in uncontrolled sidecountry and backcountry terrain. These forecasts and conditions do not apply to open, in-bounds terrain at ski resorts, which is subject to avalanche control by local resort ski patrol.
Avalanche Rating
High (4)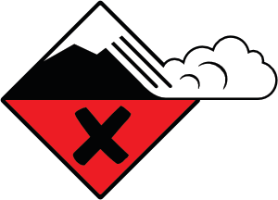 Valid Sat Dec 9 5:00pm MST
7 hours ago
Until Sun Dec 10 5:00pm MST
While the hills looked pretty for a few days following the storm: the SW winds returned with a vengeance bringing a natural avalanche cycle Saturday.
Avoid exposure to overhead avalanche terrain as large natural, and remotely triggered, avalanches are expected.
Freshly formed windslabs will be sensitive to human triggering.
Snowpack Discussion
Last week's 60cm+ of storm snow fell on the Dec 2 weak layer (Surface Hoar, Facets, and Sun Crusts) which capped a weak snowpack featuring several weak faceted layers and a spotty crust and depth hoar layer against the ground. While there is some separation between these weaknesses in the alpine, at treeline and below they are essentially the same layer.
A rain crust exists buried 20-40 cm at lower elevations.
80-100 cm at treeline with up to 140cm observed in alpine locations.
Avalanche Activity
Natural avalanches to sz 2.5 were observed around Banff Saturday afternoon as huge plumes of wind transported snow streamed off of Mt Rundle and Cascade. The Urs Hole ice climb ran sz 2.5 and Bourgeau Right-hand ran twice at sz 2.
Highway avalanche control on Friday produced results to size 2.5 on Mt Bosworth. While helicopter avalanche control work at Lake Louise produced results up to sz 3, of which one was remotely triggered from 250m away.
Helpful Links