Avalanche Forecast
Avalanche Forecasts are for use by experienced backcountry travelers in uncontrolled sidecountry and backcountry terrain. These forecasts and conditions do not apply to open, in-bounds terrain at ski resorts, which is subject to avalanche control by local resort ski patrol.
Avalanche Rating
Considerable (3)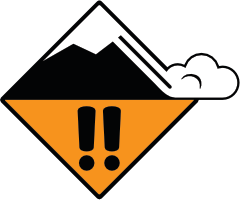 Valid Wed Dec 6 4:00pm PST
14 hours ago
Until Thu Dec 7 4:00pm PST
Keep decision making conservative, especially in areas that received no rain.
Fresh snow sits over a weak and reactive surface hoar layer. Head to simple terrain, free from overhead hazard.
Snowpack Discussion
By Thursday morning around 50 mm of precipitation (rain and/or snow) has fallen during this storm. At higher elevations, deeper and more reactive slabs can be found north and east-facing slopes. This snow likely sits over a crust from rainfall at lower elevations in all areas, and where rain fell at higher elevations.
The layer of greatest concern, large surface hoar, can be found buried 30-70 cm deep. On steep south-facing slopes, this surface hoar sits on a thin sun crust.
The mid-pack is generally well-settled. Lower in the snowpack a crust with weak facets beneath it can be found 20 cm off the ground.
Avalanche Activity
A widespread natural cycle occurred yesterday, with storm slabs to size 2, and wet avalanches where rain saturated the snowpack. Avalanches ran on a buried surface hoar layer or on the old snow interface. Several large remotely triggered avalanches were reported on the buried surface hoar, indicating very touchy conditions.
Activity is expected to decrease as it cools, and surface crusts form from the recent rainfall.
Helpful Links