Avalanche Forecast
Avalanche Forecasts are for use by experienced backcountry travelers in uncontrolled sidecountry and backcountry terrain. These forecasts and conditions do not apply to open, in-bounds terrain at ski resorts, which is subject to avalanche control by local resort ski patrol.
Avalanche Rating
Considerable (3)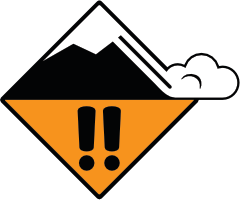 Valid Sat Dec 2 4:00pm PST
28 minutes ago
Until Sun Dec 3 4:00pm PST
Be patient and choose mellow terrain. The new snow needs time to settle, and early season hazards are still lurking below the surface.
Snowpack Discussion
Up to 60 cm of new snow has introduced rapid change to the thin, early season snowpack. In the alpine and upper treeline, rider triggerable storm slabs could exist on slopes that are above threshold. Moderate Southwest winds will likely be forming deeper, reactive pockets of slab in lee features.
Under the new snow you will likely find a variety of early season surfaces, including crusts and 5-15 cm of recent snow. Previously, snow coverage in the region was generally thin, patchy and showing lots of ground roughness. Average snowpack depths at treeline ranged from 20 to 60 cm and tapered off rapidly below treeline.
Avalanche Activity
It is likely that a natural avalanche cycle occurred during the heaviest part of Friday night's storm. On Sunday, natural avalanche activity should taper off, but human triggered avalanches are still likely on slopes that are above threshold.
See this MIN post regarding touchy conditions on Mt. Seymour on Friday.
Helpful Links