Avalanche Forecast
Avalanche Forecasts are for use by experienced backcountry travelers in uncontrolled sidecountry and backcountry terrain. These forecasts and conditions do not apply to open, in-bounds terrain at ski resorts, which is subject to avalanche control by local resort ski patrol.
Avalanche Rating
Low (1)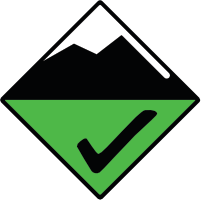 Valid Wed Nov 29 4:00pm PST
3 hours ago
Until Thu Nov 30 4:00pm PST
Wind-loaded places can look appealing with such poor coverage, but steep, wind-loaded features are the most likely place to trigger an avalanche on weak basal snow right now.
Snowpack Discussion
Surface conditions are a mix of surface hoar topping a few cm of faceting snow in shaded, sheltered areas, sun crust on steep south and west-facing slopes, and heavy wind effect on exposed terrain at treeline and above.
A crust with facets or depth hoar exists at or near the ground.
Expect early-season conditions with a shallower-than-average snowpack. At treeline, snowpack depths are between 30-80 cm. Below treeline, snowpack depths taper quickly.
Avalanche Activity
No new avalanches have been reported in the past few days. This should stay the same until the region receives more snow.
Observations are limited this time of year. Please consider filling out a MIN report if you do head out in the backcountry! 🙏
Helpful Links