Eagle Pass Heliskiing - Zone 1
Avalanche Forecast
Avalanche Forecasts are for use by experienced backcountry travelers in uncontrolled sidecountry and backcountry terrain. These forecasts and conditions do not apply to open, in-bounds terrain at ski resorts, which is subject to avalanche control by local resort ski patrol.
Avalanche Rating
Considerable (3)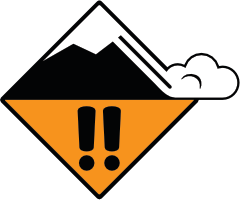 Valid Sun Dec 3 4:00pm PST
10 hours ago
Until Mon Dec 4 4:00pm PST
Use extra caution at treeline where surface hoar is well preserved.
Reports are coming in indicating that this layer is sensitive to human triggers.
Snowpack Discussion
Up to 40 cm of new snow has fallen on a layer of large surface hoar. On steep south facing slopes this surface hoar sits on a thin sun crust. On north and east facing slopes in the alpine new snow has formed wind slab.
The mid pack is generally well settled.
A crust with sugary facets beneath it can be found 20 cm above the ground.
The snowpack is still shallow for this time of year. Average snowpack depth at treeline range from 80 to 120 cm.
Avalanche Activity
Several size one natural and skier triggered avalanches were reported in the region on Saturday. Many of these were remotely triggered. These avalanches were at treeline and on all aspects.
As more snow falls and the slab stiffens, we expect the size of avalanches to increase.
Check out this MINthat does a great job describing conditions.
Helpful Links