Avalanche Forecast
Avalanche Forecasts are for use by experienced backcountry travelers in uncontrolled sidecountry and backcountry terrain. These forecasts and conditions do not apply to open, in-bounds terrain at ski resorts, which is subject to avalanche control by local resort ski patrol.
Avalanche Rating
High (4)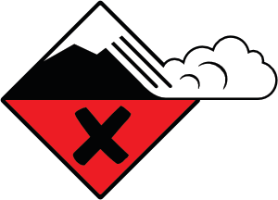 Valid Wed Dec 6 5:00pm MST
17 hours ago
Until Thu Dec 7 5:00pm MST
Travel in avalanche terrain is not recommended during periods of rapid loading. New slabs may rapidly form as rain switches to snow.
Snowpack Discussion
Rain will switch to snow, building a new storm slab that sits on wet snow. The extensive rain from the past few days likely wettened the upper snowpack and melted the weak layer of surface hoar previously found about 10 to 20 cm deep, though it may linger in isolated areas at high elevations.
The middle and base of the snowpack is expected to be wet, except for perhaps near the mountain tops where dry faceted snow may remain.
Snowpack depths are approximately 50 to 80 cm at treeline, which rapidly tapers with lower elevations.
Avalanche Activity
Many large (size 2) slab avalanches were triggered naturally over the past few days, and we expect that many more avalanche observations will be reported once the skies clear.
Looking forward, new storm slabs could form as the rain switches to snow.
Helpful Links