Avalanche Forecast
Avalanche Forecasts are for use by experienced backcountry travelers in uncontrolled sidecountry and backcountry terrain. These forecasts and conditions do not apply to open, in-bounds terrain at ski resorts, which is subject to avalanche control by local resort ski patrol.
Avalanche Rating
Moderate (2)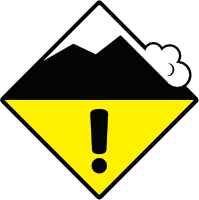 Valid Tue Dec 5 4:00pm PST
11 hours ago
Until Wed Dec 6 4:00pm PST
Stable avalanche conditions exist wherever a thick surface crust is present
Snowpack Discussion
A widespread surface crust has formed in the wake of the recent wet, warm storm. In high alpine terrain small amounts of dry snow overly the crust. Any previous layers of concern deeper in the snowpack should now be bridged by the crust.
Avalanche Activity
A widespread natural avalanche cycle occurred during the peak of warming on Monday night. Reports suggest numerous avalanches sized 1 to 2.5.
If you're heading out in the backcountry, please consider sharing any observations on the Mountain Information Network
Helpful Links