Avalanche Forecast
Avalanche Forecasts are for use by experienced backcountry travelers in uncontrolled sidecountry and backcountry terrain. These forecasts and conditions do not apply to open, in-bounds terrain at ski resorts, which is subject to avalanche control by local resort ski patrol.
Avalanche Rating
Low (1)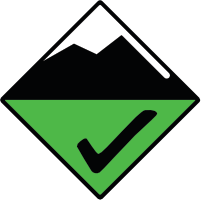 Valid Thu Nov 30 4:00pm PST
19 hours ago
Until Fri Dec 1 4:00pm PST
Beware of early-season hazards lurking below the snow.
Wind-loaded slopes hold the most snow but may also contain reactive wind slabs.
Snowpack Discussion
Unconsolidated snow, 15 to 30 cm, overlies a series of crusts in most areas. In exposed areas, it covers old wind slab.
At treeline, the height of snow ranges from approximately 50 to 90 cm. Below this elevation, snow height decreases drastically.
The snowpack at all elevations is very shallow and contains many potential hazards just beneath the surface.
Read the new Forecaster's Blog for more on the early-season snowpack.
Avalanche Activity
No new or recent avalanches have been reported in our region.
Please continue to submit MINreports and support your backcountry community.
Helpful Links