Avalanche Forecast
Avalanche Forecasts are for use by experienced backcountry travelers in uncontrolled sidecountry and backcountry terrain. These forecasts and conditions do not apply to open, in-bounds terrain at ski resorts, which is subject to avalanche control by local resort ski patrol.
Avalanche Rating
Considerable (3)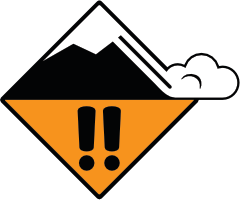 Valid Thu Dec 7 5:00pm MST
19 hours ago
Until Fri Dec 8 5:00pm MST
Conservative terrain travel is recommended, as riders could trigger storm slab avalanches.
Snowpack Discussion
Around 25 to 50 cm of snow is expected to accumulate by Friday, with the most found at higher elevations. This snow rests on a wet snowpack that will slowly transition to a melt-freeze crust. The extensive rain from earlier this week likely moistened the entire snowpack to ground.
Snowpack depths are approximately 50 to 80 cm at treeline, which rapidly decreases as you lower in elevation.
Avalanche Activity
A widespread avalanche cycle occurred over the past few days with many large avalanches observed. Storm slabs were observed at higher elevations, which transitioned to primarily loose wet activity on Thursday.
Looking to Friday, new storm slabs are the most likely avalanche problem. Assess for the bond of all the new snow prior to committing yourself in steep terrain.
Helpful Links