Avalanche Forecast
Avalanche Forecasts are for use by experienced backcountry travelers in uncontrolled sidecountry and backcountry terrain. These forecasts and conditions do not apply to open, in-bounds terrain at ski resorts, which is subject to avalanche control by local resort ski patrol.
Avalanche Rating
Moderate (2)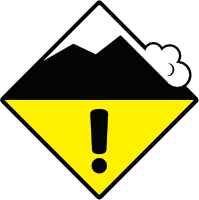 Valid Sun Dec 10 4:00pm PST
15 hours ago
Until Mon Dec 11 4:00pm PST
Storm snow remains triggerable at higher elevations. Uncertainty around a buried weak layer is best managed through conservative terrain choices.
Snowpack Discussion
25-50 cm of snow sits on a 3-15 cm melt-freeze crust. Below, previously moist snow from the rain event seems to have mostly refrozen.
A layer of surface hoar buried ~45 cm has been observed to have miraculously survived the rain in some areas. It may have been largely cleaned out by avalanches during the recent storm, but could linger in isolated features. Triggering this layer is less likely in areas where the overlying crust is thicker and more supportive. We recommend treating this layer as suspect while we await more observations.
Snow depth is generally 70-110 cm at treeline, tapering quickly below. The mid and lower snowpack may contain a weak facet layer in shallower areas.
Avalanche Activity
No new avalanches were reported this weekend.
Many storm slab and loose wet avalanches released during the intense rainy conditions earlier this week. Natural avalanche activity likely tapered on Friday.
We're uncertain on whether avalanches could still release on the surface hoar layer described in the Snowpack Summary, so travel cautiously until there is evidence it is bonding or has been destroyed.
Helpful Links