Avalanche Forecast
Avalanche Forecasts are for use by experienced backcountry travelers in uncontrolled sidecountry and backcountry terrain. These forecasts and conditions do not apply to open, in-bounds terrain at ski resorts, which is subject to avalanche control by local resort ski patrol.
Avalanche Rating
Moderate (2)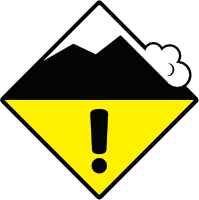 Valid Fri Dec 1 4:00pm PST
6 hours ago
Until Sat Dec 2 4:00pm PST
Watch for newly formed and reactive wind slabs as you transition into wind-affected terrain.
Snowpack Discussion
Up to 10 cm of new snow is expected to arrive on Friday night. At upper elevations, this new snow will be redistributed by strong southerly winds.
The snowpack remains generally shallow, with multiple hazards just below the snow surface.
A weak layer of faceted snow may be present at the base of the snowpack.
The height of snow at treeline is approximately 30 to 50 cm.
Avalanche Activity
No new avalanches have been reported, but observations are very limited at this time of year.
If you do go into the backcountry, consider submitting a Mountain Information Network report.
Helpful Links