Avalanche Forecast
Avalanche Forecasts are for use by experienced backcountry travelers in uncontrolled sidecountry and backcountry terrain. These forecasts and conditions do not apply to open, in-bounds terrain at ski resorts, which is subject to avalanche control by local resort ski patrol.
Avalanche Rating
Moderate (2)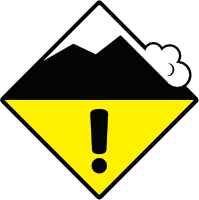 Warning! This is an outdated forecast.
Valid Fri Apr 7 5:00pm MDT
8 months ago
Until Sat Apr 8 5:00pm MDT
Continue to use good travel habits, and use extra caution around thin, rocky start zones.
Carefully choose the terrain you play in. A weak, unpredictable layer continues to lurk near the bottom of the snowpack.
Snowpack Discussion
Dry, powder snow remains on shaded (northerly) slopes. Moist snow or thin crusts exist on solar aspects at all elevations.
The mid-snowpack may still contain a number of weak layers, primarily in sheltered treeline terrain. However, no recent avalanche activity has occurred on these layers suggesting they are likely not a primary concern.
The lower snowpack includes a widespread layer of large, weak facets and/or depth hoar crystals. This weak layer has been responsible for several very large and destructive avalanches throughout the season, including one on Thursday.
Avalanche Activity
On Thursday, north of Golden, just outside of the forecast area, a large (size 2), rider triggered, deep persistent slab avalanche was reported on a northwest aspect in the alpine. The avalanche started 50 m above the riders, and 2 sympathetic avalanches were observed on the adjacent slope. See the excellent Mountain Information Network (MIN) post here for more information, including photos, and reflections on a close call.
On Wednesday, west of Panorama, a large (size 2.5), naturally triggered wind slab avalanche was reported. It occurred on a Northeast aspect in the alpine during a stormy period.
Helpful Links