Avalanche Forecast
Avalanche Forecasts are for use by experienced backcountry travelers in uncontrolled sidecountry and backcountry terrain. These forecasts and conditions do not apply to open, in-bounds terrain at ski resorts, which is subject to avalanche control by local resort ski patrol.
Avalanche Rating
High (4)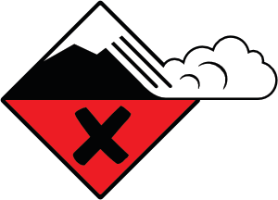 Valid Mon Dec 4 5:00pm MST
9 hours ago
Until Tue Dec 5 5:00pm MST
An avalanche cycle is expected to begin on Tuesday. Skiers should be choosing conservative terrain. Ice-climbers should be picking routes with no over-head hazard.
Snowpack Discussion
Up to 15 cm of storm snow overlays well developed surface hoar, faceted snow, and sun-crusts on steep south aspects. Strong SW winds have formed fresh windslabs in alpine and tree-line locations. The mid and lower pack is generally weak and facetted. Snow depths range from 40-60 cm at tree-line and up to 90 cm in deeper alpine locations.
Avalanche Activity
Ski hills reported several small (size 1) ski-cut or explosive triggered wind-slab avalanches on Monday.
Helpful Links