Avalanche Forecast
Avalanche Forecasts are for use by experienced backcountry travelers in uncontrolled sidecountry and backcountry terrain. These forecasts and conditions do not apply to open, in-bounds terrain at ski resorts, which is subject to avalanche control by local resort ski patrol.
Avalanche Rating
Moderate (2)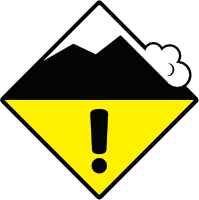 Valid Sat Dec 9 4:00pm PST
10 hours ago
Until Sun Dec 10 4:00pm PST
Continue to assess for fresh wind and storm slabs that are likely sitting on a hard crust.
Snowpack Discussion
Approximately 10 to 30 cm of recent snow may sit overtop a widespread thick crust. New snow may not be bonding well with the underlying crust. Below the crust the snowpack is generally well consolidated.
Overall, the snow depth remains relatively shallow, creating challenging travel conditions and numerous hazards at or just below the snow surface across all elevations.
Avalanche Activity
No new avalanches have been reported. However, observations have been minimal throughout the early winter.
If you're heading out in the backcountry, please consider sharing any observations on the Mountain Information Network
Helpful Links