Avalanche Forecast
Avalanche Forecasts are for use by experienced backcountry travelers in uncontrolled sidecountry and backcountry terrain. These forecasts and conditions do not apply to open, in-bounds terrain at ski resorts, which is subject to avalanche control by local resort ski patrol.
Avalanche Rating
Moderate (2)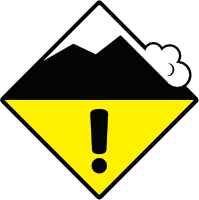 Valid Sun Dec 3 4:00pm PST
18 hours ago
Until Mon Dec 4 4:00pm PST
Storm slabs may be triggered in steep, open terrain. Keep an eye out for areas where there is more than 20 cm of snow and watch for signs of instability like shooting cracks.
Snowpack Discussion
An additional 5 cm of new snow brings snowfall totals between 15 and 20 cm over a surface hoar layer formed during the clear, cool weather over various surfaces of wind-pressed snow, sun crust, and faceted soft snow.
The mid-pack is generally faceted. Near the base of the snowpack is a crust with facets or depth hoar beneath it.
Expect early-season conditions with a shallower-than-average snowpack. At treeline and the upper end of below treeline, snowpack depths are between 50 to 80 cm. Below this, snowpack depths taper quickly. Check out the new Forecaster Blog Trouble ahead?
Avalanche Activity
Recent new snow has buried a large, widespread surface hoar layer. These small storm slab avalanches could be triggered in specific areas like steep, open terrain features at treeline.
A MIN report from the Baldy rocks area observed that new snow was not bonding to the previous surface with small, dry loose activity.
Observations are limited this time of year. Please consider filling out a MIN report if you head out in the backcountry! 🙏
Helpful Links