Avalanche Forecast
Avalanche Forecasts are for use by experienced backcountry travelers in uncontrolled sidecountry and backcountry terrain. These forecasts and conditions do not apply to open, in-bounds terrain at ski resorts, which is subject to avalanche control by local resort ski patrol.
Avalanche Rating
Considerable (3)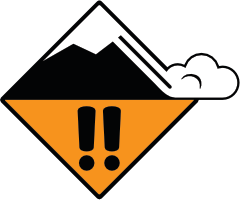 Valid Sun Dec 3 4:00pm PST
8 hours ago
Until Mon Dec 4 4:00pm PST
Storm slab avalanches are primed for human triggering. Stick to mellow terrain and be prepared to back off if you encounter signs of instability.
Snowpack Discussion
20-40 cm of recent snow is settling in the mild temperatures. It sits over various layers of crusts and old faceted snow and may also overlie isolated pockets of surface hoar in sheltered areas.
Treeline snowpack depths in the range of 80-100 cm in the Coquihalla area.
Avalanche Activity
Human triggered storm slab avalanches are possible as mild temperatures promote settlement in the recent snow.
On Saturday, signs of instability like whumphing and shooting cracks were observed in the recent storm snow. If you're heading out in the backcountry, please consider sharing any observations on the Mountain Information Network 🙏
Helpful Links