News
By Joel Gratz, Founding Meteorologist
Posted 9 years ago
September 23, 2014
Snow forecast for late September
The end of September will go out in style as multiple cool storms will bring snow to the northern Rockies.
Interestingly, the storm track for next week looks very similar to what we saw during the second half of last winter. Most of the rain, snow and coolest air will slide from British Columbia and Alberta Canada to the southeast and hit Montana, Wyoming, and Colorado. Unfortunately, this excludes California where the drought is raging. Ugh.
But we can't change the weather, so let's just get into the details of next week's action, which will come in two parts.
The first storm will split as it moves ashore on Saturday. Some energy will go north into Canada while another part of the storm wobbles its way east across California, Nevada, Utah, and eventually Colorado by Monday.
The second storm (which might come in multiple bite-sized pieces) will then move down from Canada into the northern Rockies on Tuesday, Wednesday, and Thursday. This will be the colder of the two storms and will likely be when the majority of the snow falls.
The average weather pattern next week looks like the graphic below, with the coldest air along and east of the Rockies.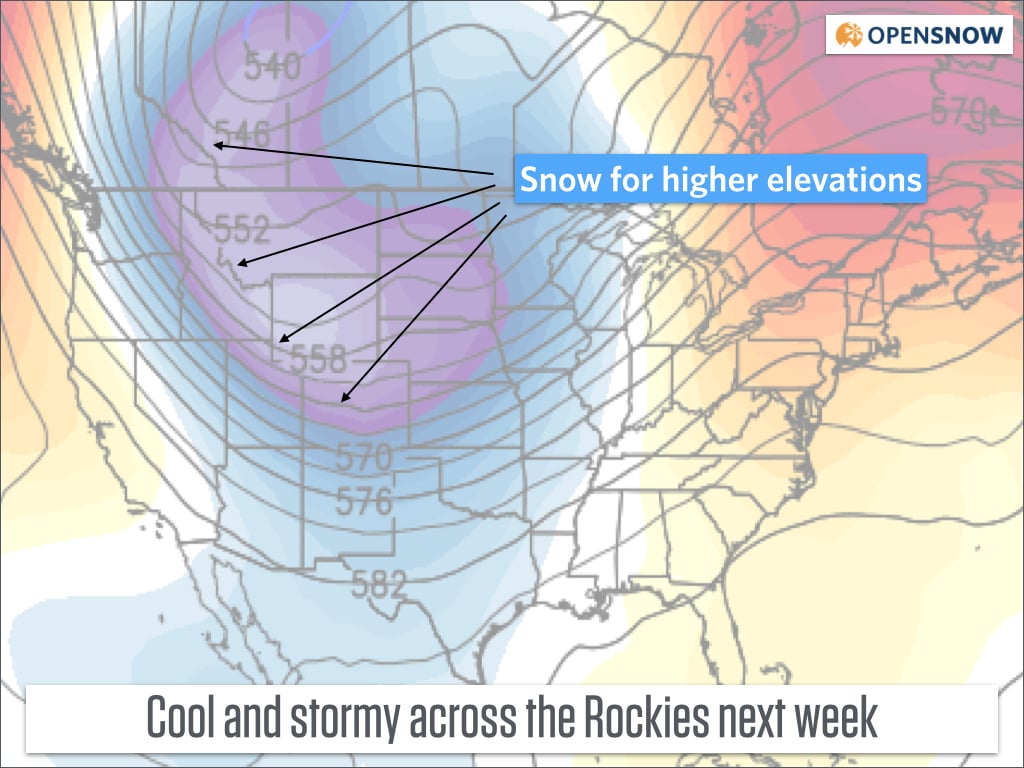 The forecast flow and temperatures at 18,000ft for next week shows a trough, or dipping lines, over the Rockies. This is indicative of generally stormy weather, though this map cannot pinpoint the location of heavier snow. Source: Weatherbell.com
Any early look at the snow forecast, which will change since it's 7+ days away, shows that most of the snow will fall in the higher elevations of the coast range of British Columbia, the interior mountains of British Columbia and Alberta, and the northern Rockies from Colorado north to Montana.
Don't take this map literally. The only thing we know for sure about a 7-day snow forecast is that the details will be wrong. However, the general location of the snow will likely be correct. Source: Weatherbell.com
Like I said above, the cold storm next week might come in the form of multiple bite-sized pieces, so stay tuned as we narrow down the forecast. Yes yes, I know, even if it snows next week, it doesn't really matter because you won't be skiing. But hey, it's almost October, which means that first good powder day might only be a few weeks away. So go ahead and let yourself remember that amazing feeling of floating through untracked powder. It's the best!
JOEL GRATZ
Back to All News
About The Author
Joel Gratz
Founding Meteorologist
Joel Gratz is the Founding Meteorologist of OpenSnow and has lived in Boulder, Colorado since 2003. Before moving to Colorado, he spent his childhood as a (not very fast) ski racer in eastern Pennsylvania.