News
By Sam Collentine, Meteorologist
Posted 10 years ago
November 21, 2013
Weather for the weekend - Nov 22 to Nov 24, 2013
The weather in the United States this weekend will be dominated by two systems affecting opposite sides of the country. The first is a cut-off low off the coast of California. The second system brings chances for snow to the upper midwest and northeastern United States.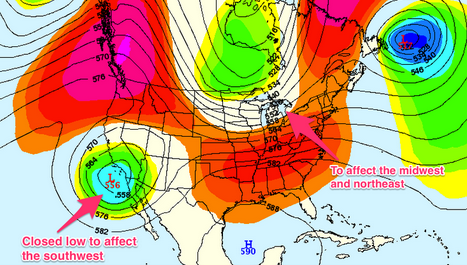 Source: Meteostar, analysis by Sam Collentine of OpenSnow.com
The cut-off low, meaning the storm is cut-off from the main west-to-east flow of weather, will bring heavy snowfall to areas of California, Utah, Arizona, New Mexico, and southern Colorado. The OpenSnow Powder Finder is showing BIG accumulations for this area of the country. If you're looking to find deep powder this weekend, the desert southwest is where you want to be. Flash flood watches are even in place for parts of central Arizona so this will be an interesting system to follow throughout the weekend!
Total snow accumulation, in inches, through 11pm MST Saturday. This prediction might be on the high side for some areas. Source: WRF Model, CAIC.
The upper midwest and northeastern areas of the United States will also see chances for snow this weekend. The system will make its way across the upper midwest Friday into Saturday and then into the northeastern United States Saturday into Sunday. Frigid temperatures will accompany this system as it tracks southeast into New York. This is great news for snowmaking at resorts of the midwest and northeast.
Storm track, according to the American GFS Model, as of Friday night. Source: Meteostar, analysis by OpenSnow.com
Check our Powder Finder, forecasts for each mountain, and our Daily Snow posts throughout the weekend for more details!
SAM COLLENTINE
Back to All News
About The Author
Sam Collentine
Meteorologist
Sam Collentine is the Chief Operating Officer of OpenSnow and lives in Basalt, Colorado. Before joining OpenSnow, he studied Atmospheric Science at the University of Colorado, spent time at Channel 7 News in Denver, and at the National Weather Service in Boulder.