Summary:
Don't sweat the thaw. Winter is about to return
To be honest, we can't expect to have bitterly cold temperatures all winter. Although we have had quite a stretch so far, and more is on the way. Consider this weekend to be spring skiing/boarding conditions (preview). The next cold front and wave of arctic air is about to set upon the Mid Atlantic.
What is more important to you? Holding the cold, which is great for snow making on the mountains, or trying to squeeze out natural flakes. In a perfect world we would have both. Next week, we may get teased or lucky. There is a chance for a few snow makers but not all will be treated equally.
Details:
This weekend:
Here is a look at the Hi-Resolution NAM Model comparing afternoon temperatures Saturday with lows Monday morning as the cold air returns. The reference point of Baltimore is for the urban dwellers, but you can see temps should peak in the 40s on the mountains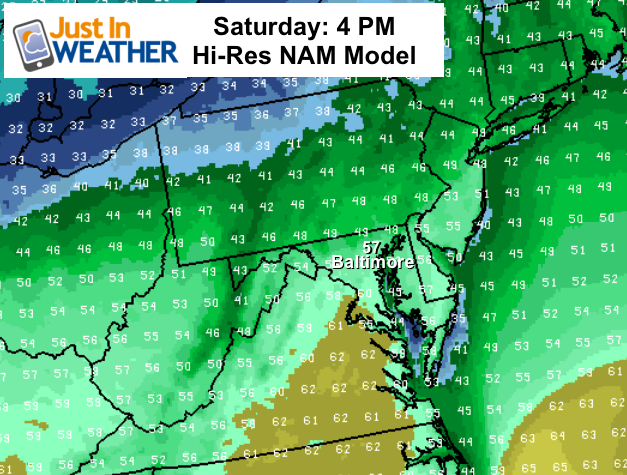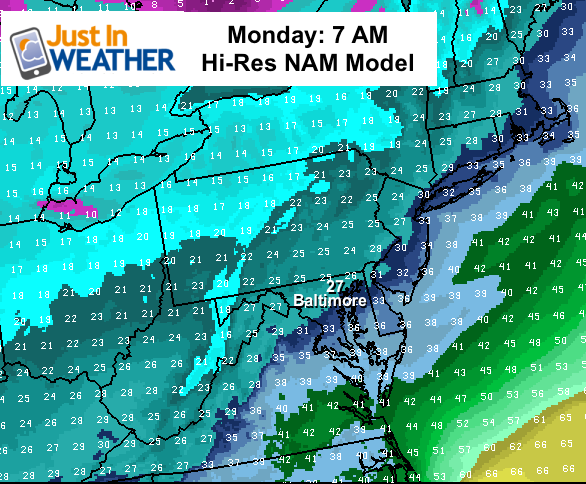 Next Week:
There are two systems with the potential to drop snow.
Sunday night/Monday morning: Here is the Canadian GEM Model showing a wave along the next cold front. This should bring some light snow into WV, western MD, and southern PA. This will mark the arrival of winter's return.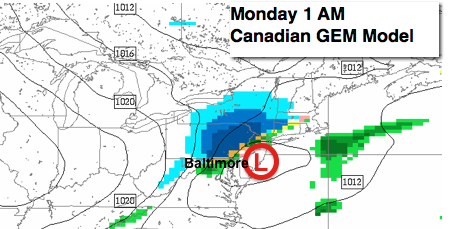 Wednesday: This had looked like a much more impressive system in previous model runs. It is possible that we are in the model gray area where systems get lost during the transition of calculations and data. The Canadian Model here shows the primary Low staying south but stretching snow into the high country of WV in the morning. It is still a little early to call how this will play out, and one of the reasons I don't like to jump on storms too early. Definitely something to watch.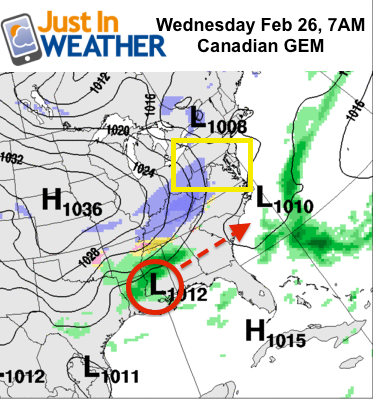 Polar Vortex2?
There has been a lot of buzz about a return of the famed Polar Vortex. Here is a look at the GFS outlook for the location of said Vortex. The core of the cold air appears to stay in northeastern Canada, but a part of it will swing close to the northern New England border. The main issue here is that we will have a cold pattern, but with the location of the core and a higher sun angle than early January, this will not be as potent as the last blast. It is still promising for extending the life of our epic snow season. That means highs in the ski areas will be in the teens to low 20s, with lows in the single digits or colder at least for a few days at the end of next week.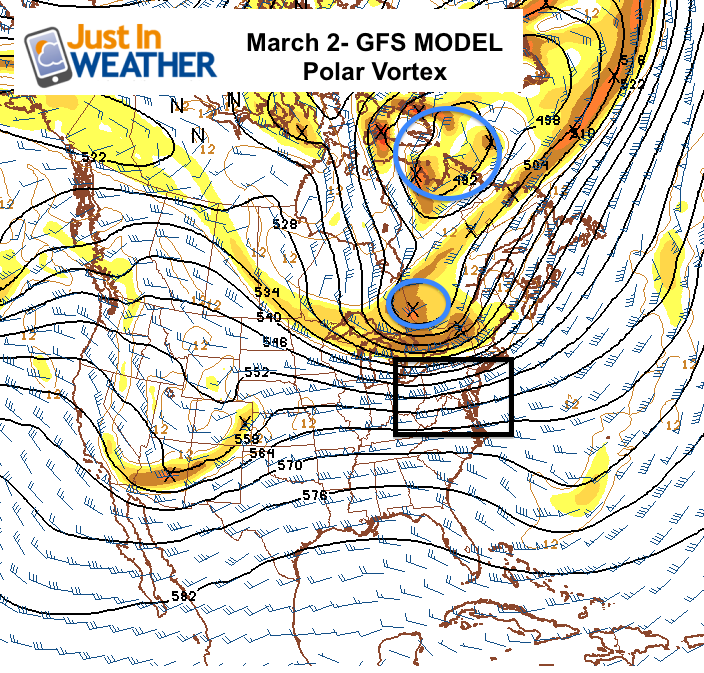 Faith-in-the-Flakes*
Checkout Liftopia for Discount Lift Tickets
Also keep up to date via
Facebook: Justin Berk, Meteorologist
Twitter @JustinWeather
Instagram: justinweather
Kid Weather App
If you have a kid who loves the weather, check out my Kid Weather App that I made with my oldest son. It's won a Parents Choice Award, been featured many times by iTunes, and even on Mashable's Top 10 Apps to get kids interested in science. We are available for Apple and Android devices.