Summary:
Showers on Saturday with warm temperatures, and similar Sunday but with fewer showers. Monday will be dry, Tuesday will be windy and dry, then we'll see more snow on Wednesday, perhaps 2-4 inches. A more powerful storm is possible around Sunday/Monday, April 27-28th.
Details:
A weak storm is pushing a lot of moisture into Colorado today, but there won't be much of a spark to turn this moisture into rain and snow. The best chance for precipitation will be in the San Juans and along and east of the divide, but some showers should pop up over all mountains by Saturday afternoon. Temperatures will be warm, so snow will be limited to over 10,000 feet.
The showers should decrease on Saturday night, then pop up again on Sunday, but Sunday should be the nicer day of the weekend.
After a dry and calm day on Monday, strong winds will develop on Tuesday afternoon ahead of our next storm. These winds should blow dust into Colorado from the southwest.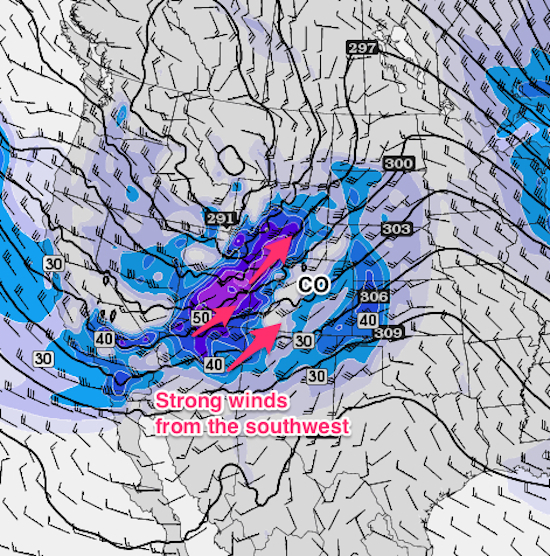 Tuesday's wind forecast at 10,000 feet shows 40-50kt winds are likely, and gusts of about this strength should hit the lower valleys as well. Source: Twisterdata.com
On Wednesday, the storm will move through with a cold front knocking temperatures down and producing light to moderate snow (2-4 inches). Then Thursday, Friday, and Saturday shoud return to dry and sunny weather.
Long Range:
A large storm will hit the west coast next weekend with heavy snow likely for Tahoe, and this should move toward Colorado by Sunday/Monday, April 27-28th. Keep this in the back of your mind as you'll likely be in full-on spring mode with many warm days ahead of this storm.
JOEL GRATZ
-----
The spring skiing season in the big mountains is here. Check out this trip report by the Centennial Skiers from Holy Cross Ridge: http://opsw.co/1jimGC2