News
By Joel Gratz, Founding Meteorologist
Posted 9 years ago
December 30, 2013
Heliskiing with CMH Monashees
I just spent five days heli-skiing at the CMH Monashee Lodge in British Columbia (December 29 to January 2, 2014). This was my second heli trip and I was interested to see how it compared to my first experience last year at the CMH Galena Lodge.
Enjoy this journey through five days of incredible skiing! If you have questions, I included links and email addresses at the bottom of this post. Also, please read the trip report from my previous trip to CMH Galena Lodge in 2012 and CMH Bobbie Burns Lodge in 2016.
Day 0, Saturday, December 28, 2013
We flew into Calgary late Friday night and spent the night there. On Saturday we drove west on a coach bus from Calgary, through the mountains on the Trans-Canada Highway. We passed Banff, Golden, and Revelstoke on our way to the Monashee lodge. The total drive time was about 7 hours. Yup, it takes a while, but the scenery is incredible.
Location of the CMH Monashee Lodge, shown by the red dot. We flew into and drove from Calgary.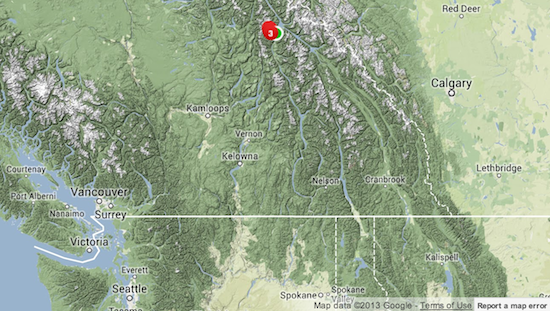 Driving through the Canadian Rockies. These mountains are more rugged than most of the ranges in the lower 48 states.
Day 1, Sunday, December 29, 2013
I went to bed nervous, and woke up nervous. My nerves weren't about the helicopter or the terrain. I had enough experience on last year's trip to the Galena Lodge to know that both the heli and the terrain were fun, safe, and there was really nothing to worry about.
My nerves centered on the weather. Since the dates of my trip were fixed, I was at the whim of the atmosphere to produce snow. I wasn't in control of the conditions (by making last-minute plans to chase the most pow) but instead had to take what was given to me. This was the first "fixed date" ski trip that I've taken in 4 years since I started OpenSnow, and it's a tough feeling for this snow forecaster to not be in control of my dates and destination. I was hoping for the best, and hoping makes me nervous.
After the morning routine (wake up at 7am, breakfast at 8am, gearing up around 830am and first heli at 900am), we were off and heading toward our first run. I was still nervous about the snowpack. At this time last season, the snowpack was well above average (tough to use exact numbers because the snow varies a bunch across the terrain, but perhaps 25-50% above average). This early season saw less snow until recently with a few feet falling during the last 10 days. Depending on the weather station, the snowpack right now looks to be about 25% below average in some areas, and closer to average for other places. So there's less snow this season ... will is still be OK?
We popped out of the helicopter at about 6,000 feet and stepped into about 2 feet of snow on top of a 6-7 foot base. We then put our skis on and traversed onto the first pitch. And the skiing was ... fabulous. We enjoyed the soft, yet supportive snow (not blower, but super fun) through wide-open tress up top. Apparently the skiing is good even in years with less snow:-)
The base down low (elevation about 3,000 feet) was more shallow, so there we had to navigate around features (logs, stumps, etc) instead of the features being completely covered and invisible. This wasn't ideal, but it was fun to hit the little jumps and rollers.
We skied 6 runs that averaged about 3,300 vertical feet each. Here are some pictures from a great first day.
Groups getting ready at the lodge in the morning.

The heli arrived at the same time that the snow started to fall. How convenient:-)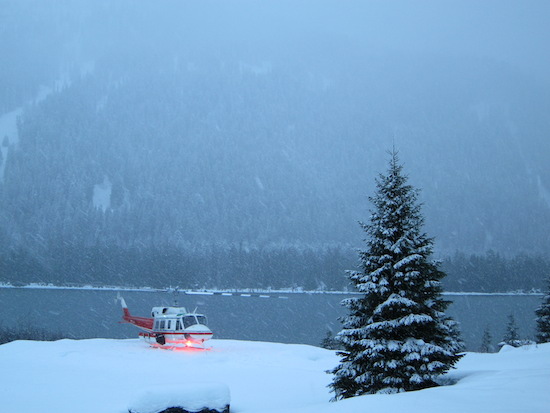 Our spirits were high as the heli flew away from the first drop zone.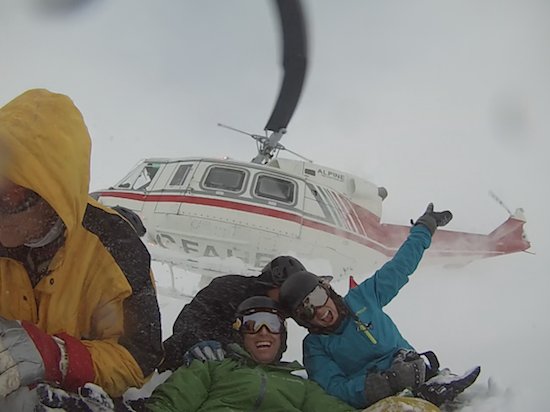 The first run was great. A burnt forest with plenty of pow.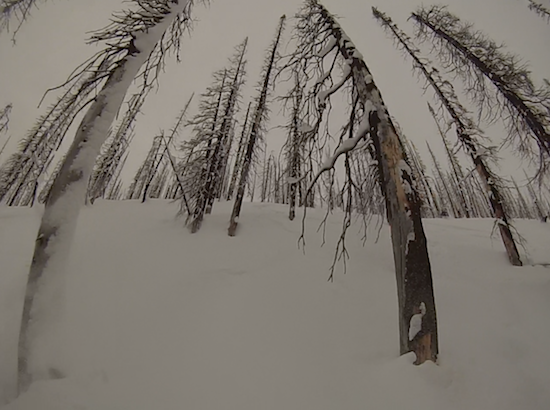 Up high the coverage was excellent. That's me cresting a knoll.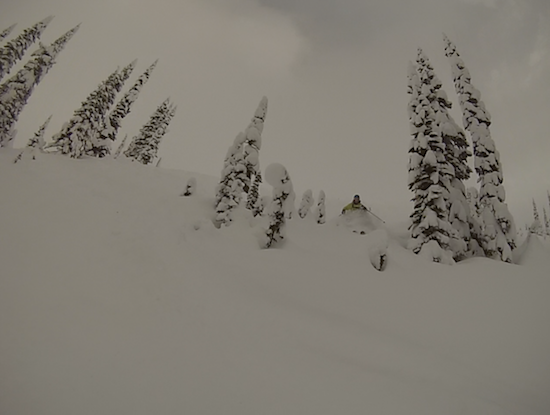 Down lower there was less snow by BC standards (about a 6 foot base). This meant that small trees were still exposed, and small trees present the highest danger when it comes to tree wells. To demonstrate this danger, our guide took off his skis and hopped next to the small tree. He instantly sunk 6 feet into the snow and needed our help to get out. If we were skiing, caught a tip, and tumbled head first toward a small tree, we could be buried six feet deep with our head down instead of our feet. Lessoned learned. Don't fall head first near small trees, and always ski with a partner just in case it happens!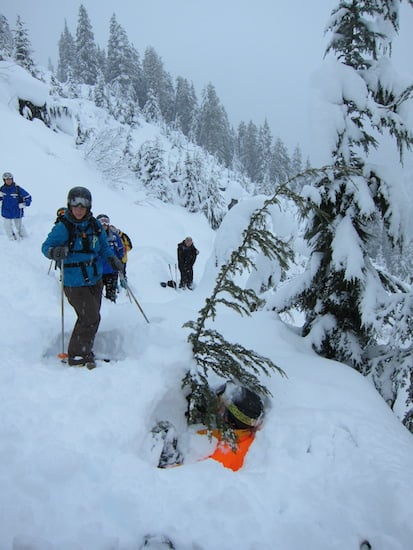 Plenty of pow. Plenty of fun!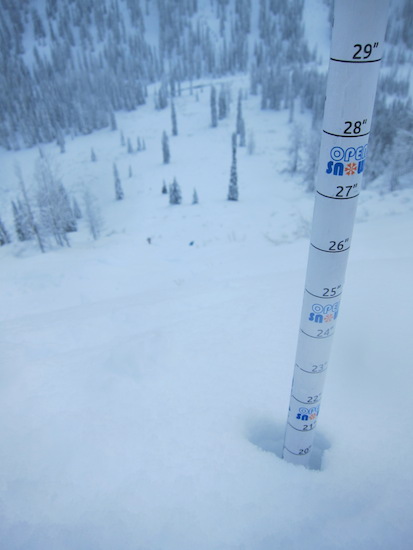 My friend Megan's dad, Greg, enjoying the deep.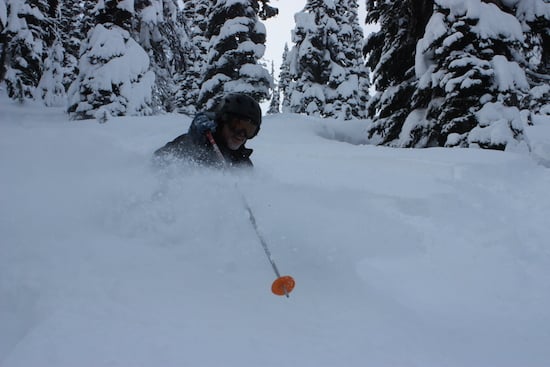 Jason bouncing down the hill. Wide skis are a must!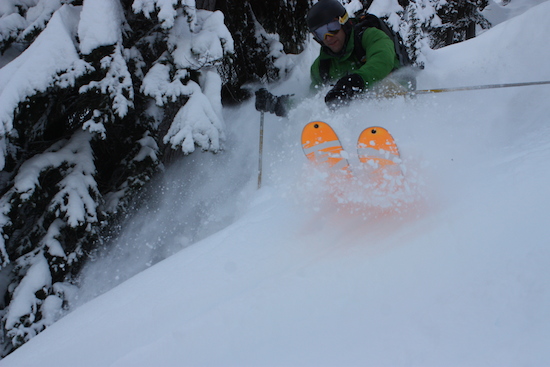 Megan on the lower third of a 3,300ft vertical run.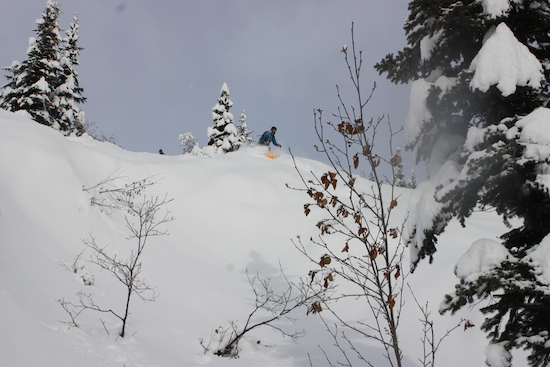 That's me. An audio version of this picture would sound like "Woohooo!".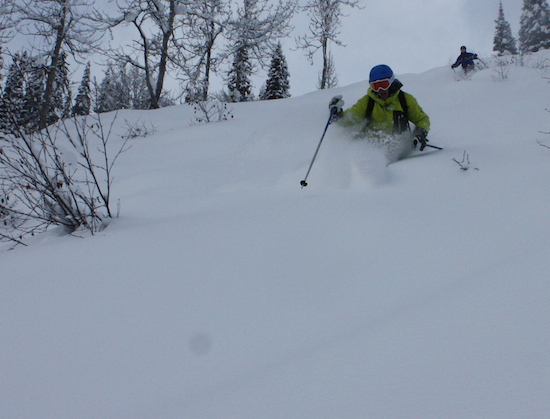 Snow fell off and on during the day. When the clouds briefly cleared, we were treated to beautiful views.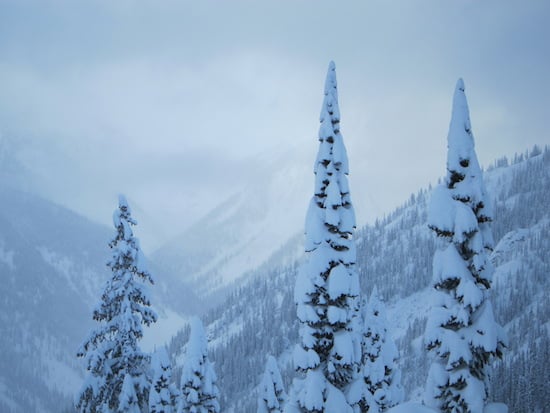 A map of our runs. The numbers don't relate to anything, so ignore them.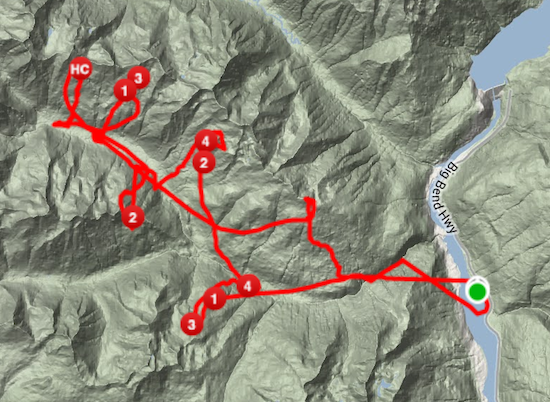 Day 2, Monday, December 30, 2013
Jackpot! Man, this was a good day. How good? Let me put it in perspective by comparing it to yesterday, Sunday.
Yesterday was good, but there was an issue. The coverage on the lower section of the runs wasn't great. Now, "wasn't great" by British Columbia standards means a base of 6 feet. So there's plenty of snow to ride. But since many of the logs and small trees aren't yet completely buried, the lower sections are more about navigating than enjoying a flowing line. On a 3,500ft vertical run, the top 2,500ft was great, but the lower 1,000ft wasn't nearly as enjoyable.
Today solved that problem, and it was very, very fun. We only skied on higher elevation runs that were shorter. In a sense, we chopped off the bottom 1,000ft of navigation and just enjoyed the filled in, flowing lines above. Our favorite runs were Blue Max and Big Red. These runs offered turn after turn after turn of open trees, a consistent pitch of about 35 degrees (perfect for skiing 18-24 inches of pow), and plenty of length to burn out the legs (about 1,500-2,000ft vert).
When we got back to the lodge, we were all smiles. I think I still have a grin on my face as I write this…
One added bonus is that it snowed hard for the entire afternoon and continued through at least 10pm when the outside floodlights of the lodge were shut off. If today was this good, I can't image how good Tuesday will be with another 6-12 inches of snow on top of an already soft and playful base.
Speaking of new snow, I'm having a hard time with the snow forecast up here as we're in a persistent WNW flow of moisture off the Pacific Ocean. This is like a northwest flow in Colorado where the models have a tough time identifying and forecasting the exact strength and timing of each bit of energy. In the morning, the models forecasted off-and-on snow through the day and evening. In reality the snow fell consistently for 10+ hours. The science part of my brain is frustrated by these inaccuracies in the forecast. But the skier in me is plenty fine with snow continuing to fall even though we can't predict it:-)
Enjoy the pictures!
That's me, enjoying the pow as the snow fell.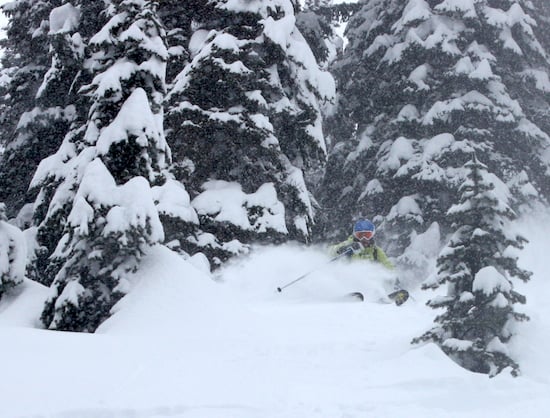 Jason jumped off of everything.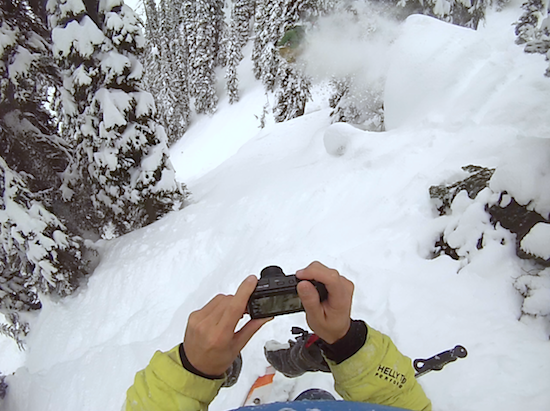 I jumped as well, just not as high:-)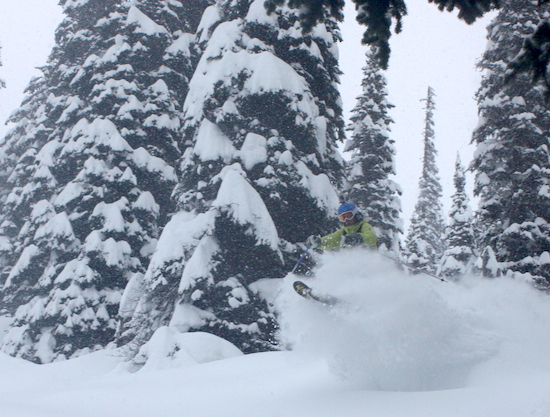 Snow fell throughout the afternoon. Can't wait for even deeper powder tomorrow!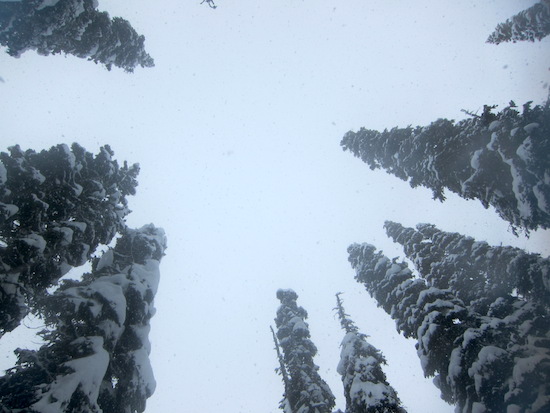 Megan made her skis (and knees) disappear.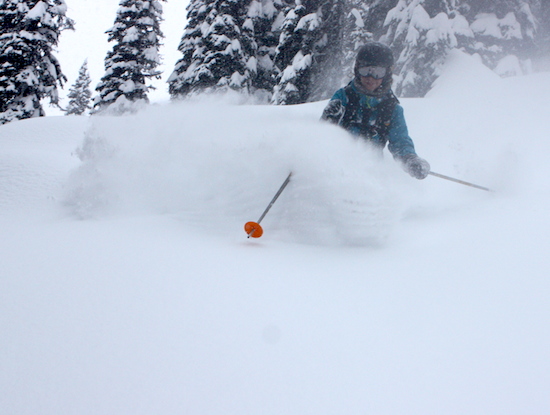 Fresh lines through the trees all day. When I came around a bend and saw this type of line below me, it was impossible not to let out a little "Whoop!" and make a big smile!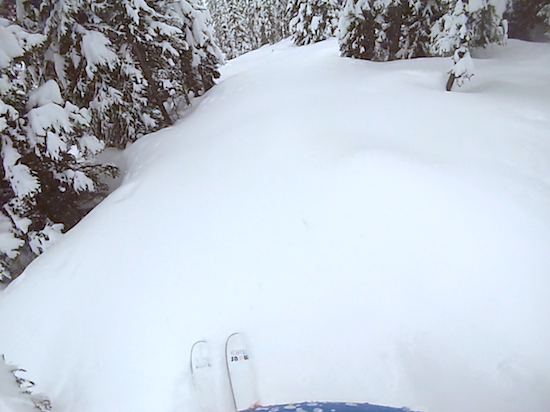 See Jason below us, with his skis pointing straight up? We're not sure how he did it, but he basically butt-slid a series of small pillows and came out all smiles. Anything is possible when there's 8+ feet of snow on the ground...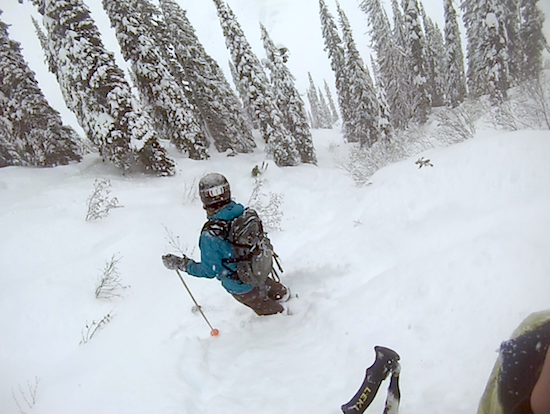 My GPS watch didn't capture all the places we skied today, but this gives a rough idea.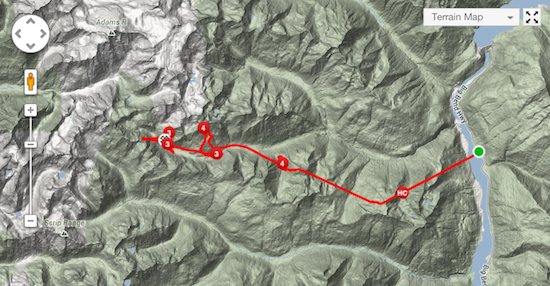 What could be better than a day of skiing untouched powder? Well, not much. But a warm, cozy lodge (with plentiful time in the hottub) sure is nice as well.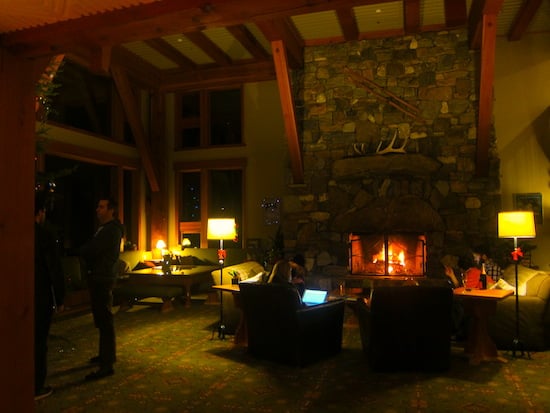 It snowed all evening. Can't wait for tomorrow!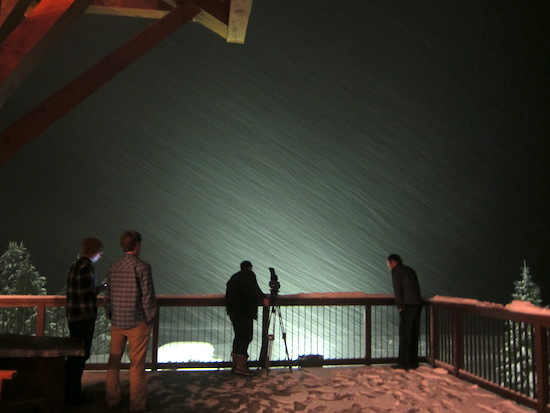 Day 3, Tuesday, December 31, 2013
I woke up with great anticipation. Monday afternoon's runs were sensational, and it snowed for most of Monday night. So I was expecting all-time conditions on Tuesday morning. It's a sure bet, right?
Well, not so fast. Even in helicopter skiing, there are no guarantees. We eventually found some incredibly good skiing, but that didn't happen right away. Here's what did happen.
At the tail end of Monday night's storm, the wind kicked up and the temperatures warmed just a bit. This made the snow thick in some spots, and created a very thin but tangible wind crust in other spots.
Because of this, our first few runs were just OK (in my opinion … I know others in the group enjoyed them more). Overall the runs were fun, but they didn't meet my exceedingly high expectations of what I thought the skiing would be like with a foot of new snow. This experience taught me a few lessons.
First, having exceedingly high expectations about things that you can't control is not a good mental state. It's much better to be open to the experience and work hard to make the best of it.
Second, with so much terrain and snow already available to us, sometimes the best forecast is for no changes in the weather (ie. no big storms). When storms move in, the changes in wind and temperature can cause large changes to the snowpack, and these changes may not be favorable.
And third, hell skiing offers a remarkable opportunity to stack the odds of finding great snow in your favor. Let me expand on this.
We looked for great conditions in the morning, but just couldn't get it dialed in. Some of the snow was a bit heavy or wind affected. Some of the pick-up locations were shrouded in fog, so we couldn't complete the runs we targeted.
If we had less terrain to choose from, it might mean that this day would wind up being on the lower end of the fun scale, at least compared to expectations (again, be careful about having high expectations:-)
Thankfully, with a helicopter and a large tenure of terrain, the options feel endless. Just before lunch on our third or fourth run, we tried a slope that was on the backside of a ridge we skied in the morning. This new slope was called Buffalo, and it delivered exactly what we were looking for. No crust. Deep, light powder (about 20 inches on a plentiful base). Wide open trees in a burned forecast. Consistent pitch of about 35 degrees. In short, it was about as perfect as it could get.
And that's the beauty of helicopter skiing. Even when the weather throws a bit of a curve ball, you have the tools at your disposal to find the best conditions that are out there. And after a few missed attempts, that's exactly what we did.
Reflecting on the day's events with the sentiment brought on by New Year's Eve, I think it's the lack of a guarantee that makes skiing powder so rewarding.
When you find great snow, you just want to hold on to it forever, even though you know you can't. The conditions are always changing. It's a fresh start each day. It's what gives us hope and why it's so special when everything goes just right. We know that the chances of everything going just right are low, but we hope for it anyway.
Today taught me to be patient, enjoy the process of exploration, and that on most days, there is fantastic snow to be found especially with the aid of a flying machine.
I want to shout out a special thanks to Hestra Gloves for keeping my hands warm and dry. While taking pictures throughout the day, I took my hands out of my gloves many times. This meant that they got cold, and also that snow got into my gloves because I'm not the most careful person around. Despite this, the Hestra Gloves kept my hands warm and comfortable through last run, and that's one less thing to worry about!
Here are the pictures…
That's me enjoying our favorite run called "Buffalos". It was so good, we lapped it three times!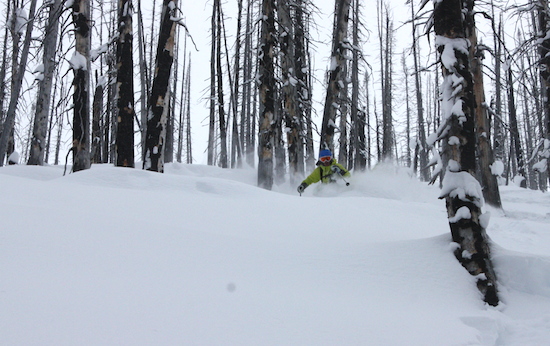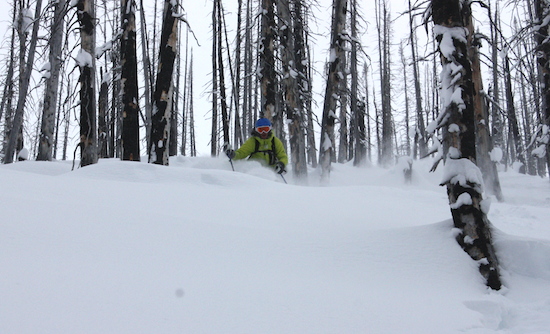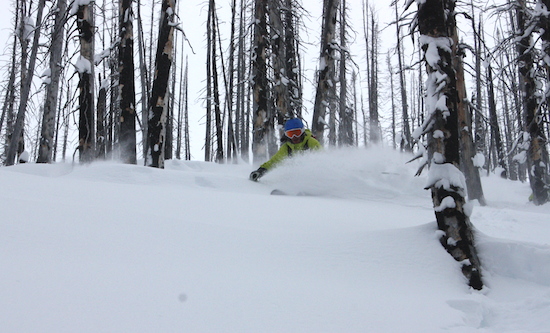 Jason dialed in the correct launch codes. The landings are so soft and deep, you can jump off of almost anything. It feels like cheating!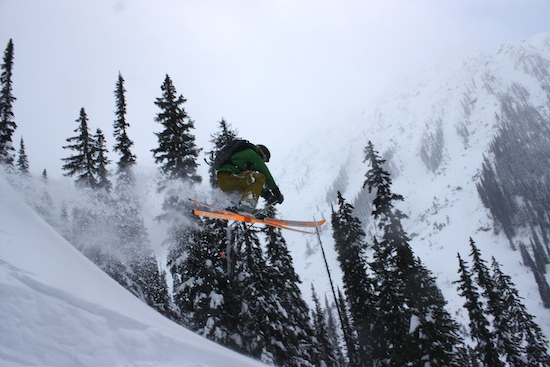 Megan also wanted to get airborne, and she did it in style.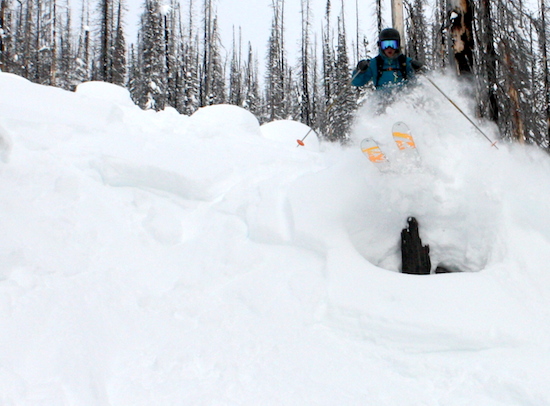 When feet of snow cover a cut block (where trees were logged), it becomes a giant playground. You can ski around the small pillows or string them together and bounce your way down the hill.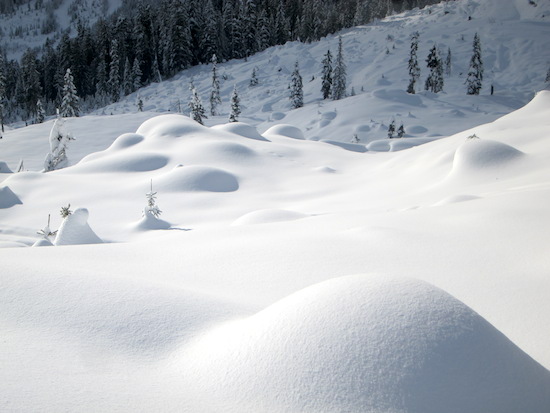 Five skiers illustrate the enormous scale of this place.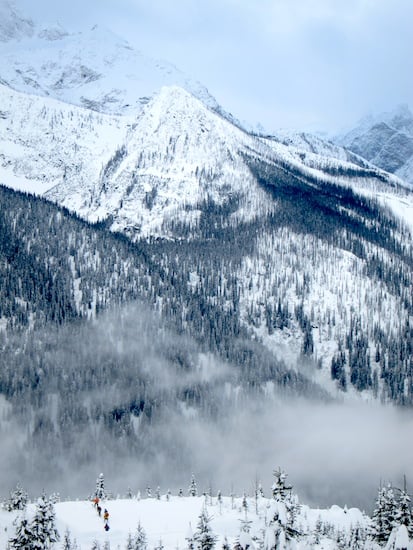 The helicopter coming in for a pickup.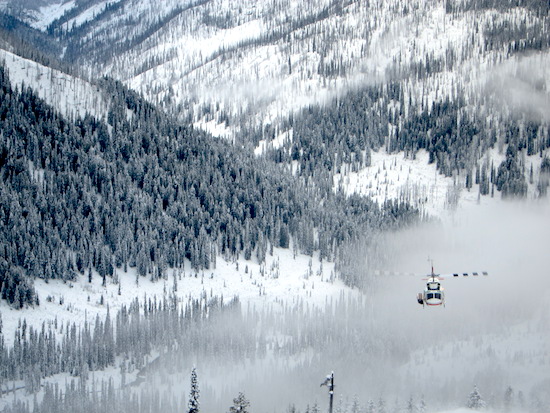 Becky, one of the staff members at the lodge, enjoyed a few runs with us in the morning. The sun peeked out of the clouds a few times which provided stunning views.

Panoramic looking east toward the Columbia river on our last run of the day.

Day 4, Wednesday, January 1, 2014
This trip is not routine. I'm in big mountains that I've never seen before. I'm skiing 3,500ft vertical lines. I'm spending full days with people I just met. This is anything but routine.
Oddly, though, it's the daily routine that makes this trip so special. Every day I wake up knowing what's in store.
Breakfast at 8am. Grab my clothes from the drying room at 830am, then be ready for the helicopter at 900am.
Ski soft snow and jump off of things from 915am through about noon. Have a warm lunch at the bottom of a ski run at noon-ish. Then resume skiing soft snow and jump off of things from 1245pm to 330pm.
Fly back to the lodge and put soak-and-wet clothes in the drying room at 4pm. Grab a snack and download photos and video until 5pm. Hit the hot tob from 530pm to 645pm (this is where the best conversations happen, so you gotta put your time in here if you want to get some behind the scenes information about the lodge, ski runs etc).
Dinner from 700pm to 900pm, then ping-pong (I lost a few times this trip ... humbling ... I take my ping-pong seriously:-), and then chatting with new friends after 900pm until whenever the pillow calls.
I like this routine, and am going to miss it.
Tomorrow is a half day of skiing, then the long bus ride back to Calgary. It's going to snow heavily tomorrow afternoon and night, and of course we'll be driving away during the storm instead of being in the lodge eagerly anticipating the next day's powder. That stings a little bit, but hey, the timing can't always be perfect, and I'm thrilled to have skied such good snow over the last few days and met interesting people that share my same passion for skiing (and riding) powder. Plus there's always the next ski trip to look forward to...
Enjoy today's pictures of the daily routine, and if you've enjoyed reading about this trip, click here for a similar article I wrote about my experience skiing at CMH's Galena lodge last year, in December 2012.
That's me enjoying a "routine" untracked tree run in the morning. This never gets old!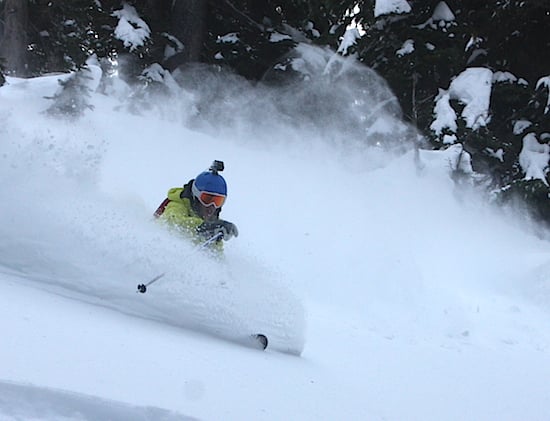 With soft landings everywhere, Megan found a new affinity for being airborne.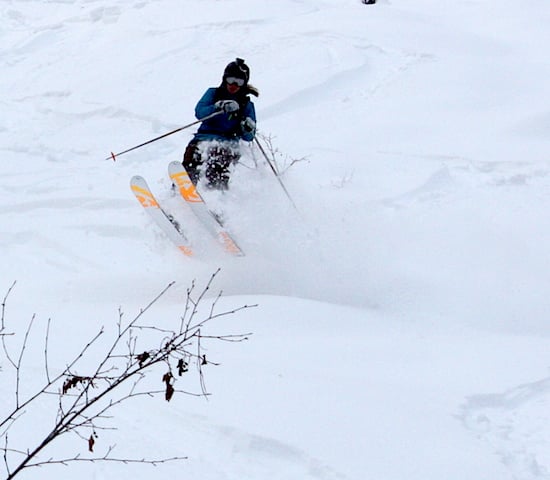 Jason has always had an affinity for being airborne.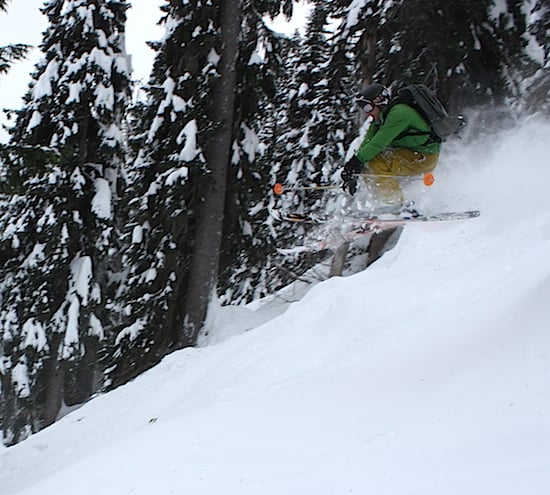 The sun was able to filter through some high clouds today, and it made for spectactular views with fog shrouding the valleys below.


The drying room. No matter how you try, your stuff will be wet by the end of the day. There's just too much snow!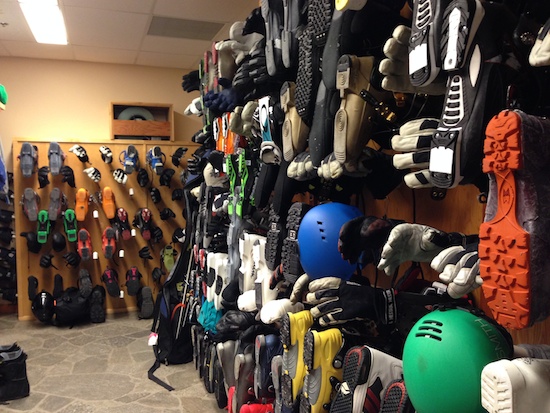 Dinner, pictured on New Year's Eve with our silly hats:-)


As a bonus this week, Mike Douglas, Cody Townsend, and the crew from Salomon FreeskiTV where here shooting for an upcoming episode, and we got to see a preview of the footage.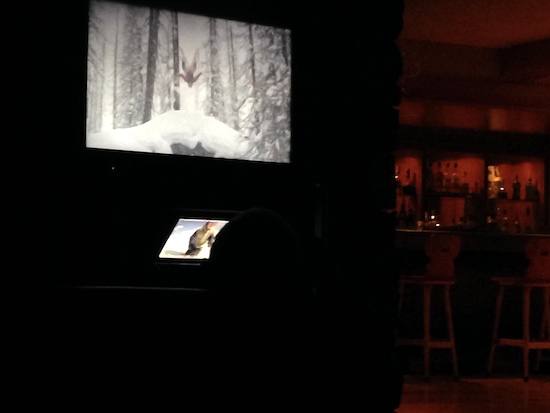 Day 5, Thursday, January 2, 2014
Such a tease.
It started snowing hard at 7am. This was a few hours earlier than I thought. Bonus powder on the last half day, eh?
We boarded the helicopter at 9am. Sharp. We could only ski until about 1130am since it was a planned half day before driving back to the Calgary airport, so everyone was ready at exactly 9am, not wanting to miss a second of good snow.
Our pilot Cody took off heading south down the Columbia River, gained altitude and turned north, then made a left turn up Soards Creek. This area has some of the best skiing, and with the new snow falling, we were pumped.
Cody gained altitude, surveyed the scene, and then .... we descended quickly, back down the valley, and landed back at the lodge.
The problem was two fold.
First, visibility was low due to the snow.
But the bigger problem was icing. The storm was warm at lower elevations with a temperature right around freezing. These conditions cause snowflakes to freeze and build an ice layer on the helicopter. Ice on a flying machine is a no bueno, and since safely flying and landing is more important than skiing powder, Cody made the right decision to head back to the lodge. This decision to fly or not fly is Cody's alone, with no pressure from the guides or skiers. And that's the way it should be.
After we returned to the lodge and I took off my boots, I had the sinking feeling of knowing that we wouldn't get to ski this storm. I had been watching this system for about 10 days and knew that since the snow would fall heaviest on Thursday afternoon, we would likely miss most of it due to our half day schedule. But still, I hoped that perhaps we'd get a small taste of the freshies. It wasn't going to happen.
However, some people were able to stay at the lodge for an extra fews, and they were looking forward to Friday morning and a likely 12-18 inches of fresh powder. One of these folks, Russ, emailed me at 7pm on Thursday night with this report: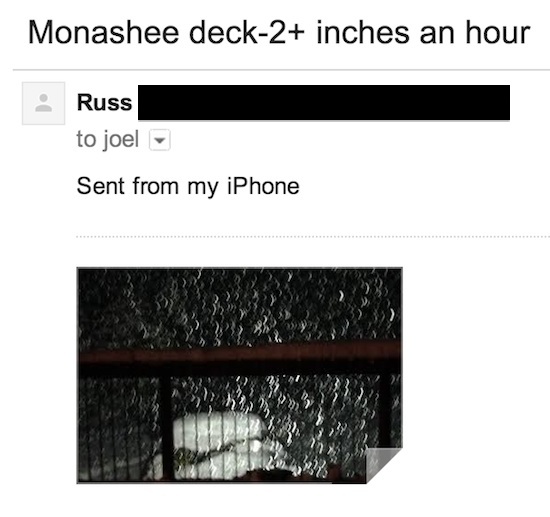 I'm thrilled Russ and others will get to ski this storm! But for me to have just missed it was a little gut-wrenching. Yes, I know there are larger problems in life, but I love snow, and it's painful to drive away from a storm instead of into it.
There's always the next storm, though, and that's the beauty of weather.
In the mean time, I'm looking forward to stories and pictures from my new friends that stayed at the lodge an extra day to enjoy additional powder days.
Post Script - Friday, January 3, 2014
My friends reported that the total accumulation from the storm was 45-60cm, which is about 18-24 inches. As I wrote about earlier, storms aren't always good things because they change the snowpack. Friday turned out to be a touchy day for avalanche risk, so most groups skied low-angle terrain. After the snowpack settled a bit, I heard that Saturday was more fun with the ability to ski some steeper lines. I'll try to find some pictures of these days, but most of the folks at the lodge like to ski more than they like to stop and take pictures, so I may not have any photographic evidence.
And so ends another amazing trip to British Columbia, with my great friends Megan, Jason, and Greg. I can't wait to go back!
The Last Word from Monashees 2013
For more information…
- read through the comments below
- see all of CMH's upcoming trips at the CMH website
- email me with specific questions: Joel Gratz <[email protected]>
- email CMH's sales rep for more information about booking a trip: Brad Nichols <[email protected]>
Heli-skiing is a bucket-list item that I may want to accomplish every year … it's addicting:-)
Back to All News
About The Author
Joel Gratz
Founding Meteorologist
Joel Gratz is the Founding Meteorologist of OpenSnow and has lived in Boulder, Colorado since 2003. Before moving to Colorado, he spent his childhood as a (not very fast) ski racer in eastern Pennsylvania.