News
By Joel Gratz, Founding Meteorologist
Posted 8 years ago
January 26, 2015
BOOK REVIEW: Secrets of the Greatest Snow on Earth
Here's the deal: If you love skiing in deep powder and want to learn more about the locations with the best snow and how to predict it, you will be intensely interested in at least 70% of this book. If you satisfy the previous two conditions (love powder, want to learn) AND you have at least a bit of a geeky tendency (who are we kidding, you're pretty geeky), then you're going to read every word of this book, cover-to-cover, and will reference it frequently.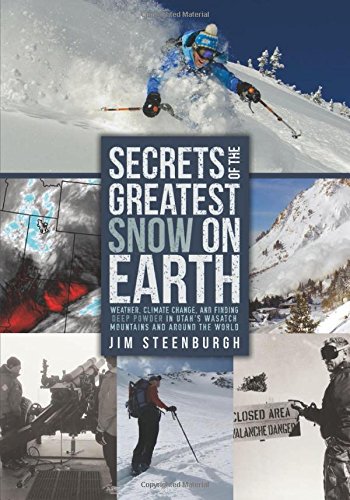 The book is called "Secrets of the Greatest Snow on Earth", with the tagline of "Weather, Climate Change, and Finding Deep Powder in Utah's Wasatch Mountains and Around the World." Don't let the tagline fool you, though, as even if you're not a Utah local or interested in climate predictions, Dr. Jim Steenburgh has taken a career's worth of snow knowledge and packed it into an enjoyable book that will help powder skiers (like you and me) understand the science behind our sport. And you won't even need to solve any math or physics equations along the way.
Here are a few things that Jim talks about in the book that I found very interesting:
How do we define "great powder skiing" so that we can look for places in the US and across the world that offer this environment?
Is the snow in Utah fluffier than in Colorado or in Wyoming?
Which Japanese island generally offers the lightest powder?
Is Utah's snow so good because of the Great Salt Lake?
Which Utah ski areas get the most snow from different types of storms and wind directions?
How are snowflakes formed, and what types of flakes are generally the best for skiing powder?
The author, Dr. Jim Steenburgh, is a professor of meteorology at the University of Utah, with meteorology degrees from Penn State (me too:-) and the University of Washington. Based on these credentials, Jim is absolutely an expert on the science of weather. However, the kicker is that he is also just as addicted to skiing perfect powder as I am (and likely you as well), so he has focused much of his professional work toward analyzing and predicting mountain weather and snow in general.
In addition to the topics mentioned above, Jim also uses the book to talk about the history of avalanche mitigation in Little Cottonwood Canyon, home to Alta and Snowbird. I found this fascinating, and I'm not even much of a history buff. A chapter on "Powder Prediction" also will help you to understand the basics of weather forecasting, because as Jim says, "surely you don't want your powder pursuits to depend on the whims of a professional "weather guesser." Hey, the more you know, right? But please, once you make your own forecasts, don't stop checking OpenSnow as one of your sources:-)
The book was released around Thanksgiving 2014 and is now in stock at Amazon, so go check it out (retails for $22, but is often on sale for less). Full disclosure, I was provided an advanced copy of the book for free, and Jim does briefly mention opensnow.com in the text. He probably would have given more page space to OpenSnow if I chose to work with him during my grad school days instead of coming to Boulder, Colorado, but I digress. Jim still pokes fun of me by saying that the direction from my house in Boulder to the best skiing is actually east, to Denver International Airport, where I can board a plane and jet off to Utah.
Jim's book is written at a level than anyone can understand, enjoy and learn from, whether you're a meteorologist, engineer, or in a non-technical field. If you want to get a bit geekier, though, check out Jim's (near) daily blog at http://wasatchweatherweenies.blogspot.com/ where he talks mostly about the science of snow, powder and offers the occasional forecast for Utah resorts. Of course, for more forecasts, check out Evan's daily writing on the Utah Daily Snow: http://opensnow.com/dailysnow/utah.
I look up to Jim as a mentor. He loves to ski powder, is an expert on the science of snow and mountain weather, and communicates with an uncanny clarity that most scientists lack. I think you'll love the book, and perhaps it'll help you score some extra powder days as well, because that's the real goal around here, isn't it?!
Once again, the link to the book on Amazon: http://opsw.co/1L9vbAo
JOEL GRATZ
Back to All News
About The Author
Joel Gratz
Founding Meteorologist
Joel Gratz is the Founding Meteorologist of OpenSnow and has lived in Boulder, Colorado since 2003. Before moving to Colorado, he spent his childhood as a (not very fast) ski racer in eastern Pennsylvania.