News
By Sam Collentine, Meteorologist
Posted 9 years ago
December 5, 2013
Weather for the weekend - Dec 6 to Dec 8, 2013
What a great week it has been across many resorts of the West! The temperatures sure are chilly but it's worth it when most areas are reporting over a foot since Tuesday. The big story this weekend will be an abundance of snow across the Sierra Nevada mountains and the Lake Tahoe region. This is awesome news for the drought strickened areas of California.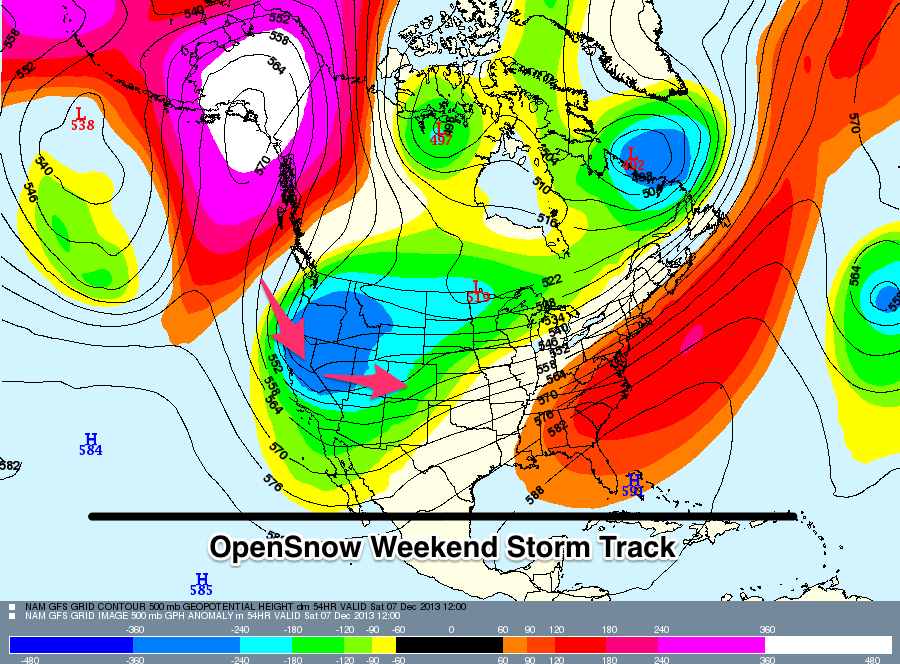 Storm track, according to the American GFS, for this weekend. Source: Meteostar, analysis by OpenSnow.
Our Lake Tahoe Snow Forecaster Brian Allegretto is forecasting BIG totals for Friday night. This is due in large to colder temperatures and more moisture being pulled in from the Pacific. If the current storm track holds, the Lake Tahoe region will be the place to be for deep powder come Saturday morning. The CFS climate forecast for December is showing above average precipitation so things are looking bright heading into the winter months for the Lake Tahoe region. As the storm moves further west, Utah, New Mexico, Arizona, and Colorado will begin to see snowfall on Saturday and lasting through Sunday.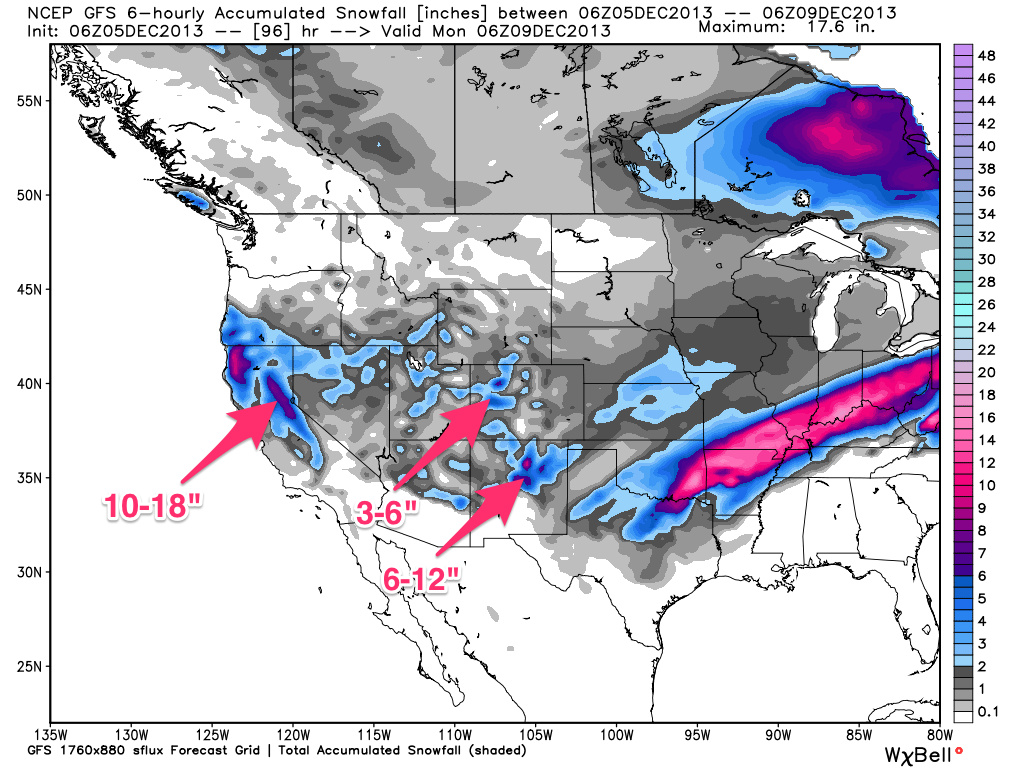 Total accumulated snowfall, according the American GFS, as of Sunday night. Source: WeatherBell.com, analysis by OpenSnow.
Even though the temperatures will be very cold, this system will lack the moisture needed to bring bigger totals to the inner West. Northern Utah, along with northern and central Colorado, will likely see 3-6" through Sunday while areas of southern Colorado and New Mexico will do better if the southerly storm track holds. Expect many of the resorts in Colorado and Utah to begin opening bigger sections of their mountains in the coming weeks with the plethera of natural snow and with the colder temperatures in place for around-the-clock snowmaking!
One more interesting piece of weather to note is the ice storm that will affect a very large area of the central and eastern United States through Friday. This could bring widespread power outages with difficult travel conditions to be expected.
Always remember to check our Powder Finder, forecasts for each mountain, and our Daily Snow posts throughout the weekend for more details.
SAM COLLENTINE
Back to All News
About The Author
Sam Collentine
Meteorologist
Sam Collentine is the Chief Operating Officer of OpenSnow and lives in Basalt, Colorado. Before joining OpenSnow, he studied Atmospheric Science at the University of Colorado, spent time at Channel 7 News in Denver, and at the National Weather Service in Boulder.