News
By Sam Collentine, Meteorologist
Posted 9 years ago
December 23, 2013
Weather for the week - Dec 23 to Dec 27, 2013
It's officially winter and great conditions are in play across much of the United States. For this week, the northern half of the United States, along with British Columbia, will again dominate the snow pattern. The West will receive a quick hitting system late Monday into Tuesday, while the upper Midwest looks to receive a white Christmas.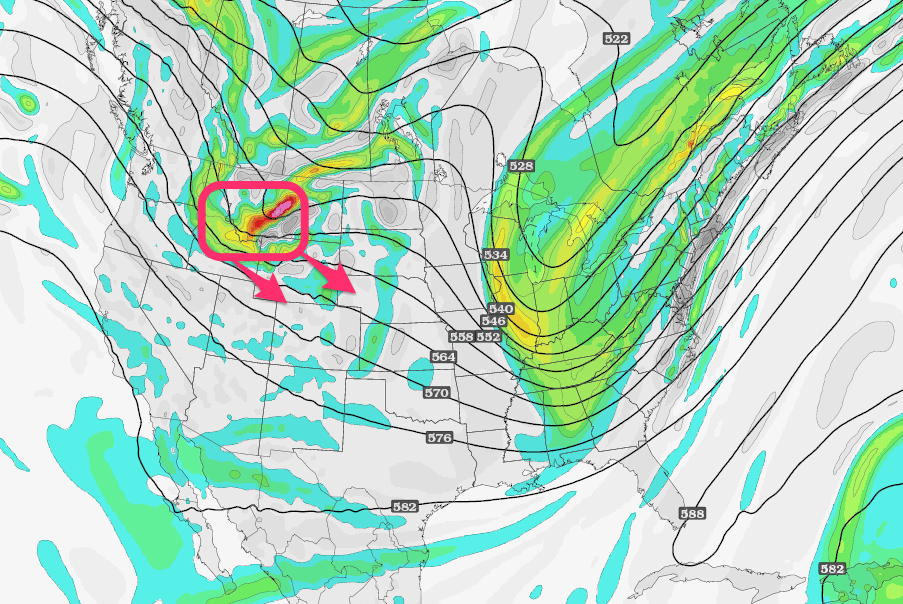 Area of energy that will bring snow to the Rockies late Monday into Tuesday. Source: TwisterData.com, analysis by OpenSnow.
The system that will bring snow to the West is what meteorologists call a shortwave trough. It is a crinkle embedded in the general flow that creates energy, vorticity, which often ignites precipitation. This will bring moderate snow accumulations to Washington, Idaho, Montana, and Wyoming with lighter totals expected for Colorado and Utah. These systems always have a few tricks up their sleeves so higher totals won't come as a surprise. Beginning on Christmas Day, the West will dry out through the remainder of the week. Get the latest details as this quick moving system approaches the inner West in The Utah Daily Snow and The Colorado Daily Snow.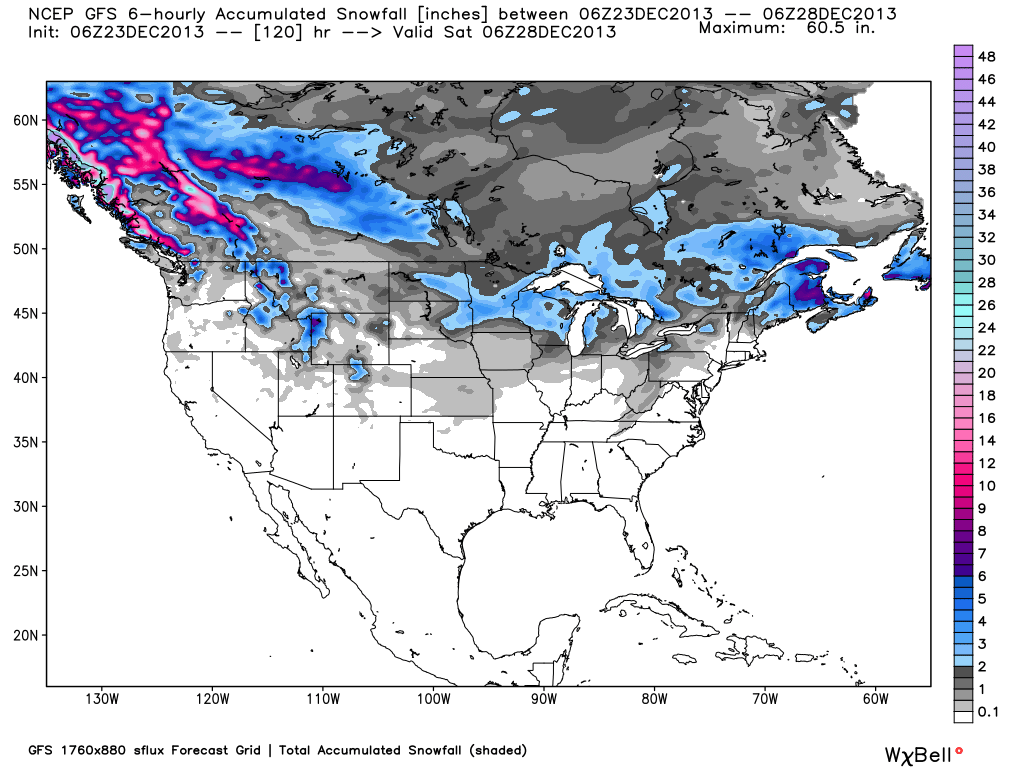 Total accumulated snowfall, according to the American GFS, through Friday night. Source: WeatherBell.com
The upper Midwest will see snow in place Christmas Day through Friday with Michigan likely coming away with the highest totals. Much of the Midwest will wake up to a white Christmas with soft conditions in place across the region. Get the latest details from Andrew Murray in The Upper Midwest Daily Snow.
New England will also see a limited amount of snow Thursday and Friday. This system will be moisture starved so expect accumulations to be lighter with only the higher elevated resorts in the north to come away with any measurable snow. Grab the latest details in The New England Daily Snow.
Since it is the first week of winter, here's a current look at the snowpack compared to average for the West. The data comes from the SNOTEL network of remote backcountry weather stations.
Finally, if you're out this week, consider posting pictures and updates from the hill using "LiveSnow", one of the features of our new iPhone app. Download it here (Android coming soon).
Always remember to check our Powder Finder, forecasts for each mountain, and our Daily Snow posts throughout the week for more details.
SAM COLLENTINE
Back to All News
About The Author
Sam Collentine
Meteorologist
Sam Collentine is the Chief Operating Officer of OpenSnow and lives in Basalt, Colorado. Before joining OpenSnow, he studied Atmospheric Science at the University of Colorado, spent time at Channel 7 News in Denver, and at the National Weather Service in Boulder.