News
By Sam Collentine, Meteorologist
Posted 9 years ago
December 12, 2013
Weather for the weekend - Dec 13 to Dec 15, 2013
The weather this weekend will consist of great conditions across the upper Northeast and warmer days across the West. Our New England Meteorologist Brian Clark is calling for this weekend to be some of "the best early season skiing and riding in years." Our Powder Finder is showing BIG totals so it's a weekend to get excited about if you're in Northeast. Here is a snapshot of the total accumulated snowfall through Sunday for the eastern half of the United States.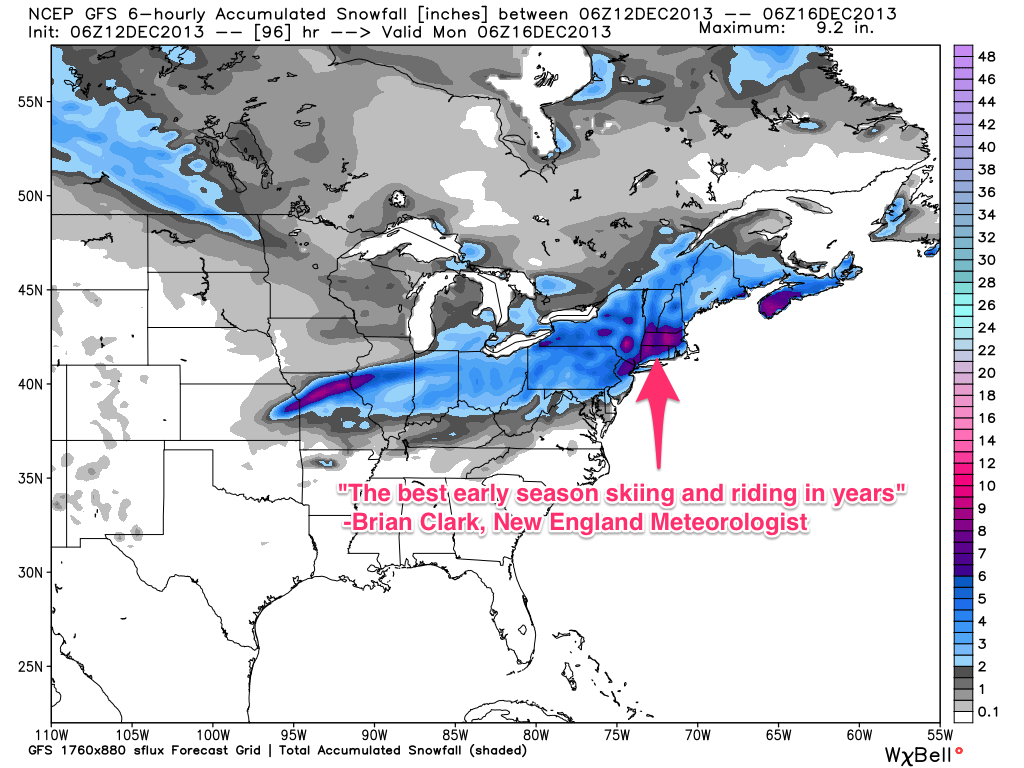 Total accumulated snowfall for the eastern half of the United States, according to the American GFS, through Sunday. Source: WeatherBell.com, analysis by OpenSnow.
The heaviest snowfall for the upper Northeast is likely to occur between Saturday night and Sunday morning. The exact storm track is still being worked out between each model run but a general consensus should be reached within the next 12 to 24 hours. Just as it was earlier this week, there looks to be a nice bullseye over the White Mountains of New Hampshire. Check out the New England Daily Snow for the latest details as this storm begins to develop.
As for the West, the weather stays primarily warm and dry through the weekend. There will be a slight chance for snow each day but accumulations will be light. If you're searching for powder in the West, head north to Washington and British Columbia. The deep Canadian powder will be out in full force as December is historically British Columbia's snowiest month.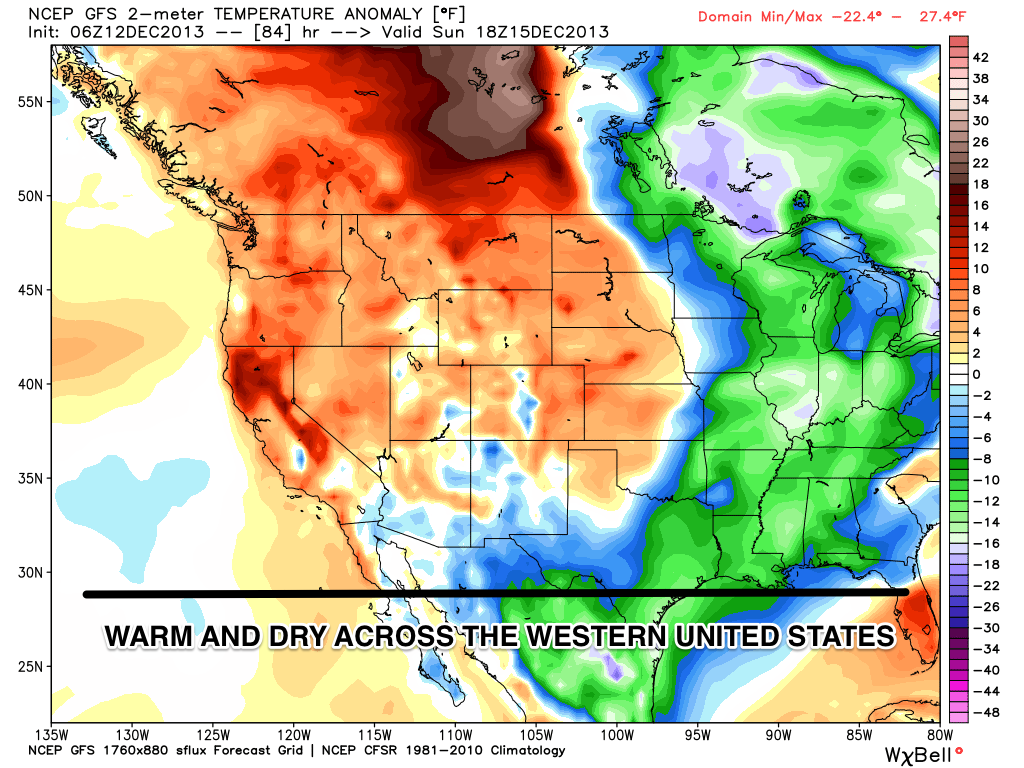 Temperature anomaly in degrees fahrenheit, according to the American GFS, as of Sunday. Source: WeatherBell.com, analysis by OpenSnow.
Looking ahead into next week, there seems to be good agreement between the models for a colder and stormier pattern to return to the West around December 19th and 20th. Think of the next week as a good time to get your Christmas shopping done and to dream about the deep powder that will be back before you know it.
One more interesting piece of weather to note was a new look at NASA satellite measurements that confirmed a temperature of -135.8 degrees fahrenheit in East Antarctica in August of 2010. The new record was "50 degrees colder than anything that has ever been seen in Alaska or Siberia or certainly North Dakota" said ice scientist Ted Scambos of the National Snow and Ice Data Center. Wow that's cold!
Always remember to check our Powder Finder, forecasts for each mountain, and our Daily Snow posts throughout the weekend for more details.
Back to All News
About The Author
Sam Collentine
Meteorologist
Sam Collentine is the Chief Operating Officer of OpenSnow and lives in Basalt, Colorado. Before joining OpenSnow, he studied Atmospheric Science at the University of Colorado, spent time at Channel 7 News in Denver, and at the National Weather Service in Boulder.