News
By Sam Collentine, Meteorologist
Posted 9 years ago
March 17, 2014
Weather for the week - March 17 to March 21, 2014
It's a marvelous Monday in the Pacific Northwest as deep powder can be found from Oregon up through British Columbia. This strong system will make it's way into the Central Rockies on Monday night bringing lasting snow showers through Tuesday night. Montana, Idaho, Wyoming, and Colorado will be the winners. This storm will then push into the Upper Midwest bringing heavy accumulations across Minnesota and Wisconsin. Old man winter is still here and the powder train will be out in full force for the week ahead!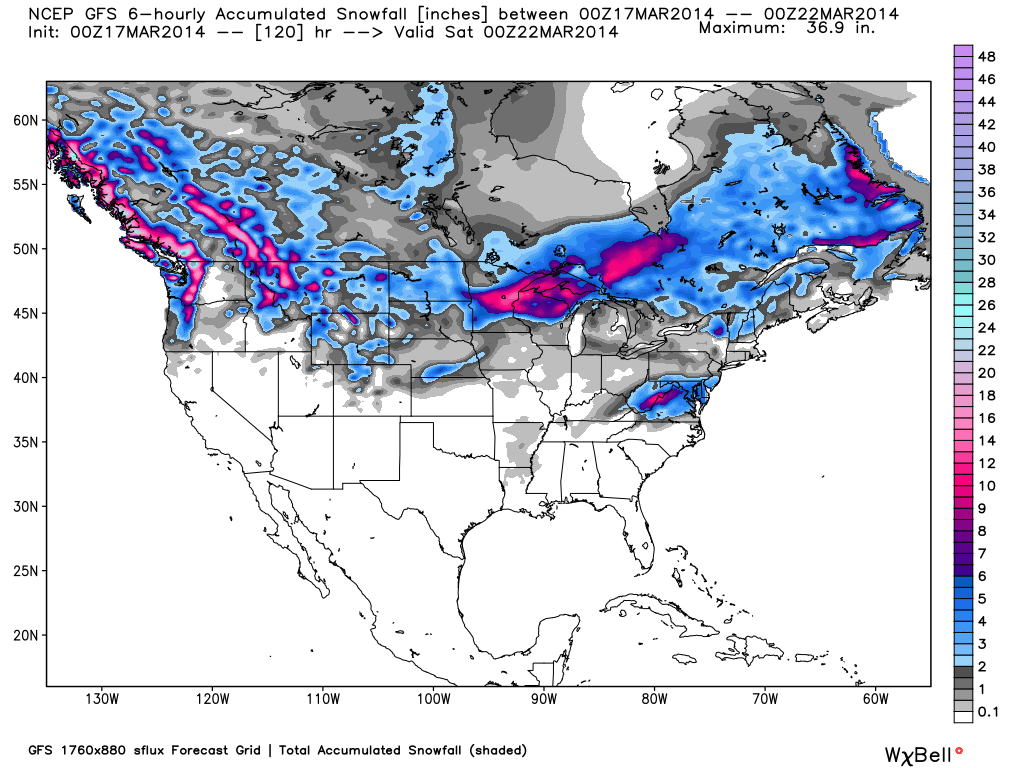 Total accumulated snowfall, according to the American GFS, through Friday night. Source: WeatherBell.com
Northwest
British Columbia, Washington, and Oregon will be the places to ski this week as storm after storm continues to roll through the region. Monday will be fantastic with another quality day on Tuesday with plenty of leftover powder. Another system will move in on Wednesday with yet another good powder day on Thursday. Lower snow levels will make this week even better as the snow quality improves the higher up in elevation you go. Total accumulations for the week will range from 12-24 inches depending on the location so make arrangements to ski this week if you can! Our Northwest Meteorologist Larry Schick will have the latest every morning in The Northwest Daily Snow.
Inter-mountain West
A strong cold front will make it's way across the West on Monday afternoon with very strong winds in tow. This system will bring moderate to heavy totals across Montana, Idaho, Wyoming, and Colorado with only 1-3" across Utah. There will be a period of steady snow behind the cold front on Monday afternoon and evening with on and off showers during the day on Tuesday. Tuesday should be a very good powder day the further north you go with soft conditions in Utah and Colorado. Another system will move across Idaho and Montana on Thursday and Friday. Utah and Colorado will be too far south so expect dry conditions Wednesday through Friday. Evan and Joel will break it down every morning in the Utah and Colorado Daily Snow.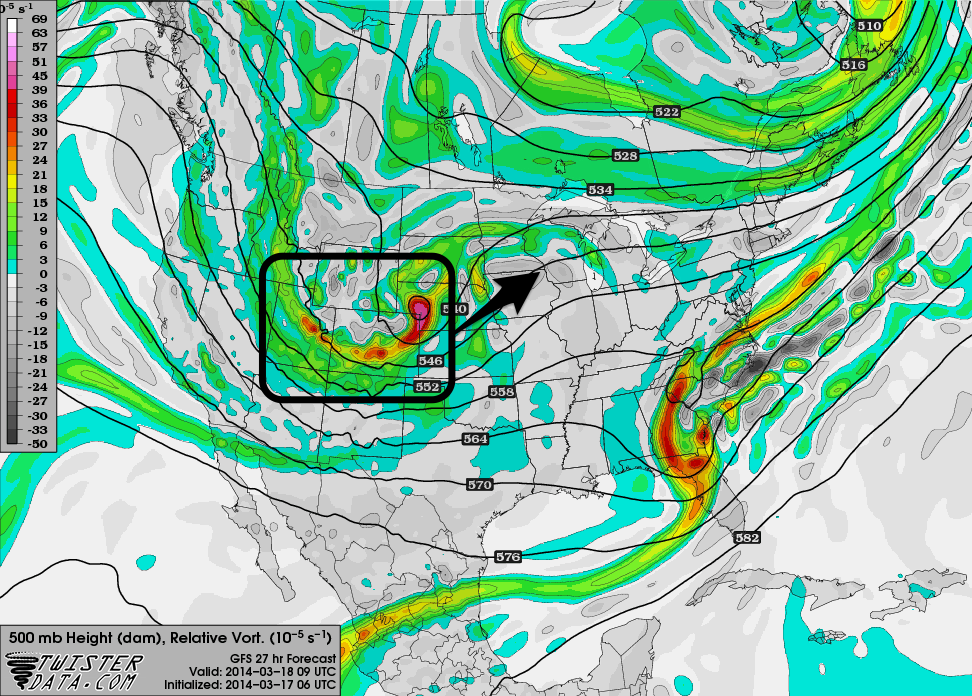 This week's storm, as shown late Monday night, will pack strong winds and a quick burst of snow across the West before ejecting into the Upper Midwest. Source: TwsterData.com, analysis by OpenSnow.
Upper Midwest
Monday will have clearing skies ahead of the strong storm that will take aim at the region on Tuesday night. The system will quickly move out of the West and push northeast into the Midwest bringing heavy snow to many parts of Wisconsin and Minnesota. This system will have a quick punch of snow with totals quickly falling off the further south and east we go. The resorts of Minnesota will be the likely winners through Wednesday with Wisconsin also having decent accumulations. Another system will make it's way across the region on Friday with below average temperatures in place for the majority of the week. Andrew will have more details in The Upper Midwest Daily Snow.
Northeast
The Northeast will continue to see chances for snow during the latter half of this week. Below average temperatures will be in place keeping the epic conditions alive. Wednesday through Friday looks to be a very active period for the region with the higher elevated resorts of the north likely coming away with the highest totals. Brian will have all the details in The New England Daily Snow.
Back to All News
About The Author
Sam Collentine
Meteorologist
Sam Collentine is the Chief Operating Officer of OpenSnow and lives in Basalt, Colorado. Before joining OpenSnow, he studied Atmospheric Science at the University of Colorado, spent time at Channel 7 News in Denver, and at the National Weather Service in Boulder.